Downtown Collingswood, that restaurant-rich collection of diversity, has a newcomer: Akira, a hibachi room and sushi bar (720 Haddon Ave., 856-858-1888), which opened this week. If the name sounds familiar, that's because there are locations in Voorhees and Moorestown. Owner Frank Zheng says he was trying to draw a triangle on South Jersey. The Colls BYOB, previously a toy store, features a sushi bar beside a gigantic Buddha. The "whoa" are eight hibachi grills in the back room, where chefs do their oil volcanoes and food-flipping antics.
Jane G's goes Szechuan. Barely five months old, the swell-egant Jane G's (1930 Chestnut St., 215-563-8800) has switched up its menu from an Asian fusion to pure Szechuan, importing a Szechuan-born chef, Xue Yu-Chi. Chinese cuisine is in owner Jane Guo's sweet spot anyway, as she owned the longtime Broad Street destination Noodle Heaven. You'll find hot pots, creditable dan-dan noodles, and the kung pao chicken that I photographed at right. Dinner menu is here.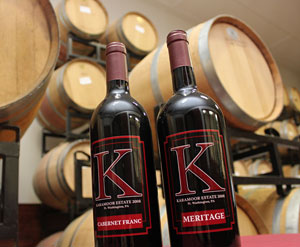 Toast of Montco You're going to hear lots in the future about Karamoor, the new winery in Fort Washington. Its distribution is growing, thanks to a partnership with the state Liquor Control Board. Now available in 34 restaurants mostly in Montgomery and Bucks Counties, the four wines - a chardonnay, merlot, cabernet franc, and Meritage - are also found in the state stores in Ardmore and at 1913 Chestnut St. Effective immediately, you can get the '08 cab franc ($26.99) and the '08 Meritage ($28.99) at the state store in King of Prussia, so if you're doing a mall run, you might snag a bottle of these big, Bordeaux-style reds. (That's my photo at left.)
Do shot. This weekend marks the grand opening of Pollyodd, the storefront devoted to the collection of homemade fruit 'cellos (e.g. limoncello) created by South Philly's Joan Verratti. You can buy the $23.99 bottles at state stores, but you really need to meet Joanie and her boyfriend Tom Cavaliere at 1908 E. Passyunk Ave. Hours are 2 to 7 p.m. Friday, 12:30 to 8 p.m. Saturday, noon to 5 p.m. Sunday, and for a last-minute Christmas gift, noon to 6 p.m. Monday.