How about a Japanese find in the Far Northeast.
Ahi Sushi, a quiet, contemporary BYOB, set up a couple of months ago at Bustleton Avenue and Red Lion Road, next to Benny the Bum's. (It was Einstein Bros. Bagels.)
Ahi has an enormous, well-executed menu of rolls, but what separates it from other strip-mall sushi-ists is the kitchen menu, whose highlight is a seafood blini ($18), which gets you three decadent crepes filled with scallops, lobster and fish and a lobster terragon cream sauce. That a blini is on the menu is no surprise, given the nearby population of Soviet emigres. Да!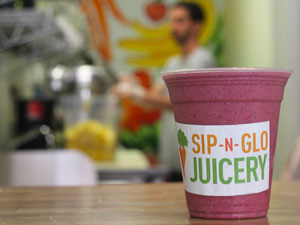 Smoothies on South. While not the cheapest smoothie spot, the tiny Sip-N-Glo Juicery (932 South St., across from Whole Foods) has a cool array of good-for-you creations, including this one at right, dubbed "Big Splendor" (raw oats, unsweetened coconut milk, strawberries, blueberries, vanilla PlantFusion protein powder, and cinnamon). At 165 calories with 21 grams of protein and 6 grams of fat, it's a cool, filling lunch ($6.75 for a small).
Bastille Day! Quite Revolutionary. Eastern State Penitentiary in Fairmount is the epicenter of Philly area Bastille Day festivities (info here). The motto (in Philly, anyway) should be "liberté, égalité, fraternité, Terry!" - as in Terry McNally of nearby London Grill, who as usual will launch headfirst into her Marie Antoinette act on Saturday, July 13. (Details are here.) At Bisou In Manayunk, chef/owner Clark Gilbert is franc-ly giving away two La Frieda burgers and a Beaujolais for $40. This deal is on now through Sunday, July 14. And at Bistro St. Tropez (2400 Market St.), $38 gets you a three-course menu Saturday and Sunday. Details are here.)
Saturday, July 13 is the finale of Jose Garces' Chifa in Old City. Sunday, July 14 is last call at Koo Zee Doo, the Portuguese BYOB in Northern Liberties.
Do the South Street Hot Dog Crawl on Saturday, July 13. Details are here.
The New Jersey State Barbecue Championship runs all weekend from Friday, July 12 in North Wildwood. Details are here.
Saturday, July 13, being the second Saturday, means shopping and dining specials on East Passyunk Avenue . Details are here.
Sunday, July 14 is the second Sunday, and that means brunch specials and free parking in Chestnut Hill. Details are here.
Sunday, July 14 is the launch of Cherry Hill Mall's restaurant week. (A mall?) Details is here.
Photo: "Big Splendor" at Sip 'N' Glo Juicery / Michael Klein