How about a Japanese find in the Far Northeast.
Ahi Sushi, a quiet, contemporary BYOB, set up a couple of months ago at Bustleton Avenue and Red Lion Road, next to Benny the Bum's. (It was Einstein Bros. Bagels.)
Ahi has an enormous, well-executed menu of rolls, but what separates it from other strip-mall sushi-ists is the kitchen menu, whose highlight is a seafood blini ($18), which gets you three decadent crepes filled with scallops, lobster and fish and a lobster terragon cream sauce. That a blini is on the menu is no surprise, given the nearby population of Soviet emigres. Да!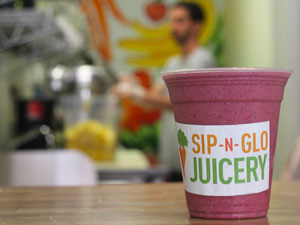 Smoothies on South. While not the cheapest smoothie spot, the tiny Sip-N-Glo Juicery (932 South St., across from Whole Foods) has a cool array of good-for-you creations, including this one at right, dubbed "Big Splendor" (raw oats, unsweetened coconut milk, strawberries, blueberries, vanilla PlantFusion protein powder, and cinnamon). At 165 calories with 21 grams of protein and 6 grams of fat, it's a cool, filling lunch ($6.75 for a small).