We're amid a rush of restaurant openings as restaurateurs are trying to grab a piece of the busiest season of the year. And we're amid a crush of full Center City restaurants because of the Army-Navy Game. Suggestion: Head to the burbs. I just spent a day wandering the two dozen restaurants lining York Road in Hatboro, just north of Willow Grove. Town is a mini-United Nations. A mere month or so old is the cozy Kasbah Cafe (119 S. York Rd., 215-394-8444), a BYOB where Zack Ftou, a Moroccan who worked for Steve Poses' Commissary catering for years, puts out tagines and a hauntingly amazing dish of short rib marinated in cumin, paprika and coriander. There's the casual, days-old Biryani Bowl (50 S. York Rd., 215-674-9343), where Surender Kesari specializes in southern Indian cuisine, including signature biryani. and at the southern end of town is Manja (332 S. York Rd., 267-387-6834), which looks like a pizzeria but in fact also rocks a serious Portuguese menu; do not miss the chouriço grilled at the table).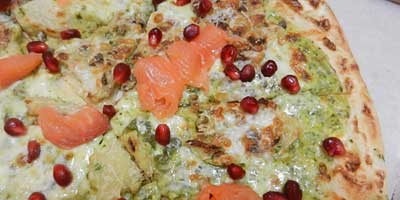 Hanukkah. The Jewish festival begins Saturday, Dec. 8 at sundown. The weekend's big event is the 10th annual Latkepolooza, the tribute to the fried-potato pancake that will gather chefs at the Gershman Y at Broad and Pine from 2 to 4 p.m. Sunday, Dec. 9.
For something utterly, deliciously different, I'll send you out to Olce Pizza Grille on Skippack Pike in central Montgomery County (it's Worcester or Lansdale - the post office doesn't seem to know, and your GPS will recognize "Cedars") for its latke pizza. That would be toppings of shredded potato pancake, zucchini pancake, tomatillo sauce, cream cheese, mozzarella cheese, parmesan cheese, capers, smoked salmon, pomegranate seeds, horseradish sour cream.

Yo, Rachael Ray. The media goddess and her husband/business manager, John Cusimano, will chat about their new cookbook My Year in Meals with moi Saturday, Dec. 8 at the Free Library on Logan Circle. The free program starts at 7 p.m. The library, whose auditorium holds about 400 people, will have overflow seating available. Autograph hounds: Bracelets will be distributed to audience members who wish to buy a new book and have it signed. Bracelets are first come first served. She will personalize only the new cookbook. Other books will receive a signature but no personalization.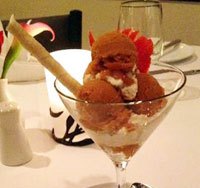 New this week: Ralic's on South (119 South St.) and Liquid Room (1361 N. Second St.), both opening Friday night; Fond's new location at 11th and Tasker Streets; Limoncello's second location, Lionville Shopping Center (499 Uwchlan Ave., Chester Springs).
Opening soon: Crumbs Bake Shop near Rittenhouse Square (Dec. 10), NoBL in Lansdowne (reopening Dec. 12)
Dessert of the week. Because you have not consumed enough sweets this week, I'll steer you to Paloma Mexican Haute Cuisine (763 S. Eighth St.). Co-owner Barbara Cohan-Saavedra - who first started dabbling in pastry years ago while working as a federal prosecutor - has created sweet potato sorbet, made with brown sugar, cinnamon, nutmeg and vanilla, layered with house-made vanilla whipped cream. Guilty pleasure, prosecutor!