Who's your crawdaddy?
He would be Mark DeNinno, chef-owner of Chris' Jazz Cafe in Center City, who ships in tons of fresh-crayfish (or crawdad) from February through late May. Goes well with the Mardi Gras theme. The sweet-meat, fresh-water crustaceans are put to multi use: mac and cheese, crawdaddy cheesesteak (ribeye), pot pie, fried in an empanada as a "craw-zone," and sold in a bucket with an ear of corn and boiled potatoes.
While we're at it, DeNinno adamantly denies a rumor that Chris' is changing its name; he acknowledges that the landmark will broaden its scope of entertainment to include other kinds of music and comedy.
Chris' Jazz Cafe, 1421 Sansom St., 215-568-3131.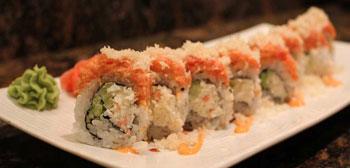 Sushi in the burbs. Sushi is so much about presentation. Beyond the artistic plating, you need ambience. Well, you get beautiful rolls, elegant atmosphere and great taste at Umami Umami, which opened nearly two years ago in the century-old Dresher Inn. (It's unrelated to Umai Umai downtown, by the way.) Though Umami Umami's upper-level dining room might be a bit over-chandeliered, seek out the sushi bar, tucked off the main entrance. Share a tower ($17), which layers wild rice, crab mix, avocado and either spicy tuna or spicy salmon. Then order your own Crunch N Munch ($12, seen here), which stars spicy tuna on top of tempura flakes, cucumber and crab.
Umami Umami, 1708 Limekiln Pike, Dresher, 215-542-6993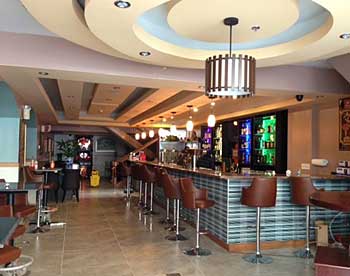 Out and around this weekend: Sunday, Feb. 10 marks the opening of Mixed Plate at 216-218 South St. (left), an amalgam of Asian fare with a mod-looking bar. ... Sink your teeth into a doughnut - hey, Mardi Gras is coming. Philly.com/food's guide to the best doughnuts in the region is here. ... If you have a hankering to get into the kitchen, whip up banana bourbon bread pudding. ... Dave Magrogan, who runs specials on snow crabs at his Doc Magrogan's Oyster Houses whenever snow is forecast, aims to lose money. His next AYCE feed is $19.95 per person from 3 p.m. to midnight Sunday.