A few years ago, before East Passyunk became Philly's hottest dining destination, Joe Massara opened a bistro called Salt & Pepper in a rambling, onetime house at 1623 E. Passyunk Ave. It ran its course.
A few months ago, Massara took on a new chef-partner, a former co-worker at Striped Bass. Christopher Lee won all kinds of attention at that Center City seafooder before it closed and he relocated to New York. Lee has brought in his longtime chef de cuisine, Oris Jeff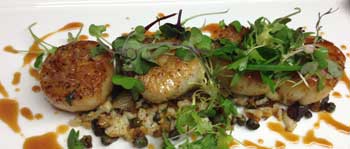 ers, to execute the American menu at what they call Sophia's. (Who's Sophia? Just a name.) The menu is here. That's the diver scallops with cauliflower, capers, kumquats, and pistachios at right.
You're not supposed to get too comfortable with Sophia's lovely, white-tablecloth decor, because Massara and Lee are promising a renovation that will include a new facade with fling-out windows and a new bar. That won't happen for a while, perhaps over the summer.
You oughta like the friendly bar (ask for Ray), which puts on happy hours from 10 p.m. to midnight on weekends. We stopped in for dessert and were delighted to find that Lee and Massara had the good sense to realize that the tiny kitchen leaves no room to execute dessert. (Plus they're next door to a Capogiro.) They sell tasty wares from their neighbor, Jessie Prawlucki, at Belle Cakery.