A few years ago, before East Passyunk became Philly's hottest dining destination, Joe Massara opened a bistro called Salt & Pepper in a rambling, onetime house at 1623 E. Passyunk Ave. It ran its course.
A few months ago, Massara took on a new chef-partner, a former co-worker at Striped Bass. Christopher Lee won all kinds of attention at that Center City seafooder before it closed and he relocated to New York. Lee has brought in his longtime chef de cuisine, Oris Jeff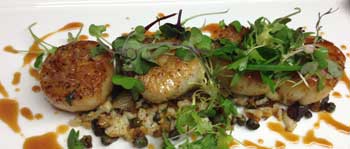 ers, to execute the American menu at what they call Sophia's. (Who's Sophia? Just a name.) The menu is here. That's the diver scallops with cauliflower, capers, kumquats, and pistachios at right.
You're not supposed to get too comfortable with Sophia's lovely, white-tablecloth decor, because Massara and Lee are promising a renovation that will include a new facade with fling-out windows and a new bar. That won't happen for a while, perhaps over the summer.
You oughta like the friendly bar (ask for Ray), which puts on happy hours from 10 p.m. to midnight on weekends. We stopped in for dessert and were delighted to find that Lee and Massara had the good sense to realize that the tiny kitchen leaves no room to execute dessert. (Plus they're next door to a Capogiro.) They sell tasty wares from their neighbor, Jessie Prawlucki, at Belle Cakery.
Sophia's, 1623 E. Passyunk Ave., 215-238-1920, www.sophiasphilly.com.

Random notes. Speaking of East Passyunk, the makers of Pollyodd, the South Philly-made 'cello liqueurs, will grand-open their storefront at 1908 E. Passyunk from 1 to 8 p.m. Saturday, Feb. 23. Samples! ... You do want to try that cheese-curd truck I told you about recently. The Cow & the Curd will join Mac Mart, Chewy's, Farm Truck, Kachi Truck, Foo Truck, Cupcake Carnival, and Jimmies Cupcakes from 5 to 10 p.m. Saturday, Feb. 23 at the Piazza at Schmidt's in Northern Liberties. The Philadelphia Mobile Food Association is teaming up with Spodee Mulled wine for a Spodee Spiked Food Truck Round Up. Each truck will offer a free Spodee-spiked appetizer bite to the first 100 guests. Attendees can vote for their favorite bite. Each vote counts as a raffle ticket for a Spodee-themed gift bag. Each truck will also have its own pay-as-you-go menu. Kings Oak, the sponsor, will let you come in to stay warm. ... Forget about Kingdom of Vegetarians, that longtime Chinese veg joint on 11th Street near Race in Chinatown; windows are papered up. ... It's not vegetarian, but you might try the new Happy Noodle Bar at 927 Race St. ... Also new is Fitler Dining Room at 22d and Spruce Streets, where Meme was. ... Also gone is 943, the BYOB in the Italian Market. ... This is not for this weekend, but get it on your radar that the crew from Cheerleaders just signed to take over the shuttered Christine's Cabaret by the Auto Mall. Wait, Mike: Gentlemen's clubs in "Weekend Must-Tries"? Well, Christine's had a serious restaurant, and there's reason to believe that the new operation will, too. Strip steaks all around.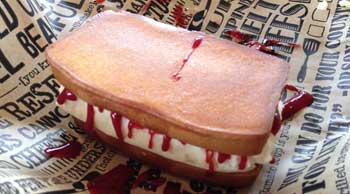 Just desserts. The Peace a Pizza locations in Wayne and North Wales have been converted into Melt Down, which specializes in grilled cheese sandwiches. Not bad, especially if you have kids in tow. You're better off with any variety except for the Classic (cheddar on Italian white), which was boring. The best part was the grilled pound cake sandwiching a slab of Haagen-Dazs, with raspberry sauce drizzled on top. Warm, cold, sweet, really sweet...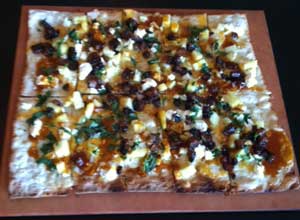 Hog-wild, half-price. Anthony DiPascale, chef at Harvest Seasonal Grill & Wine Bar at 40th and Walnut Streets in University City, has a weekend discount on his Pork Belly Flatbread (agave-glazed pork belly, grilled pineapple, queso fresco and micro cilantro, $6) and Pork Bahn Mi (brick oven-roasted pork loin with pork pâté, cucumber, pickled carrots, jalapeños, cilantro and spicy mayonnaise on a baguette, $7). The pork comes from antibiotic-free organic Heritage hogs from Wind Chaser Farm in Paradise, Lancaster County. Deal is on from 4 to 6 p.m. all weekend.