Beer and food go together beautifully. If you need proof, make an evening of it at The Brewer's Plate, the ninth annual grub-meets-brew fest, Sunday, March 10 at the National Constitution Center: 20 local restaurants, 20 local craft breweries, spirits and sweets. It's a benefit for Fair Food, a nonprofit dedicated to bringing locally grown food to the marketplace and promoting a humane, sustainable agriculture system for the Philadelphia region. Info is here.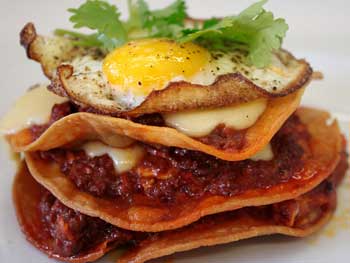 Brunch on South Street, brunch on the river. Chef/owner Mitch Prensky has a spring-cleaning project going on his menu at Supper. Now on for brunch are ambrosia pancakes, which are made with coconut cream and are topped with mandarin oranges, toasted coconut, and spiced marshmallow ($15). For true decadence, dig into banana cream pie French toast ($15), topped with Nilla Wafers and salted caramel.
Supper, 926 South St.
With spring less than two weeks away, it's a fine time to visit the Yardley Inn before the Bucks County town gets all gorgeous and leafy, what with its view of the Delaware. You come for the food, anyway. Chef Eben Copple wows at weekend brunch with his roasted chicken and chorizo chilaquiles (corn tortillas, chipotle tomato sauce, Chihuahua cheese, fried egg, above, $12). If you're feeling ambitious and want to make this dish for yourself, here is the recipe.
Yardley Inn, 82 E. Afton Ave., Yardley.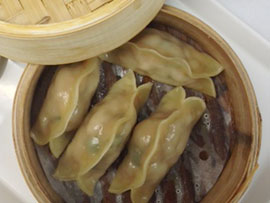 Also on tap for the weekend: Saturday, March 9 is the Craft Beer Express, a bus crawl of 11 downtown bars. ... You can mark the opening of the Washington Square West cafe Toast at 1201 Spruce St. by snagging a free coffee from 9 to 11 a.m. ... Want to go to the fourth annnual Chili Bowl? You can only if you have a ticket. It's sold out. ... Sunday, March 10 is a special day for not only for the Irish but for early birds. You set the clocks ahead Saturday night, so don't miss the noon EDST start of the St. Patrick's Parade along the Ben Franklin Parkway to Eakins Oval. ... Sunday also is a free doughnut day at Krispy Kreme shops, as they mark the transition to daylight saving. ... And Saturday is the finale of the fifth annual Atlantic City Restaurant Week. Buddakan and Continental at the Pier at Caesars offers a three-course lunch for $15.13 and dinner for $33.13, and all the faves are on the menus, such as the chicken dumplings from Buddakan.