With 18 food trucks dishing out some of the gooiest foods known to man, it's a given there will be some stained shirts at the third annual Vendy Awards, coming Saturday, June 8 to Penn Treaty Park.
Enter Tide. The Procter & Gamble brand has signed on as a sponsor. Not only will Tide dole out Stain Erasers, it will poll attendees on the dishes deemed to be the messiest.
How about the Tot Cart's tater tots with drunken cheese sauce? Kami's bulgogi kimchi cheesesteak? Or Chewy's ranger burger with BBQ sauce and coleslaw?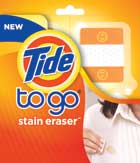 The list of trucks breaks down thusly:
In the savory camp are Kami, Chewy's, Chez Yasmine, Christis' Falafel Truck, Foo Truck, King of Falafel, Lil' Dans Gourmet, Mac Mart, Magic Carpet Foods, Poi Dog, The Cow & the Curd, Tot Cart
For dessert: Cupcake Carnivale, Gozen, Jimmies, Lil Pop Shop, Sugar Philly Truck, Sweet Box Cupcakes,
The Vendy Awards runs from 2 to 6 p.m. June 8 at Penn Treaty Park.
Tickets ($55 adults) get you unlimited food and Brooklyn Brewery beer. Order by 5 p.m. Friday, June 7. A limited number of tickets will be available at the door for an additional $5.
The Vendy Awards are organized by The Street Vendor Project at the Urban Justice Center in New York City.