With 18 food trucks dishing out some of the gooiest foods known to man, it's a given there will be some stained shirts at the third annual Vendy Awards, coming Saturday, June 8 to Penn Treaty Park.
Enter Tide. The Procter & Gamble brand has signed on as a sponsor. Not only will Tide dole out Stain Erasers, it will poll attendees on the dishes deemed to be the messiest.
How about the Tot Cart's tater tots with drunken cheese sauce? Kami's bulgogi kimchi cheesesteak? Or Chewy's ranger burger with BBQ sauce and coleslaw?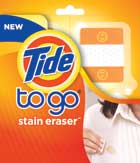 The list of trucks breaks down thusly: