Shake Shack sets its opening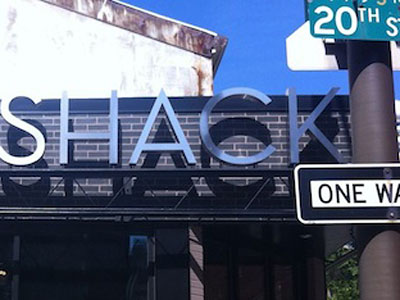 What are you doing at 11 a.m. June 6?
Shake Shack sets its opening

June 6 is engrained in American culture as the anniversary of the Allied forces' crossing the English Channel and launching a bold offensive that presaged the end of the Nazi occupation of Europe.
This year, June 6 simply will mean the start of great fries, burgers, flat-top-grilled hot dogs, frozen custard, and shakes as the city's first Shake Shack is down for an 11 a.m. opening at the southwest corner of 20th and Sansom Streets.
The casual concept was launched eight years ago in New York's Madison Square Park by restaurateur Danny Meyer and Union Square Hospitality Group.
This will be Shake Shack's 15th location, as USHG has been opening in other cities outside of NYC since 2010.
The new Shake Shack at 20th and Sansom Street has devised three frozen desserts with a Philadelphia theme. Which sounds tastiest?

Center City Pretzel: vanilla custard, Philly-style soft pretzel, caramel sauce, marshmallow sauce and banana
  171 (32.9%)
Rittenhouse²: chocolate custard, La Colombe coffee beans, coffee marshmallow sauce and chocolate truffle cookie dough
  153 (29.4%)
Liberty Shell: vanilla custard, Termini Bros. cannoli shell, strawberry purée & lemon ricotta
  196 (37.7%)
Total votes = 520
It's directly across the street from both Jose Garces' Village Whiskey - which makes an awesome burger - and Capogiro - whose gelati scoops are among the finest outside of Italy. I doubt that Shake Shack will make even the slightest dent in their business. More important, since it will be open till 11 p.m. daily, Shake Shack will light up a dead corner at night. The dry cleaner's and adult bookstore hardly had a presence.
Shake Shack also will serve beer and wine (though it's not 100 percent confirmed that alcohol will be available from Day 1), plus treats for dogs.
The word Concrete will enter the city's culinary lexicon. It's Shake Shack's version of the DQ Blizzard - custard with "mix-ins" - and Shake Shack has created three Philly-centric varieties (using locally sourced ingredients):
Center City Pretzel: vanilla custard, Philly-style soft pretzel, caramel sauce, marshmallow sauce and banana
Rittenhouse²: chocolate custard, La Colombe coffee beans, coffee marshmallow sauce and chocolate truffle cookie dough
Liberty Shell: vanilla custard, Termini Bros. cannoli shell, strawberry purée & lemon ricotta