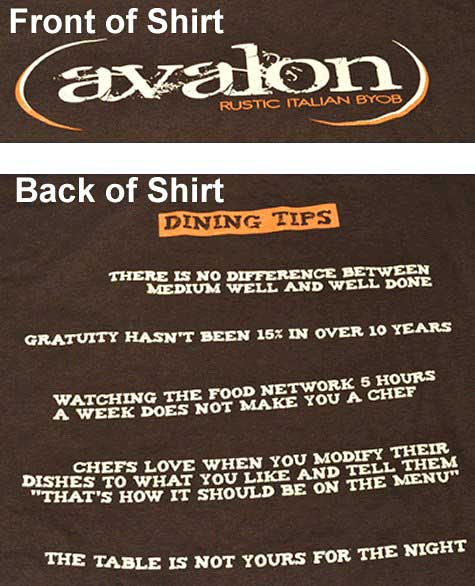 The customers aren't always right. Listen long enough to chef-owners, and you'll believe that.
Usually, these gripes are confined to the kitchen, lest some patron's delicate sensibilities be offended.
Chef John Brandt-Lee of Avalon in West Chester and Avalon Pasta Bistro in Downingtown went public with common beefs, printing up these T-shirts worn by his staff.
On Facebook, he explained: "Before anyone sounds off and blasts me ...THIS SHIRT IS JUST A JOKE..A SATIRE! It is very popular and people have been asking us to sell it. So we have a limited amount in stock for the holidays. If you know anyone in the restaurant/hospitality industry, this is a must have xmas gift. Disclaimer: this is a satire, no feeling were intended to be hurt, no animals were hurt during the making of this shirt, in a small percentage of viewing people feelings were hurt, if you are a small person and feel sad after reading this, please see a physician."
He's selling 'em for $25 here.