The scene at Ashley Angeloff's Graduate Hospital rowhouse on a recent Sunday evening was like a potluck dinner in reverse: Neighbors arrived bearing empty plastic food-storage containers and left with full ones -- a quart or two apiece of Italian wedding soup, a riff on Angeloff's mother-in-law's recipe, with spinach, meatballs, egg, and acini de pepe pasta bobbing in beef broth.
This wintertime ritual is known in the neighborhood as Soup Group. It's a simple way of building community through food, simultaneously easing the grind of making weeknight dinners while giving neighbors a chance to connect.
The program, organized by the South of South Neighborhood Association (SOSNA), is now in its second winter, and about 40 households around the neighborhood are participating in a half-dozen groups.
"It's almost like a fabulous pyramid scheme," said Marisa Waxman, 38. "You get homemade soup every week and you cook one batch every five or six weeks."
Waxman, a SOSNA board member, engineered the concept after reading a couple of magazine articles about neighbors sharing food.
"I began to get the idea that it might be fun to do as an opportunity to connect neighbors with one another," she said. But sharing whole meals seemed too complicated. "Soup is really easy to make in a big batch and to share. We wanted to do something that's not too much pressure. Popping by with a Tupperware for a few minutes every week isn't too much, but it begins to build and grow relationships."
She put out the call via social media and email, and 33 households signed up in fall 2015.
There were some logistics to work out: Groups are typically BYOT (bring-your-own-Tupperware), and soup pickup usually runs from 5 to 7 p.m. Sundays. A group of six or seven households tends to work well, as one or two might drop out. Groups can go through one rotation or, if they choose, repeat the cycle well into spring. Organizers create a spreadsheet with a schedule at the start of the soup season, and members can swap dates as needed.
"The No. 1 question we get is: How do you figure out how much soup to make?" Waxman said. "We just sort of wing it, and it works out."
Angeloff said she normally doubled or tripled her recipes for Soup Group. "But the nice thing about soup is you can always add more broth."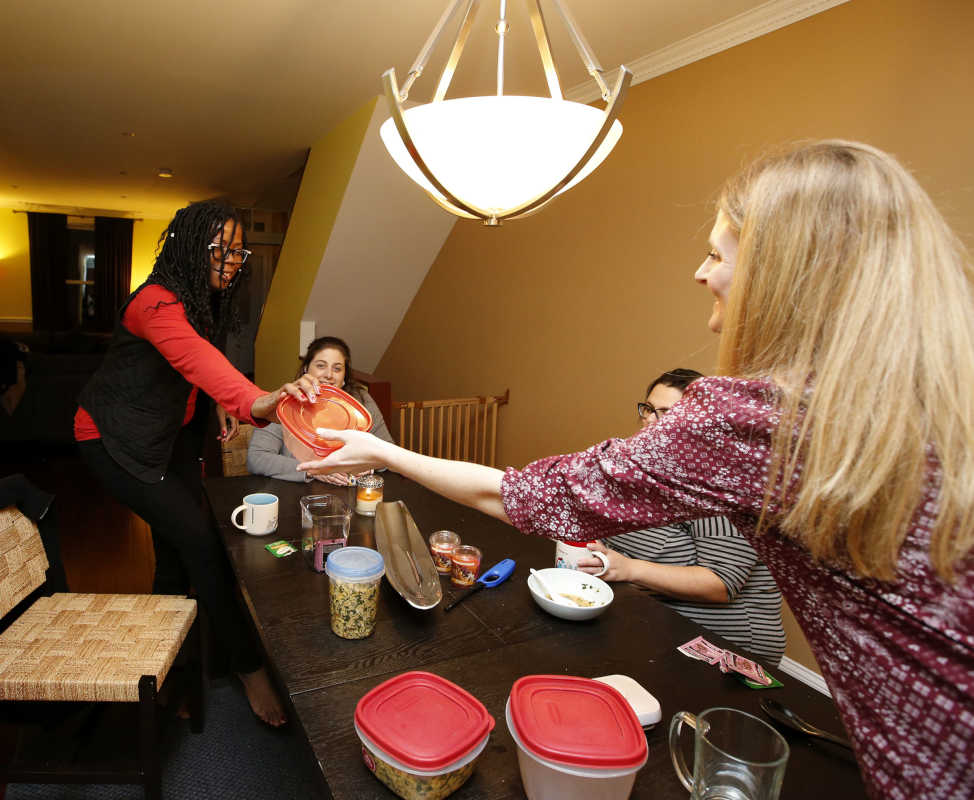 Eleanor Sharpe (left) hands host Ashley Angeloff a empty container for to be filled with soup in Angeloff's Graduate Hospital neighborhood home on Sunday, January 8, 2017. They are part of a soup exchange group. (YONG KIM / Staff Photographer)
Previous weeks in this particular group had brought curried sweet potato soup, a creamy cauliflower soup, and a sausage, kale, and white bean soup that is Waxman's specialty.
Eleanor Sharpe, whose spaniel, Jet, bounded into the house alongside her, had contributed a Jamaican pumpkin, chicken, and vegetable soup with dumplings, based on a recipe she grew up eating.
Paul Curcio contributed his mother's Italian wedding soup, a labor-intensive, scratch-made endeavor he undertakes only once a year.
"Last week, we had a West African peanut soup, which was incredible, and it made me look up a recipe and get it into my repertoire," Angeloff said. "We all have different tastes. I tend to be a little more paleo, whereas I remember someone made a heavy broccoli-cheese soup, so it was nice to diversify."
Lauren DellaCava, 36, arrived with a plastic container in hand and accepted an offer to sample the soup du jour. She has two children and appreciates that Soup Group solves the problem of dinner for Monday or Tuesday — or both. And, she said, it has expanded her kids' palates: Her 5-year-old daughter surprised her several weeks earlier by devouring quinoa-and-bean soup.
When it's her turn to cook, she said, "I don't think the expectations are too high. It's very forgiving."
Sharpe agreed: "I show up, and there's food." That feels like a win.
Often, members stay for a cup of tea or a glass of wine before trudging home, soup in hand.
"This was an awesome way to get to know people," Angeloff said. "What I love about the Soup Group is, we all come from completely different backgrounds, and we work in different fields. Our social circles don't collide. But I'm so happy we got to meet through Soup Group."
Angeloff works in finance. Waxman is first deputy revenue commissioner for the city. DellaCava's a behavioral health-care manager, and Sharpe works for the City Planning Commission.
"Last year, we didn't want to stop the group," Angeloff said. But as the seasons turned, they couldn't think of a fitting warm-weather alternative.
Though they're forgiving when it comes to their soup, it turns out there are limits.
"I really feel that cold soup is not soup," DellaCava said. "Gazpacho? It's like a wet appetizer. One false move, and it's salsa."