Not going to make it to Mardi Gras this year? You don't need to go to New Orleans for a taste of this celebration. We rounded up some Mardi Gras recipes you can try at home.
Pralines
From Beck's Cajun in Reading Terminal Market and 30th Street Station
2 tbsp. canola oil
2 cups sugar
2 cups light brown sugar
1 cup half-and-half
4 tbsp. unsalted butter
2 cups pecan pieces
1 tsp. pure vanilla extract
Set 3 sheets of waxed paper on a work surface and brush with the oil.
In a heavy-bottomed saucepan, combine the sugars, half-and-half and butter and heat, without stirring, over medium heat to 235˚F on a candy thermometer, 20 to 25 minutes.
Remove from heat and let cool 5 minutes. Stir in the pecans and vanilla. Working quickly, before the mixture hardens, drop by heaping tablespoon onto the oiled wax paper. Allow pralines to cool until completely set, about 30 minutes. (If the pralines flatten too much when you drop them, give the mixture 4 to 5 vigorous stirs with a wooden spoon to thicken.) Makes about 50 pralines.
Creole Seafood And Chicken Gumbo
From Mike Bruton in Real Men Cook by K.Kofi Moyo
Makes 10 to 12 servings
Ingredients:
6 tablespoons brown roux (see note)
1 tablespoon ground black pepper
1 tablespoon gumbo file
1 tablespoon cayenne pepper
2 teaspoons salt
3 tablespoons Creole seasoning (such as Tony Chachere's)
1 chicken (2 1/2-3 pounds), cut into 10 to 12 serving pieces
1 pound andouille sausage, cut into 1/4-inch slices
4 ribs celery, chopped
1 medium onion, chopped
2 cups chopped green onions, green and white parts
1 cup chopped fresh parsley
1 pound large shrimp, peeled and deveined
2 pounds lump crabmeat (or 8 fresh blue crabs, cleaned)
Directions:
1. In a large pot, bring 2 quarts water to a boil while adding the roux, black pepper, gumbo file, cayenne, salt and Creole seasoning. Stir constantly to mix well and dissolve roux, up to 30 minutes, then reduce heat to medium.
2. Add the chicken and continue cooking for 40 minutes.
3. Add the sausage, celery, onion and green onions; cook to meld flavors, 20 to 30 minutes, then add the parsley, shrimp and crabmeat, and let simmer until the shellfish are cooked through, about 5 minutes. May be served with cooked rice.
Note: Roux is a thickening agent made of equal parts fat (butter in light roux, oil in brown roux) and flour with the raw flour taste cooked off. Use white roux for white sauces; blond roux (a light tan) for most cooking; and brown roux, with its strong nutty aroma, for Creole dishes such as gumbo.
Per serving of gumbo (based on 12): 593 calories, 53 grams protein, 16 grams carbohydrates, 1 gram sugar, 35 grams fat, 228 milligrams cholesterol, 1,448 milligrams sodium, 2 grams dietary fiber.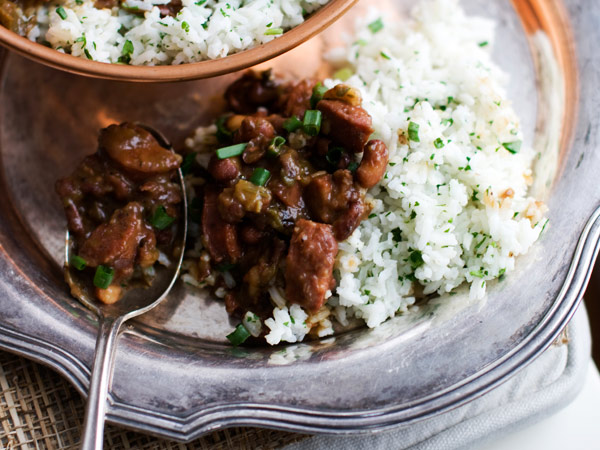 Red Beans and Rice with Andouille Sausage
From Alison Ladman for Associated Press
8 serving(s)
Ingredients:
1 pound dried red beans
4 ounces salt pork, diced
1 pound smoked pork hocks
1 pound andouille sausage, halved lengthwise and sliced into half-rounds
1 large yellow onion, diced
4 cloves garlic, chopped
2 large stalks of celery, diced
2 green bell peppers, cored and diced
1 teaspoon Cajun seasoning
3 bay leaves
1 teaspoon dried thyme
2 quarts chicken or vegetable stock
Hot sauce, to taste
Salt and ground black pepper, to taste
4 cups cooked (hot) long grain white rice
2 tablespoons chopped fresh parsley
2 scallions, thinly sliced
Directions:
1. Fill a large pot or bowl with water, then add the beans. Stir, then cover and set aside to soak overnight.
2. When ready to cook, drain the beans and set aside.
3. In a large, deep pot with a heavy bottom, such as a Dutch oven, over medium heat, brown the salt pork until crispy, about 12 minutes. Add the pork hocks, sausage, onion, garlic, celery, bell peppers and Cajun seasoning.
4. Cook until starting to brown, about 7 to 8 minutes.
5. Add the bay leaves, thyme, stock and the drained beans. Simmer over medium heat and cook, uncovered, for 1 1/2 to 2 hours, or until the beans are tender. If the mixture gets too dry, add water a small amount at a time. Season with hot sauce, salt and pepper.
6. In a medium bowl, stir together the rice, parsley and scallions. Serve with the red beans.
Nutrition information per serving: 680 calories; 250 calories from fat (37 percent of total calories); 28 g fat (10 g saturated; 0 g trans fats); 70 mg cholesterol; 71 g carbohydrate; 6 g fiber; 6 g sugar; 38 g protein; 1110 mg sodium.
Shrimp Po' Boy with Horseradish Remoulade
Recipe courtesy Jeff Mauro (FoodNetwork.com)
4 serving(s)
Ingredients:
Vegetable oil, for frying
3/4 cup all-purpose flour
2/3 cup yellow cornmeal
1 teaspoon seafood seasoning, such as Old Bay
Kosher salt and freshly ground pepper
1/2 cup buttermilk
2 teaspoons Sriracha
1 egg
1 1/2 pounds medium shrimp, peeled, deveined and butterflied
4 Soft Hoagie Rolls, brushed with butter and slightly toasted in the oven
Horseradish Remoulade, recipe follows
1 cup cherry tomatoes, sliced into rounds
8 leaves green leaf lettuce
1/2 red onion, thinly sliced
Horseradish Remoulade:
1 1/2 cups mayonnaise
1 tablespoon capers
1 tablespoon Sriracha
1 tablespoon horseradish
1 tablespoon lemon juice
1 tablespoon sweet pickle relish
1 tablespoon apple cider vinegar
1 teaspoon stone-ground mustard
1/2 medium shallot, cut into chunks (1/4 cup)
Kosher salt and freshly ground pepper
Directions:
1. Fill a Dutch oven halfway with oil and heat to 375 degrees F.
2. Whisk the flour, cornmeal, seafood seasoning and sprinkle with salt and pepper in a small bowl and set aside. In another small bowl, whisk the buttermilk, Sriracha and egg and set aside.
3. Place the shrimp into the buttermilk mixture, let the excess drip off, then dredge in the flour mixture and shake off any excess. Place the shrimp onto a wire-racked baking sheet. Repeat until all shrimp are breaded.
4. Fry the shrimp in batches, not overcrowding the oil, until golden brown and cooked through, 2 to 4 minutes. Place the shrimp onto a paper-towel-lined-plate. Repeat until all the shrimp are fried. Sprinkle with salt and pepper.
5. Spread both sides of the rolls heavily with the Horseradish Remoulade. Place the shrimp on top and then the tomatoes, lettuce and some onions. Eat away!
Horseradish Remoulade:
1. Add the mayonnaise, capers, Sriracha, horseradish, lemon juice, relish, vinegar, mustard, shallots and sprinkle with salt and pepper in a food processor. Blend until slightly chunky. Adjust seasoning if necessary. Yield: 3/4 cup.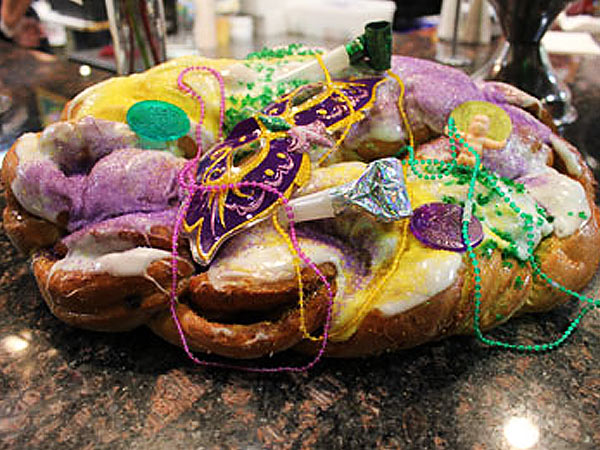 Recipe courtesy Food Network Magazine
12 serving(s)
Ingredients:
For the Cake:
1/3 cup milk
1 package active dry yeast
2 1/2 cups bread flour, plus more for dusting
2 large egg yolks, plus 2 eggs
3 tablespoons granulated sugar
Finely grated zest of 1 lemon
1 teaspoon salt
1/2 teaspoon freshly grated nutmeg
1 1/2 sticks unsalted butter, melted and cooled, plus more for greasing the bowl
For the Filling and Glaze:
1/2 cup golden raisins
1/4 cup bourbon
3/4 cup packed dark brown sugar
2/3 cup toasted pecans, chopped
1 teaspoon vanilla extract
1 teaspoon ground cinnamon
2 teaspoons grated orange zest
1/4 teaspoon salt
1 dry bean or plastic King Cake baby (available at party-supply stores or mardigrasday.com)
1/2 cup confectioners' sugar
Purple, green and gold sanding sugar, for decorating
Directions:
Make the cake:
1. Heat the milk in a saucepan until scalding; transfer to a food processor, add the yeast and pulse to combine. Add 1/2 cup flour and the egg yolks; process to combine. Pour the remaining 2 cups flour evenly over the yeast mixture; do not process. Put the lid on; set aside for 90 minutes.
2. Add the 2 whole eggs, granulated sugar, lemon zest, salt and nutmeg to the food processor; process to make a slightly textured dough, about 1 minute. With the machine running, slowly add the butter to make a smooth, sticky dough. Transfer the dough to a lightly buttered bowl and cover tightly with plastic wrap; let rise in a warm place for 3 hours. Turn the dough out onto a clean surface and knead briefly; form into a ball and return to the bowl. Cover tightly with plastic wrap and refrigerate for 8 hours or overnight.
Make the filling:
1. Plump the raisins in the bourbon in a small saucepan over medium heat. Remove from the heat and add the brown sugar, pecans, vanilla, cinnamon, orange zest, salt and the bean or plastic baby; mix until combined and set aside.
2. On a floured surface, roll the dough into a 20-by-7-inch rectangle, with the long edge facing you. Spoon the filling in an even layer over the dough, leaving a 1-inch border along the top and bottom. Fold the bottom and then the top edge over the filling to make a tight roll; pinch to seal. Transfer the roll seam-side down to a parchment-lined baking sheet; tuck one end into the other to form a ring. Cover loosely with plastic wrap and set aside in a warm place until the roll doubles in size, about 2 hours.
3. Preheat the oven to 350 degrees. Bake the cake until firm and golden brown, about 40 minutes. Cool on a rack.
Make the glaze:
1.Mix 3 tablespoons water with the confectioners' sugar; brush 3 tablespoons glaze over the cake. Sprinkle with bands of colored sugar; drizzle with more glaze.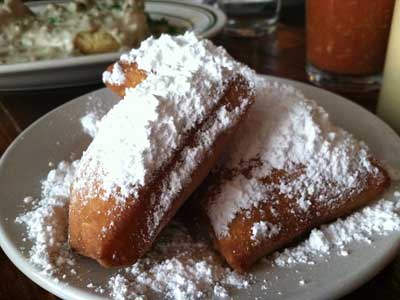 French Quarter Beignets
Recipe courtesy Paula Deen (FoodNetwork.com)
3 dozen
Ingredients:
1 1/2 cups lukewarm water
1/2 cup granulated sugar
1 envelope active dry yeast
2 eggs, slightly beaten
1 1/4 teaspoons salt
1 cup evaporated milk
7 cups bread flour
1/4 cup shortening
Nonstick spray
Oil, for deep-frying
3 cups confectioners' sugar
Directions:
1. Mix water, sugar, and yeast in a large bowl and let sit for 10 minutes.
2. In another bowl, beat the eggs, salt and evaporated milk together. Mix egg mixture to the yeast mixture. In a separate bowl, measure out the bread flour. Add 3 cups of the flour to the yeast mixture and stir to combine. Add the shortening and continue to stir while adding the remaining flour. Remove dough from the bowl, place onto a lightly floured surface and knead until smooth. Spray a large bowl with nonstick spray. Put dough into the bowl and cover with plastic wrap or a towel. Let rise in a warm place for at least 2 hours.
3. Preheat oil in a deep-fryer to 350 degrees F.
4. Add the confectioners' sugar to a paper or plastic bag and set aside.
5. Roll the dough out to about 1/4-inch thickness and cut into 1-inch squares. Deep-fry, flipping constantly, until they become a golden color. After beignets are fried, drain them for a few seconds on paper towels, and then toss them into the bag of confectioners' sugar. Hold bag closed and shake to coat evenly.
Recipe courtesy of David Venable, QVC Program Host and Author of QVC's Resident Foodie Presents: Comfort Foods That Take You Home
Ingredients:
1 Tbsp powdered sugar
Splash of gin
Splash of champagne
Lemon rind (optional garnish)
Directions:
1. Fill a cocktail shaker with ice and add the lemon juice, powdered juice, and gin; shake well. Pour the mixture into a low, ice-filled glass. Add the splash of champagne and garnish the glass with the lemon rind (optional).
For more Philly.com recipes, click here.