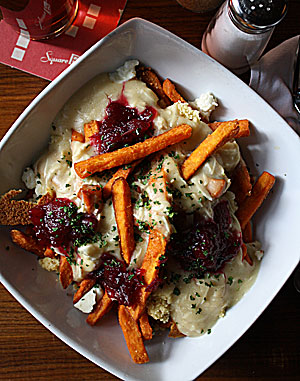 Poutine is that Montreal specialty of fries topped with gooey cheese curds and gravy.
So Matt Levin, chef at Square Peg at 10th and Walnut Streets, has Americanized it and given it a Thanksgiving spin.
Through Friday, Nov. 23, he's cooking a Thanksgiving poutine ($15): Sweet Potato Fries, Shredded Turkey, Turkey Gravy, Cheese Curds, Cornbread, and Cranberry Sauce.
Photo: Kristen Humbert