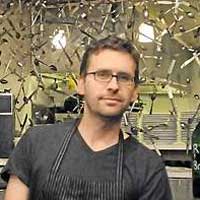 After nearly nine years of inspiring city dwellers to shlep out to Pottstown for dinner, chef Michael Falcone has put Funky Lil' Kitchen - his BYOB - on the market.
Falcone says his next step is a food truck. "Instead of getting people to trek out here, we'll go to them," quipped Falcone. The truck - to be called Heart - is in development for a spring rollout. Its focus will reflect Funky Lil' Kitchen's sustainable, local and organic approach.
Important note: Falcone will stay open at FLK until the business is sold.
In the market for a restaurant in Pottstown? Here is the listing. Business is for sale with real estate for $289,900 or business for sale with the lease of building for $125,000 and $1,700 a month.
Photo: from FLK's Facebook