Center City could be a step closer to getting a Cheesecake Factory.
That decision is now in the hands of the Center City Residents' Association's zoning committee, which Tuesday night heard a redevelopment plan for the southeast corner of 15th and Walnut Streets.
The plan calls for the demolition of the strip of retail businesses along the east side of 15th Street from Walnut Street to Chancellor Street - previously a bank, hair salon, coffee shop, and restaurant - as well as two adjacent properties on Walnut Street. A new building, to have a green roof, would house the popular restaurant as well as retail.
Cheesecake's n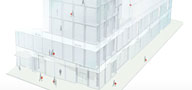 ame came up in testimony, the first time its plans have been aired in public. It's been rumored for nearly a year.
The zoning committee's decision, due shortly, carries great impact with the city's Zoning Hearing Board, which would have to approve the plan before the wrecking ball arrives.