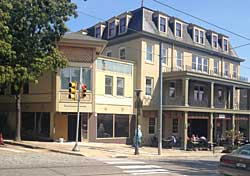 The Chestnut Hill Hotel - now undergoing a major spruce-up - has a tenant to fill the prime restaurant space previously occupied by The Melting Pot.
Bardea (bar-day-ah) will be an Italian-leaning American with a wood-fired pizza oven, salumi bar, fresh pasta, wines/cocktails, outdoor dining via newly installed windows on Germantown Avenue.
"Affordable sophistication" is how operating partner Scott Stein describes it.
Legit chef/partner, too: Jay Caputo, the James Beard Best Chef Award nominee and former executive chef at Tangerine, who now owns the chic Espuma and more lively Cabo in Rehoboth Beach, Del.
They're talking about an early spring opening.