Craig LaBan's Favorites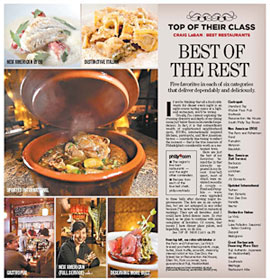 If you're thinking that all a food critic wants for dinner every night is an eight-course tasting menu at a high-end restaurant, you'd be wrong.
Usually, I'm content exploring the stunning diversity and depth of our dining scene just below those more rarefied experiences. In fact, it is that extraordinary wealth of sophisticated neighborhood spots, BYOBs, internationally inspired kitchens, gastropubs, and New American bistros - constantly fine-tuning to reflect the moment - that is the true measure of Philadelphia's considerable worth as a restaurant town.

Here are just the best of my favorites beyond the 13 that already appeared in my recent four-bell quest, most of which were revisited recently. A couple - Fond and Pumpkin - were even upgraded to three bells after showing major improvements. The lists are in six categories, but are not arranged in any order because I've never believed in numerical rankings. They are all favorites. And I could have listed dozens more. So stay tuned, as we plan to continue with more categories of favorites.
Of course, that means I have dinner plans galore, and hopefully, now, so do you. - Craig LaBan
Amis
Washington Square West

Marc Vetri's boisterous industrial space has chef Brad Spence serving rustic Roman fare.
Le Virtu
South Philadelphia

South Philly's best Italian restaurant has continued to evolve under chef Joe Cicala.
Luke Palladino Seasonal Italian Cooking
Northfield, N.J.

Luke Palladino's intimate 30-seat BYOB in a Shore strip mall is one of South Jersey's most compelling dining draws.
Melograno
Rittenhouse Square

Roman-born chef-owner Gianluca Demontis has "the touch" for trattoria cooking at his BYOB.

Zeppoli
Collingswood

Joey Baldino's authentic Sicilian flavors are informed by the finesse of his pedigree, but the noise!
New American (Full Service)
a.kitchen
Rittenhouse Square

Clean flavors, smart combinations, homemade English muffins, and stylish small plates define a modern aesthetic of casual sophistication.
Barbuzzo
Washington Square West

The doyennes of Midtown Village (chef Marcie Turney and Valerie Safran) have a runaway hit with this narrow wine bar.
Fork
Old City

This trailblazing bistro, now 15 years old, is as good as ever since the arrival of chef Terence Feury.
JG Domestic
University City

Jose Garces' lobby restaurant in the Cira Centre is an ode to great American ingredients.
Supper
South Street

Caterers Mitch and Jennifer Prensky helped lead the way for Philly's small-plate movement.
Han Dynasty
Old City

Szechuan master Han Chiang's peppercorn-fired pyrotechnics and opinions are the draw ... or drawback.
Kanella
Washington Square West

This corner BYOB is a heartfelt homage to the authentic Cypriot-Greek flavors of Konstantinos Pitsillides' island home.
Koo Zee Doo
Northern Liberties

David Gilberg and Carla Gonçalves' romantic BYOB elevates rustic Portuguese flavors to a rare sophistication.
Nectar
Berwyn

This pan-Asian has moved beyond its initial reputation as "the Buddakan of the suburbs."
Tashan
Avenue of the Arts/South Philadelphia

Tiffin meets Buddakan at this groundbreaking venture that combines talents of Western and Indian chefs.
Khyber Pass Pub
Old City

Old City's classic rock-and-roll beer bar serves some of this town's best New Orleans-inspired cooking.
Kraftwork
Fishtown

Few spots along Fishtown's buzzing nightlife avenue are as handsome as this corner bar, whose tool motif is an ode to industrial days past.
Resurrection Ale House
Southwest Center City/Graduate Hospital

Of all the neighborhood hangs owned by Brendan Hartranft and Leigh Maida, this has the most ambitious kitchen.
South Philadelphia Tap Room
Southwest Center City/Graduate Hospital

From its double-wide townhouse, SPTR has become the epicenter of South Philly's beer revolution.
Standard Tap
Northern Liberties

The gastropub that started it all still captures a certain super-bar magic.
Great Restaurants Deserving More Buzz
Fuji Authentic Japanese
Haddonfield

The creative kaiseki tastings from chef Matt Ito remain after three decades among our most extraordinary adventures.
Meme
Rittenhouse Square

Less is more at this airy, open-kitchen corner, which comes alive with David Katz's vivid bistro-plus flavors.
Meritage
Southwest Center City/Graduate Hospital

Michele DiPietro and Irene Landy's wine bar has become a destination under chef Anne Coll.
Restaurant Alba
Malvern

Sean Weinberg's wood-fired ode to Italian flavors and local ingredients has matured into one of the suburbs' best restaurants.
Southwark
Queen Village

Sheri and Kip Waide's tavern remains a go-to haunt for the city's best Manhattan followed by an inventive meal.
New American BYOBs
Blackfish
Conshohocken

There's a reason the white rooms of this contemporary storefront are perpetually filled with fine-wine-toting Main Line devotees.
The Farm & Fisherman
Washington Square West

This BYOB was one of the star debuts of 2011, with Josh Lawler and his wife, Colleen, showing the pretenders how farm-to-table is done.
Fond
South Philadelphia

Upgraded from 2 bells The cooking couple behind this intimate East Passyunk BYOB has made huge progress.
Matyson
Rittenhouse Square

The young guns are still having fun at one of Center City's longstanding BYO hits. And don't miss the world's best coconut cream pie.
Pumpkin
Southwest Center City/Graduate Hospital

Upgraded from 2 bells. Always a charmer, this shoebox-sized pioneer of the BYO movement near the old Graduate Hospital has made tremendous strides.