Craig LaBan's Favorites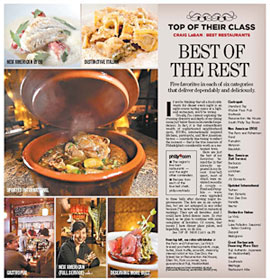 If you're thinking that all a food critic wants for dinner every night is an eight-course tasting menu at a high-end restaurant, you'd be wrong.
Usually, I'm content exploring the stunning diversity and depth of our dining scene just below those more rarefied experiences. In fact, it is that extraordinary wealth of sophisticated neighborhood spots, BYOBs, internationally inspired kitchens, gastropubs, and New American bistros - constantly fine-tuning to reflect the moment - that is the true measure of Philadelphia's considerable worth as a restaurant town.

Here are just the best of my favorites beyond the 13 that already appeared in my recent four-bell quest, most of which were revisited recently. A couple - Fond and Pumpkin - were even upgraded to three bells after showing major improvements. The lists are in six categories, but are not arranged in any order because I've never believed in numerical rankings. They are all favorites. And I could have listed dozens more. So stay tuned, as we plan to continue with more categories of favorites.
Of course, that means I have dinner plans galore, and hopefully, now, so do you. - Craig LaBan
Amis
Washington Square West
Marc Vetri's boisterous industrial space has chef Brad Spence serving rustic Roman fare.
Le Virtu
South Philadelphia
South Philly's best Italian restaurant has continued to evolve under chef Joe Cicala.
Luke Palladino Seasonal Italian Cooking
Northfield, N.J.
Luke Palladino's intimate 30-seat BYOB in a Shore strip mall is one of South Jersey's most compelling dining draws.
Melograno
Rittenhouse Square
Roman-born chef-owner Gianluca Demontis has "the touch" for trattoria cooking at his BYOB.

Zeppoli
Collingswood
Joey Baldino's authentic Sicilian flavors are informed by the finesse of his pedigree, but the noise!