Video: Honey Boo Boo's stinky secret weapon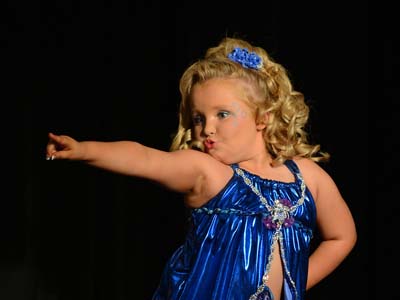 A teaser of the season opener introduces 'cup-a-fart'
Video: Honey Boo Boo's stinky secret weapon

Can you smell what Honey Boo Boo and the rest of the Thompson clan are cooking up for next week's season debut of Here Come Honey Boo Boo on TLC? Hmm, that's not road kill…
In the clip (below) Honey Boo Boo takes the wraps off her secret weapon: the cup-a-fart. It's pretty self-descriptive but y'all can watch if you want to.
A couple of things stand out here. Sugar Bear, Honey Boo Boo's scion, can really clear a room. And try if you can to imagine the caliber of professional wrestler whose circuit would include McIntyre, Georgia. Ooo-whee!
In a TV interview this week, Lone Ranger star Johnny Depp revealed that he is a fan of Here Come Honey Boo Boo, saying, "I'm a little frightened of the show. That's the thing: They're probably great people, but there are bits that happen that I am just mesmerized by." We're guessing cup-a-fart would loom large in that category. Right, Johnny?
---
Read more Dave on Demand or follow him on Twitter @DaveOnDemand_TV