'Dancing with the Stars': We have a new champion! VIDEO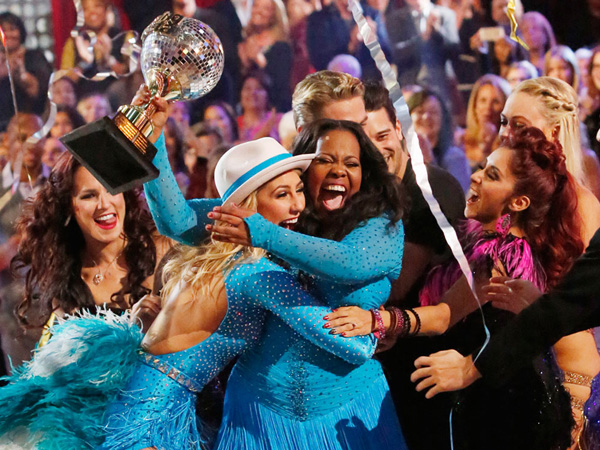 The 17th season ends with a jubilant winner
'Dancing with the Stars': We have a new champion! VIDEO

Remember Snooki and Bill Nye and Valerie Harper? They all came back for last night's finale on Dancing with the Stars. Showing the class that has made her a tiny legend, Snooki said to co-host Brooke Burke Charvet, "I missed your boobs."
Lady Antebellum performed. So did Enrique Iglesias. And I think I saw Ylvis doing their bizarre hit "The Fox", although it's entirely possible Lazaro's put the wrong kind of mushrooms on my pizza.
Then it was time to declare a new champion. Jack Osbourne and Cheryl Burke were taken out of the equation, and it came down to the two duos in the video (below).
In the end (drumroll please) it was Amber Riley. (It was the fifth win for her partner Derek Hough.) The Glee star prevailed over Corbin Bleu and his partner Karina Smirnoff.
A jubilant Riley declared, "I want to let women of all sizes out there know -- you can do whatever you put your mind to! It doesn't matter what size you are, what color you are. You can do whatever, whatever, whatever you put your mind to!"
BTW, Snooki's wasn't even close to the most questionable comment last night. That honor goes to judge Len Goodman. After Amber executed a fusion number to Jackie Wilson's "(Your Love Keeps Lifting Me ) Higher and Higher," Goodman declared, "You, my little sausage, are a fantastic dancer."
My little what? Is Bruno writing your comments now, Len?
Congratulations to Amber. Well deserved.
(Can't see the video? Click here.)
--
Read more Dave on Demand or follow him on Twitter @DaveOnDemand_TV