Winter is the time of year when cabin fever sets in and kids get rambunctious, having been cooped up too long with few ways to expend their energy. So here is a list of activities to keep your children active, healthy, and happy this season.
Skating
The Blue Cross RiverRink (101 S. Columbus Blvd., 215-925-RINK, www.delawareriverwaterfront.com), an Olympic-size outdoor skating rink in its 23rd season, has a double-length public session, from 1 to 4 p.m. Mondays and Thursdays. "So if you want to get a good workout, that's a good time to come," said spokeswoman Quinn Logan. Treats await inside the Franklin Fountain Confectionary Cabin or in the main lodge, which offers heartier meals from Garces and Chickie's & Pete's — as well as leather couches and big-screen TVs. Small cabins with electric heaters provide cozy spots to warm up. The kids' lodge has arcade games. "It's a little bit of something for everybody," Logan said. Admission is $3 per person, with skates renting for $10.
For those in South Jersey, Cooper River's WinterFest (5300 N. Park Dr., Pennsauken, 856-341-3416, skatewinterfest.com) offers a similar outdoor-skating experience until Feb. 14. This weekend, 101.1 More FM will set up shop with games and giveaways from 3 to 5 p.m. Skate rental will run you $4, while admission to the rink is $6 for adults and $4 for kids 5 to 12.
The Skatium (1002 Darby Rd., Havertown, Pa., 610-853-2226, www.haverfordtownship.org) offers public sessions and lessons on an indoor National Hockey League-size rink. "My comment to a lot of parents is that [skating] is cheaper than a movie, and they get a lot more exercise," said operations manager Rick Turnbull. Public sessions typically run from 10 a.m. to noon Monday through Friday; 7 to 8:30 p.m. Friday; 1:45 to 3:15 p.m. Saturday, with a Saturday evening public session, depending on availability; and 12:15 to 1:45 p.m. Sunday. The rink has pushable "skate helpers" for beginners. Skate rentals are $2; admission is $6 for kids under 6 and $8 for everyone else, except for senior citizens, who pay $3.
The Penn Ice Rink at the Class of 1923 Arena (3130 Walnut St., 215-898-1923, www.upenn.edu/icerink) has public sessions at 1 to 2 p.m. Sundays; noon to 1:30 p.m. Mondays, Wednesdays, and Fridays; and 5 to 6 p.m. Saturdays. Admission is $5 with a $3 skate rental. A learn-to-skate program runs from noon to 1 p.m. Sundays. The rink just added tot lessons for ages 3 to 7 from 1:45 to 2:45 p.m. Wednesdays. "At that age, they want mom or dad or somebody with them," said skating director Julie Cardinale. Parents or caregivers are allowed on the ice during tot lessons.
Skiing, Snowboarding & Snow Tubing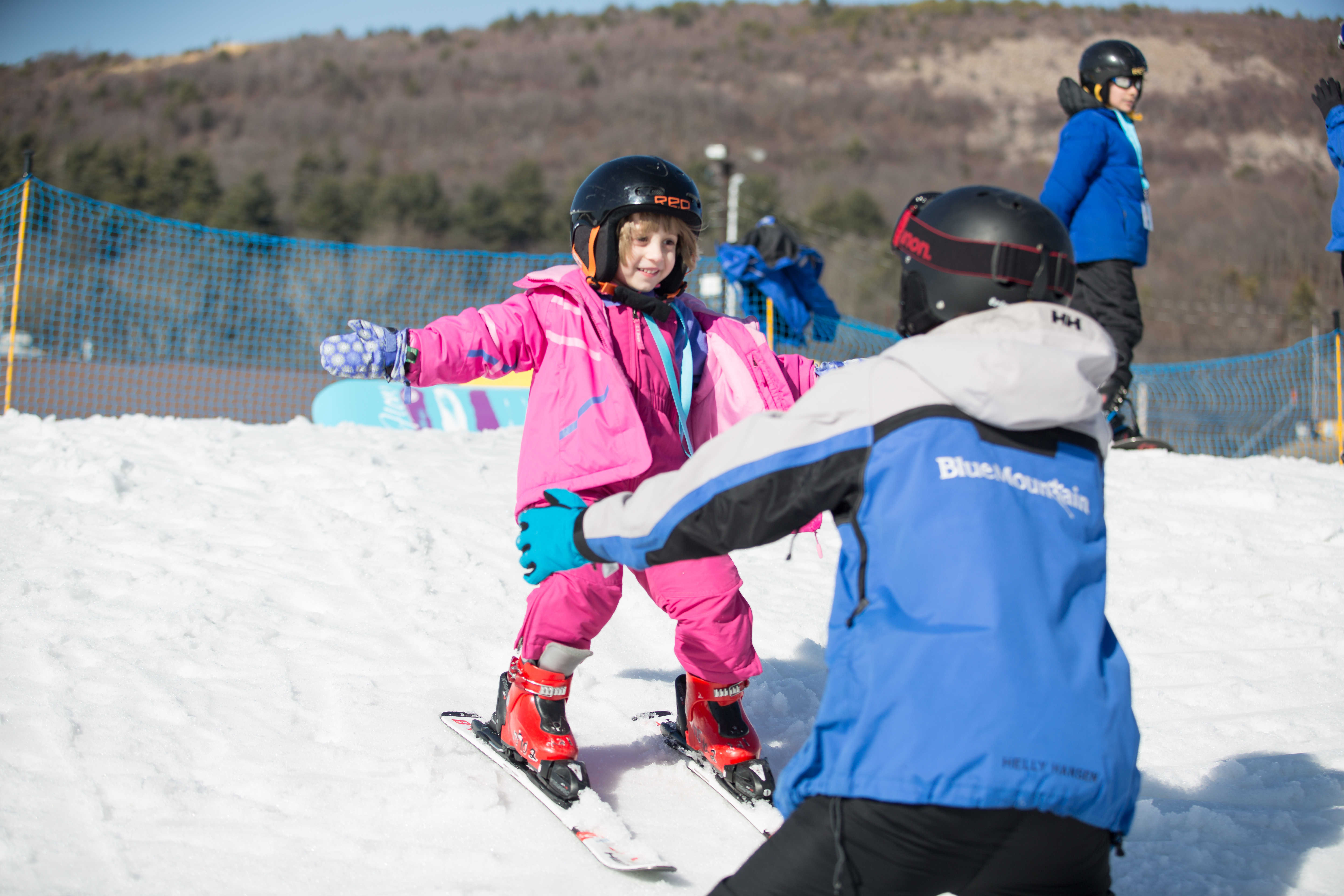 For downhill skiing and snowboarding, Philadelphia-area residents have at least 10 resorts to choose from, which can be overwhelming for newbies. Chris Tobia, a sales associate at the Ardmore gear-rentalstore Buckman's, says that for a day trip for beginners, Spring Mountain Adventures (757 Spring Mountain Rd., Schwenksville, Pa., 610-287-7900, springmountainadventures.com) is a good place to start. "It's basically a hill with a chairlift," Tobia said. About 45 minutes from Philadelphia, Spring Mountain offers skiing, snowboarding, and snow tubing. Daily rates range from $25 to $48.
"Blue Mountain's claim to fame is that they have the highest vertical climb in Pennsylvania," Tobia said. Located in Palmerton, Pa., along the Kittatinny Ridge, Blue Mountain (610-826-7700, www.skibluemt.com) has 35 trails and 11 ski lifts, and offers family-size tubing in addition to skiing and snowboarding.
"Camelback has longer, sloping trails," Tobia said. The resort in Tannersville, Pa., claims it has the widest terrain in the area, as well as the largest snow-tubing park in the United States. For those with energy after hitting the slopes all day, Camelback (855-515-1283, www.skicamelback.com) also has a video arcade and an indoor waterpark, Aquatopia, with a wide range of slides and attractions, and offers a variety of accommodations. Lift tickets are $37 to $67. Children 5 and younger are free.
To rent gear from Buckman's, which has stores in King of Prussia, Doylestown, Ardmore, Montgomeryville, Reading, and Whitehall, call 866-550-1455 or visit www.buckmans.com.
Indoor Fun Centers
Kids can literally bounce off the walls at Jumpers Family Fun Center (5117 West Chester Pike, Newtown Square, 610-353-3377, www.funatjumpers.com). The facility for children from 18 months to 10 years old offers a three-tier soft-play unit, a giant slide, obstacle courses, bounce houses, and a "Little Cub" play area. Visits are $8 weekdays, $9 weekends.
Kehler's Gym (680 Parkway Dr., Lawrence Park Industrial Center, Broomall, 610-359-9999, www.kidsfun.org) has an indoor "Fun Factory," where kids ages 1 to 11 can clamber through tunnels, shoot down slides, and crawl across cargo nets. Toddlers have a separate play space. Visits are $5 on weekdays, and $7 on weekends and holidays. Kehler's also offers a gymnastics program, ranging from Tumble Tykes for preschool kids to one-hour classes for older students.
Sky Zone is opening a new indoor trampoline center (9490 Blue Grass Rd., 215-516-5867, skyzone.com/philadelphia) this month in Philadelphia. "You're constantly moving, so it's awesome, healthy fun," said Tina DeAngelis, marketing manager for the Sky Zone locations in Glen Mills, Levittown, and Philadelphia. The Oaks facility is run separately. All Sky Zones offer wall-to-wall trampolines, dodgeball, and a form of basketball called "skyslam." The Philadelphia Sky Zone will also have a warrior course — obstacles that test speed, agility, and strength — as well as a separate toddler court closed off to big kids. It's $17 for an hour's jumping, plus $2 for mandatory socks.
Get Air (555 S. Henderson Rd., King of Prussia, 267-419-9219, getairkop.com) also offers indoor trampoline courts for kids of all ages, as well as dodgeball, foam pits, and a slackline, a tightrope with a cushioned landing. Toddlers under 46 inches have the run of the place from 10 a.m. to noon Tuesdays and Thursdays. One-hour jump sessions are $15, plus $3 for required socks.
Climbing
Kids can climb the walls at any of the four locations of Philadelphia Rock Gym (877-822-ROPE, www.philarockgym.com): in East Falls, Wyncote, Oaks, and Valley Township. "When you're on that wall, it's all about you," said Liz Pezzopane, the company's youth program director. Adults can take a 15-minute lesson in belaying and then head straight to the walls with their kids for the rest of the day. Registration for children's classes runs until Feb. 18. "Our coaches can teach the kids how to become smarter climbers," Pezzopane said. "It's one thing to push yourself to make it to the top of the wall, but it's another thing to do it as efficiently as possible." Children can also do day camps on school holidays. Rates vary from location to location.
Archery/Fencing
Kids can shoot off their excess energy this winter at Middletown Archery (127 Barren Rd., Media, 610-566-8092, middletownarchery.com). Private lessons range from 15 minutes to an hour ($15 to $45, including equipment rental). After that, kids can practice their skills at the club's indoor range during open sessions at various times throughout the week. On Tuesday and Wednesday nights, kids 20 and under can participate in a junior Olympic development program. Family-owned and -operated, the club boasts coaches of national rank.
At the Fencing Academy of Philadelphia (215-282-0293, www.fap-fencing.com, with locations in University City and Wyncote, boys and girls train together — and sometimes compete. "It's important for the girls to know, yeah, I can hit the boys," said fencing master Mark Masters. Kids are grouped ages 8 to 12 and 13 to 17 for lessons. Two-month sessions are $265, with equipment included. "In fencing," Masters said, "if you slow down, you get hit, so you have an incentive to keep moving."
Go-Karting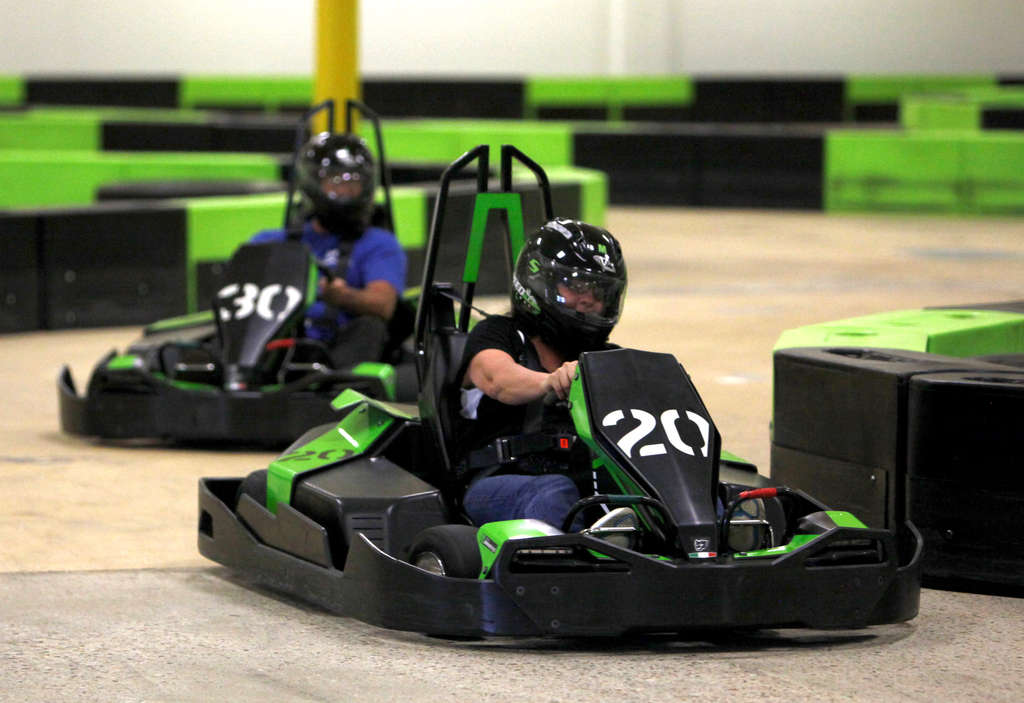 Families really feeling the need for speed this winter can hit the racetrack at either of Speed Raceway's (877-75-SPEED, speedraceway.com) two go-karting locations (200 Blair Mill Rd., Horsham; 1103 Rt. 130 S., Cinnaminson). Junior races are 12 laps, adult races 14, each lasting about 10 minutes. Drivers must be 6 and at least 48 inches tall for the junior karts, 12 and at least 56 inches tall for the teen/adult karts. No driver's license required. One race is $25; two races $35; three races $45.