Spring is upon us, and that means you no longer have an excuse to hibernate inside. If you need some motivation to get outside, we've got races all over the region to start training for. Don't forget to stretch.
Complete a 5K or 15K and get rewarded in chocolate. After crossing the finish line, hang with your fellow chocoholics at the post-race party with a live DJ and hot-chocolate inflatables, and receive a finisher's mug filled with chocolate fondue, dippable snacks, and decadent hot chocolate.
April 1, Eakins Oval, 2451 Benjamin Franklin Parkway. $54 (5K), $74 (15K), www.hotchocolate15k.com/philadelphia.
For all you Big Foot believers out there, here's your chance to "catch" the elusive Sasquatch. In this three-mile nighttime hunt, use a headlamp or flashlight to spot the big guy. Whichever trail you choose, get a selfie with one of the fur balls to prove all your friends wrong.
April 1, Camp Edge, 26 Camp Edge Rd. Alloway, N.J. $25, www.campedge.org.
Run as fast as a rabbit through the Philadelphia Zoo. Perks for this 5K/1 mile walk/run include admission to the zoo, rabbit ears, live music, and a chance to support the fight against Parkinson's disease. During the run, you can see some of the zoo's 1,200 rare and endangered animals and 42 of its lush gardens. Proceeds go to Parkinson's awareness research.
April 15, Philadelphia Zoo, 3400 W. Girard Ave. $42, phillyrabbitrun.com.
Modeled after CBS' The Amazing Race, this 1.5-mile version is suitable for kids and adults. Pairs are directed to put their brains and brawn together — with emphasis on the collaboration part — for challenges along the route.
April 30, Neshaminy State Park, 3401 State Park, Bensalem, Pa. $60, www.greatamazingrace.com.
Another chance for joggers, runners, and walkers to jaunt through the Philadelphia Zoo. Proceeds go to support the 1,300 different types of animals that call the country's first zoo home. Don't forget to wave to the rhinos as you get your sweat on.
April 30, 3400 W. Girard Ave. $25-$45, philadelphiazoo.org.
You know the drill: Start the race squeaky clean, then throughout the 5K course, get blasted with powdered color. At four stops along the way, you'll be covered with additional color and given the opportunity to take some mirror pics at each station. A DJ and even more pigment awaits at the after party.
May 6, Clipper Magazine Stadium, 650 N. Prince St., Lancaster, Pa. $50, www.colorinmotion5k.com/lancaster.
Participants in this 5K race will be coated in liquids, powders, and gels featuring an array of 1990s-themed colors. Keep track of the hues: There will be eight color stations.
May 13, Lackawanna County Courthouse, 200 N. Washington Ave., Scranton, Pa. $30, www.colormerad.com.
This muddy obstacle course lets you run through rolling hills, hay fields, trees, and creeks in the beautiful Brandywine Valley. Spectators are encouraged to attend because participants will need all the support they can get. Why? They'll have to conquer 13 obstacles over a five-mile course.
May 20 & 21, Plantation Field, 387 Green Valley Rd., Coatesville, Pa. $110, www.toughmudder.com.
Skip the after-work cocktails (or at least delay them) with this Thursday night run. After the race, which benefits United Cerebral Palsy of Philadelphia, hit up the food-truck after-party at Eakins Oval. There will be beer.
May 25, Philadelphia Museum of Art, 2600 Benjamin Franklin Parkway. $35 (5K only), $60 (5K and after-party), $25 (2K walk only), $45 (2K walk and after party), $30 (after party only), www.ucpphila.org/5k.
This isn't just a race, but a way to support charity -- Water, a nonprofit that brings clean drinking water to people in developing countries. The four-mile race has three tracks to accommodate all abilities.
June 3, Gloucester County 4H Fairgrounds, 265 Bridgeton Pike (Route 77). $137, www.goliathon.com.
Conquer 19 obstacles for a good cause. When your team crosses the finish line, celebrate with a cold beverage in the festival area. Proceeds from the run go to the National Multiple Sclerosis Society.
June 3 & 4, The Glen Mills Schools, 185 Glen Mills Rd. $105, www.muckfestms.com.
Dubbed the world's first running music festival, Night Nation adds live music, lights, and lasers to the traditional 5K. Run, walk, or skip through an illuminated racecourse that ends with an EDM concert. You don't even have to wait until the main stage to enjoy the music. There will be multiple EDM DJs stationed throughout the course. We've got a special offer for our readers: Use the code NNRPHILLY for a $25 ticket (that's 60 percent off the list price).
June 10, XFINITY Live, 1100 Pattison Ave. $25 with NNRPHILLY, www.nightnationrun.com.
Mud, fire, and barbed wire are some of the obstacles du jour at the Savage Race, a five-to-seven mile obstacle course open to all racers -- average to pro. A half-mile kids' course also gets the little ones moving and muddy. A $15 racer's insurance fee is included in registration.
June 17, 211 N. Meckesville Rd., Albrightsville, Pa. $71-$101, $35 (SavageJR), www.savagerace.com.
Dress up as Batman or Wonder Woman (or Lex Luthor or Harley Quinn — villains are fair game for this year's run) for this superhero-themed 5K. You can run to save the day with your registration, which will be used to support nonprofit organizations and charities. All participants will receive a complimentary cape to wear with their costumes. Princeton has its own Super Run on May 13.
June 24, Navy Yard, 4747 S. Broad St. #120. $45, www.thesuperrun.com.
The Color Run is bringing its Tropicolor world tour to Philly. The event allows you take a 5K vacation, revamped this year with new color powders, colored foam, and even giant unicorns. Complete with photo ops.
June 25, Citizens Bank Park, 1 Citizens Bank Way. $29.99-$34.99, www.thecolorrun.com.
Baby's first mud run features 10 to 14 obstacles over two miles. Kids and adults run the same course, only with pint-size obstacles for the little ones. Cool off at Morey's Piers Raging Waters after, on the house.
July 29, Morey's Piers, 3501 Boardwalk, Wildwood, N.J. $48, www.yourfirstmudrun.com.
Monkey bars, cargo nets, climbing walls, balance beams, and barbed wire are only a few of the obstacles you'll encounter. There are options for a 5K, or a 10K, and even little ones have their own short course to run through. Pay an extra $15, and go through the course as many times as you want.
Aug. 5, Old Bridge Township Raceway Park, 230 Pension Rd., Englishtown, N.J. $30 (Kids ½ mile), $60 (5K), $65 (10K), www.terrainracing.com.
While there's no shortage of mud, the Rugged Maniac also will have participants soaring to new heights on trampoline obstacles. Afterward, take on the mechanical bull and pie-eating contest. All you have to do is get through 25 tasks and 3.1 miles.
Aug. 5, Maple Grove Raceway, 30 Stauffer Park Lane, Mohnton, Pa. $49-$59, www.ruggedmaniac.com.
Unleash your inner warrior. For 3.1 miles and 12 obstacles, which include wall climbs and barbed-wire crawls, you'll be put to the test, traversing muddy, wooded terrain. Enjoy your complimentary beer and some music at the festival afterward.
Aug. 26, Pocono Raceway, 1234 Long Pond Rd., Long Pond, Pa. $100, www.warriordash.com.
At the end of this 5K course, celebrate your victory at the Run Now, Wine Later festival, featuring local wine, craft beer, and cider vendors. Finishers will receive a wine-stopper medal that they can use for their own bottles at home.
Sept. 10, Bucks County Playhouse, 70 S. Main St. $55, www.runnowwinelater5k.com.
Start off your day with an energizing run and then head to some thrilling roller-coasters in the afternoon. Run a 5K, a 10K, or a half marathon course that takes you through the park before it even opens. Registration for the race includes a ticket to the park.
Sept. 17, Dorney Park, 3830 Dorney Park Rd., Allentown, Pa. Various prices, www.runandriderace.com.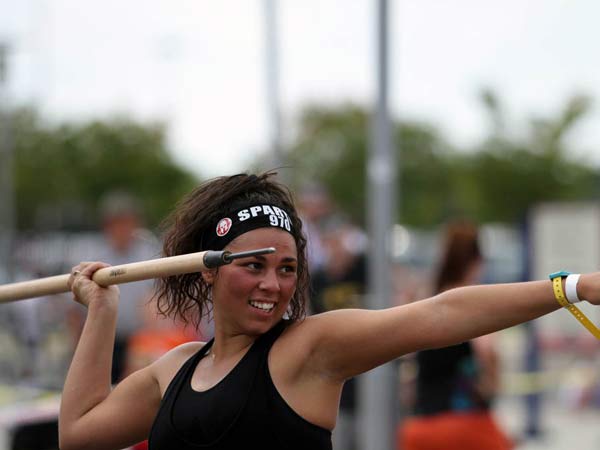 This popular obstacle-course franchise brings Philadelphia the Reebok Spartan Sprint, its shortest distance course. The race includes more than 20 signature Spartan obstacles -- some of which could include a barbed-wire crawl or even a fire jump.
Oct. 7, Citizens Bank Park, 1 Citizens Bank Way. $109-$144, www.runandriderace.com.