AUSTIN, Texas -- On Wednesday night at the South by Southwest music festival in the Texas capital, Alynda Lee Segarra of Hurray for the Riff Raff addressed the crowd during her band's early-evening set.
"There are a lot of people trying to divide us right now," Segarra said before singing "Pa'lante," a determinedly optimistic song -- its title is Puerto Rican slang for "forward" -- from her band's pointedly political album The Navigator. "And we're not going to allow that, are we?"
Segarra was singing at the NPR Music showcase at Stubb's BBQ, a signature midweek event at SXSW, the sprawling festival and conference that took over the streets of this south-central Texas city in 105 official venues and probably at least that many unofficial ones.
SXSW is always all about artists of all shapes and sizes aiming to gain greater exposure. That goes for the app makers at the Interactive conference, which preceded the music fest, and it's true of the films that simultaneously screen at places all around town, many with musical overtones. Those include docs on guitarist Bill Frisell, the '90s L.A. hip-hop scene, and the Grateful Dead.
Plus, there are high-profile dramatic releases, such as Song to Song, the Terence Malick-directed Ryan Gosling- and Cate Blanchett-starring flick set amid the Austin music scene. It has been drubbed critically; Entertainment Weekly called it "a humiliating wreck of a movie."
Receiving better notices was the low-budget Sylvio, the Albert Birney-directed human comedy about a misunderstood anthropomorphic ape who becomes cable-access TV famous for breaking vases with a baseball bat.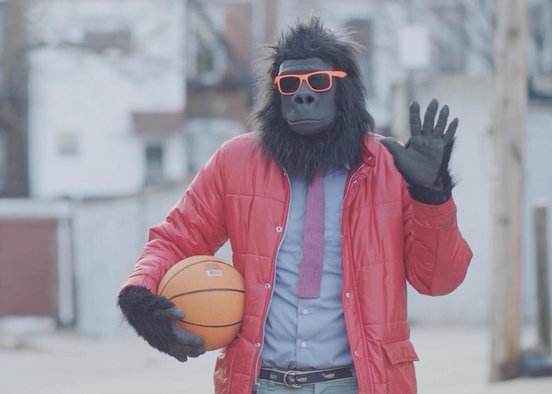 A still from Sylvio.
That charming comedy was scored by Thomas Hughes and Gretchen Lohse, the Kensington musicians and visual artists who record as indie pop duo Carol Cleveland Sings and who were in town to spread the word and play a show at an Austin burger joint. More on them later.
Segarra's remarks about unity sounded semi-ironic at SXSW, which in many ways is the most fractured of festivals by definition.
Every badge-holder and band member is united by a common calling of getting their hustle on in hopes of making their dreams come true in a Darwinian industry.
Many of them were from Philadelphia, including the seven bands that played the REC Philly showcase Tuesday night, featuring indie rock and R&B acts. (Sorry, I missed it due to a flight-canceling snowstorm. It was said to be a winning event, "a neat mix of styles you wouldn't normally see together," according to Patrick Wall of Philly band Queen of Jeans, which was on the bill.)
But SXSW is not defined by huge communal events so much as by thousands of micro-niched ones.
The concept of #FOMO -- fear of missing out -- may in fact have begun in the '90s at SXSW, where you can't possibly be two places at once. Sure, I would like to have cut the blocks-long line and seen Solange on Wednesday (though she is coming to the Roots Picnic in Philadelphia on June 3).
Instead, I was over at the Russian House, having my universe expanded by Qawalistan, the all-the-way-from-Islamabad band fronted by harmonium player Imran Aziz that combines the influence of incantatory Sufi singer Nusrat Fateh Ali Khan and '70s heavy rockers Deep Purple and Black Sabbath. Sorry, fellow festivalgoers, but I win!
Of course, Segarra wasn't talking about divisions in musical genres at SXSW. Wearing a "No Human Is Illegal" T-shirt, she was speaking to the politics of fear. And the sense that walls are going up to separate Americans, with arts and culture under attack.
Evidence of that broke during the NPR showcase, which had kicked off with PWR BTTM, the fabulously glammy and proudly queer duo of Liv Bruce and Ben Hopkins. Those keeping an eye on Twitter during the band's ferociously fun set saw news breaking that President Trump's budget proposes to eliminate funding for the National Endowment for the Arts and the Corporation for Public Broadcasting, which helps fund NPR.
Bruce didn't know that when the gender-fluid performer started off talking about the heightened value "music and food and art" have in creating communal safe spaces when marginalized people feel under threat, or when closing the band's terrifically riffy, super-catchy set by urging fans to "Support NPR! Resist!" PWR BTTM's album Big Beautiful Day comes out May 2.
Even as people party on -- and stumble down Austin's Sixth Street strip in drunken stupors -- the contentiousness of this year's SXSW is hard to miss. On Thursday, a panel discussion called the War at Home: Trump and the Mainstream Media featured veteran newsman Dan Rather, and others. On Saturday, Snoop Dogg -- a target of presidential ire last week -- was to appear at a panel on criminal justice reform.
But while the real world sticks its nose in, SXSW is still a place where people go to show off their art and celebrate what they've created. And where quirky indie culture can flourish. That's certainly the case with Sylvio, a film that grew out of a series of clips that director Birney (who wears a gorilla suit) made for the now-defunct 6-second video service Vine. The ape is mute but remarkably expressive, thanks in part to the mood Lohse and Hughes set. The Austin American Statesman singled out the movie's "lovely score."
Vine was also a chosen metier of Lohse and Hughes (who is Birney's stepbrother) for the fetching pop they make as Carol Cleveland Sings. (The band is named after the British actress who was a regular in Monty Python's Flying Circus and who spent part of her childhood in Philadelphia.)
The multi-instrumentalist duo put out a well-titled album of alt-folk synth-pop called Effervescent Lure last year. Hughes is also a member of well-established Delaware indie outfit Spinto Band, and Lohse is scoring The Pine Barrens, David Scott Kessler's forthcoming documentary about the myth-tinged South Jersey expanse.
Hughes and Lohse are staying at an Airbnb with the entire Sylvio cast a half-hour's bus ride from downtown. That's a typical striving artists approach to SXSW, when Austin hotels have Manhattan prices.
The band isn't squeezing in as many shows as possible, a tack taken by acts in full promo mode, like Philly band Low Cut Connie, who are doing seven.
"It's really a fun trip with friends, for everyone who worked on the film," says Lohse. "We are playing a gig," adds Hughes. "People come here to get exposure and meet people, and we're hoping to do that, just like everybody else. It was just nice to be part of the world premiere of this movie that we worked on. People are talking about it. Other filmmakers are seeing it. Hearing the music that we did for it in the movie is just a very nice feeling. It's just a really cool honor to be here."