Move over, Roots Picnic. Step aside, Jay Z's Made in America.
Make way for Hall & Oates' HoagieNation.
Yes, HoagieNation. "I named it," says Daryl Hall, also giving a shout-out to Amoroso rolls, along with the salami and provolone. "It's our festival. It symbolizes what unites us as citizens of a certain part of the world."
The first HoagieNation Festival, set to celebrate "all things Philly," will happen May 27 during Memorial Day weekend at Festival Pier. It's the first foray into the artist-branded music-fest business for the enduring pop-soul duo, who met in 1967 at Adelphi Hall in West Philadelphia.
Hall and partner John Oates will curate the fest, taking its place on the Philadelphia summer music calendar at the same site that will host the 10th iteration of the Roots soiree (this year featuring Pharrell, Solange, and others) along the Delaware.
HoagieNation will feature 1980s "Everybody Wants to Rule the World" hit-making British duo Tears for Fears, who are on the road this summer with Hall & Oates.
The two-stage fest will have a selection of local and nonlocal acts, including Philadelphia hip-hop-inflected songwriter G. Love & Special Sauce, Washington state blue-eyed soul man Allen Stone, and Nashville jazz singer Kandace Springs. The latter two are veterans of Live from Daryl's House, Hall's ongoing music web series filmed in Upstate New York.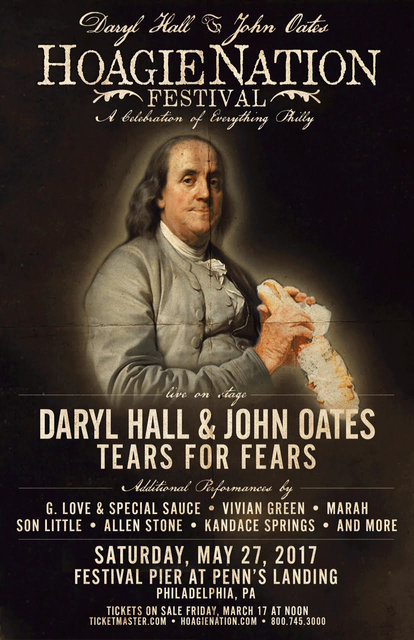 Also on the bill are three local acts: soul-roots troubadour Son Little; raucous rockers Marah, the Conshohocken-born Bielanko brothers band whose 2000 album was titled Kids in Philly; and Vivian Green, the East Oak Lane-raised R&B singer most recently heard from on 2015's Vivid.
More acts are expected to be announced, including ones with links to the Gamble and Huff Philly-sound tradition that spawned Hall & Oates, who were students at Temple University in the late 1960s. "They've got to have some soul, or they're not going to be able to do it," Hall says of HoagieNation job requirements.
The festival, which Oates, in a separate interview, said "will be a celebration of Philadelphia culture," becomes the third artist-curated event anchoring the outdoor summer live music season, along with the Roots Picnic and Labor Day weekend's Made in America, both of which draw younger crowds than the one expected for HoagieNation.
"It's a move towards artists' trying to expand their brand in different ways," says the guitarist and songwriter, 68, talking from his home in Nashville. "I want to make it a cross-cultural, multiple-genre festival." As far as edibles, he says, the fest will have "traditional Philly foods and innovative chefs who are making Philadelphia such a cool culinary scene. Some high-end stuff, and the Tastykakes, soft pretzels, and hoagies."
Mayor Kenney, a Sound of Philadelphia enthusiast, said in a statement, "Daryl and John hold a special place in the hearts of Philadelphia fans," and he expressed excitement that the duo "are launching their first-ever curated festival back where it all started." Tickets go on sale at noon next Friday. Philadelphia regional president of LiveNation Geoff Gordon says the plan is for HoagieNation to expand after this year, and, though there's no set timetable, "more than likely, that includes adding a day" in festivals to come.
In 1972 on Whole Oats, their 1972 debut album on Atlantic Records, Hall (who grew up in Pottstown) and Oates (from North Wales), sang a song called "Fall in Philadelphia" that expressed their impatience to bust out of their hometown.
In recent years, though, the duo have reaffirmed their allegiance to their Philly soul roots. In 2009, the hitmakers of pop staples "Rich Girl," "Kiss on My List," and "Maneater" played one of the closing dates at the Spectrum in South Philly, where Oates remembers seeing The Band and Led Zeppelin when he was growing up.
Those shows featured the Hooters and the Soul Survivors, the Philadelphia soul-rock duo whose co-leader Richie Ingui died this year and whose Gamble-and-Huff-penned signature song, "Expressway to Your Heart," was released in 1967 on Crimson Records. The label's next release: "I Need Your Love," by Oates' the Masters.
In 2014, Hall & Oates entered the Rock and Roll Hall of Fame, and Hall used the occasion to rail against the injustice of the duo's being the first Philadelphia act inducted. "I found it astonishing," says the 70-year-old singer, speaking on the phone from his home in Charleston, S.C., a place he calls "a great city, but they don't know how to make a sandwich."
"It makes no sense to me that there were no Philadelphians in there." If he had the power to redress the imbalance, he would first induct a Hall & Oates contemporary from Upper Darby.
"Todd!" he says, without hesitation. "Todd Rundgren should be in the Rock and Roll Hall of Fame." Pointing to the American Bandstand years in the 1950s and early 1960s, he says, "Rock and roll wasn't invented here, but it was certainly popularized. It became a national phenomenon because of Philadelphia. And that's not nothing, that's something really important."
Making the Rock Hall was a big deal, says Oates. But making the Songwriter's Hall of Fame in 2004 was, too. "If we hadn't written those songs, we wouldn't be in the Rock and Roll Hall of Fame."
Striving in the early years in Philadelphia is a focal point of Oates' new memoir, Change of Seasons, which will bring him March 30 to Barnes & Noble on Rittenhouse Square.
The 1972 lyric about not wanting to spend another "fall in Philadelphia," Oates says, "wasn't about going somewhere physically, although we did go to New York. We needed to go somewhere psychically. We needed to expand our horizons and our dreams."
In the last decade, they have welcomed a millennial audience, as young bands like the Gym Class Heroes and Chromeo have embraced them. Stylish British band the xx sampled the 1981 H&O hit "I Can't Go for That (No Can Do)" on this year's slinky hit "On Hold."
Hall sees the breakthrough as a result of his collaborations on his web show, with acts like the late Sharon Jones. "I think people finally understand what I'm really about, and what my motivations musically are. And I think it's changed people's perception, obviously to the good."
Oates concurs. He adds: "The digital revolution played into our hands without us knowing it. All of a sudden, this new generation had the whole history of music at their fingertips. They can like what they like, and share what they like. And our songs have stood the test of time. We've been a very fortunate beneficiary of this broadening and opening up of a musical mind-set of a new generation."
And when new fans want to connect with the duo, they've been able to find them, on the road or, in this case, at their own festival. "That's the thing," says Oates. "We've never stopped working. We've always been that way, and we've never changed. We're a working band."