Today marks day two of the Made in America Festival along the Benjamin Franklin Parkway.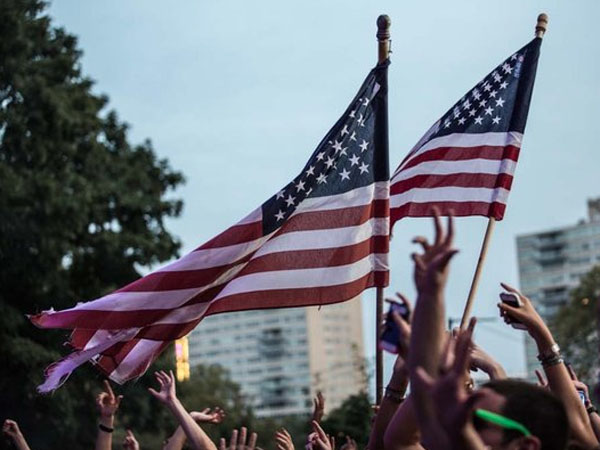 Yesterday kicked off the weekend-long festival with a lineup of 22 diverse acts who more than delivered to a crowd of 60,000. Among the music acts were also a variety of great food, drink, vendors and plenty of places to take shelter from the heat.
Today's weather will be mostly cloudy, staying within the mid-80s until 5 p.m., when isolated thunderstorms are predicted to continue straight into Monday morning. Made in America is a rain or shine event.
Here is Sunday's performance schedule:
ROCKY STAGE (MAIN)
Nine Inch Nails - 9:30 - 11:00 pm
Queens of the Stone Age - 7:30 - 8:30 pm
Wiz Khalifa - 6:00 - 6:45 pm
Kendrick Lamar w/ Schoolboy Q, Jay Rock, Ab-Soul - 4:30 - 5:15 pm
Gaslight Anthem - 3:00 - 3:45 pm
Fitz & the Tantrums - 2:00 - 2:30 pm
LIBERTY STAGE
Calvin Harris - 8:30 - 9:30 pm
Macklemore & Ryan Lewis - 6:45 - 7:30 pm
Miguel - 5:15 - 6:00 pm
Solange - 3:45 - 4:30 pm
Wavves - 2:30 - 3:00 pm
FREEDOM STAGE
Nero - 7:30 - 8:30 pm
Feed Me - 6:30 - 7:30 pm
GTA - 5:30 - 6:30 pm
AlunaGeorge - 4:15 - 5:15 pm
Robert DeLong - 3:00 - 4:00 pm
Jesse Rose - 2:00 - 2:45 pm
SKATE PARK STAGE
Pujol - 6:30 - 7:30 pm
The Front Bottoms - 5:15 - 6:00 pm
Diarrhea Planet - 4:00 - 4:45 pm
The Underachievers - 2:45 - 3:30 pm
Yazz the Greatest - 2:00 - 2:30 pm
-
Saturday's Made in America coverage:
Made in America gets Philly rocking
Beyoncé delivers fiery performance
France's Phoenix rises on Rocky Stage
Empire of the Sun rocks musical light show
Imagine Dragons change the pace with alt-rock
Made in America 2013: Photos from Day 1
2 Chainz a crowd favorite at MIA
Jay Z arrives on Parkway at Made in America
Public Enemy delivers politically charged set
A$AP Rocky angers crowd with late arrival
Seen and heard at the Made in America festival
Made in America festival kicks off with HAIM