55th Annual Stone Harbor "Al Cunard" Baby Parade
"Al Cunard was the patriarch of the Cunard Family of Clowns," says Stone Harbor Chamber of Commerce official Amy Giulian. "In 2002, he brought back the baby parade, which used to be a Stone Harbor tradition, but we hadn't done one for about 20 or 30 years." Cunard and his clown descendants have lived in Stone Harbor for generations, working as lifeguards at the beach and, of course, as clowns. On Monday, the Cunards and other Stone Harbor residents will come out for the 55th annual Baby Parade, the 15th since Cunard revived the all-but-forgotten event. Join them for an evening of clowns and baby-size floats.
5:30 p.m. registration, 6 p.m. parade Monday, July 10. 96th Street, Stone Harbor. Free. 609-368-6101, visitavalonnj.com.
Amateur Sand Sculpting Festival
In Atlantic City in 1897, artist Philip McCord molded a sand sculpture of a woman and child — all while wearing a derby hat and a fine tailored suit. The sculpture, "Cast Up by the Sea," is the earliest documented sculpture in sand. This weekend, Wildwood is living up to the Shore's gritty history by hosting the 5th Annual Amateur Sand Sculpting Festival. Sand craftsmen will compete with "Can You Dig It!" Sand Tools to win prizes judged by international sand sculptor Matt Long. Free music, magic shows, and beach games for all attendants. Study up in advance — Long will be at the beach all week making a sculpture of his own and giving advice to anyone interested.
10 a.m.-2 p.m. Saturday. Wildwood Crest Beach Pier, Heather Road, Wildwood Crest. Free. 609-523-0202, VisitWildwoodCrest.com.
Sidewalk Chalk Competition
If sand strikes you as an imperfect canvas, bring your burgeoning Picassos to North Wildwood for a different kind of outdoor art contest. When participants register for the Sidewalk Chalk competition Saturday morning, they'll receive a box of chalk and concrete square of sidewalk. The entire block around Bill Henfey Park will be numbered and divided among families vying for first prize. Wildwood Catholic art teacher Mary Walsh will assess the finished works.
9 a.m. opening, 10:45 a.m. judging Saturday, July 8. Bill Henfey Park, 8th & Central Avenues, North Wildwood. Free. 609-522-2955, Northwildwood.com.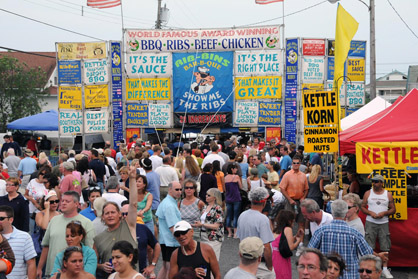 N.J. State BBQ Championship & Anglesea Blues Festival
Blues and barbecue fans can get a double dose this weekend as the New Jersey State Barbecue Championship and the Anglesea Blues Festival team up for three days of food and music. Barbecue victors can win up to $10,000 and a chance to compete in the World Food Championships, "the highest-stakes food competition in the world," where the title-winner will take home $300,000. No worries if you're not a chef yourself —  there will be lots to taste, plus cooking classes with pit master Jack McDavid.
4-11 p.m. Friday, 10 a.m.-11 p.m. Saturday, 10 a.m.-6 p.m. Sunday, Olde New Jersey Avenue, North Wildwood. Free. 609-523-6565, njbbq.com.
Wildwood Crest Summer Music Series
Bring a blanket to the beach Saturday night to hear the Showtime Dance Band play an all-ages show. Attendees can expect to hear Motown, oldies, and dance hits.
7:30 p.m. Saturday. Centennial Park Entertainment Pavilion, Fern Road and Ocean Avenue, Wildwood Crest. Free. 609-523-0202, wildwoodsnj.com.