In these troubled digital times—times of trolls and Fake News and social media conspiracy theories—it can be helpful to remember that the Internet is good for more than hate speech and pictures of your third cousin's hairless terrier. No, we're not just talking about Chris Christie beach memes—though those haven't gotten old yet.
Instead, we're talking about a sweet new textbot courtesy of the San Francisco Museum of Modern Art. Text 572-51 with the words "send me" followed by a keyword, a phrase or an emoji and you'll receive a related artwork and caption. It's like getting a personally curated tour of SFMoMA's expansive galleries right in the palm of your hand.
It'd be easy to spend hours chatting with the text bot because the collections at SFMoMA are so expansive. The museum's website estimates that if you were to walk past each artwork currently on view in the galleries, you would walk almost seven miles. And the artwork on view represents only about five percent of the total collection.
In the spirit of curating the curation, we entered all the Philly words we could think of to see which art works best represent our city. The results were sometimes surprising, sometimes silly and sometimes shockingly poignant.
Send me: Will Smith
SFMoMA sent: Robert Rauschenberg, "Erased de Kooning Drawing," 1953.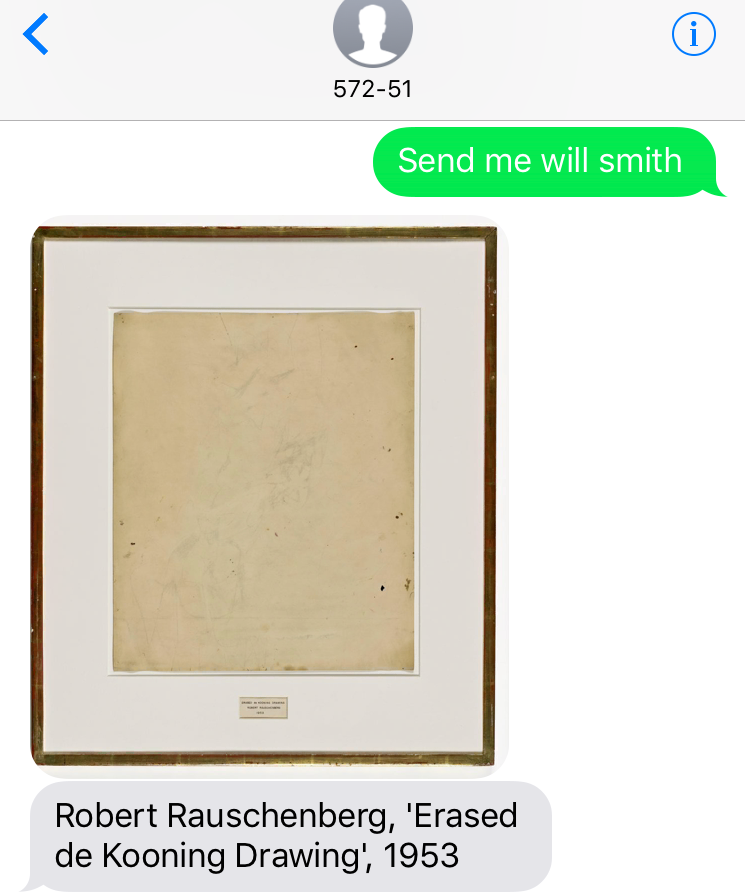 Send me: West Philly
SFMoMA sent: Victoria Sambunaris, "Untitled, Wendover,Utah, 2007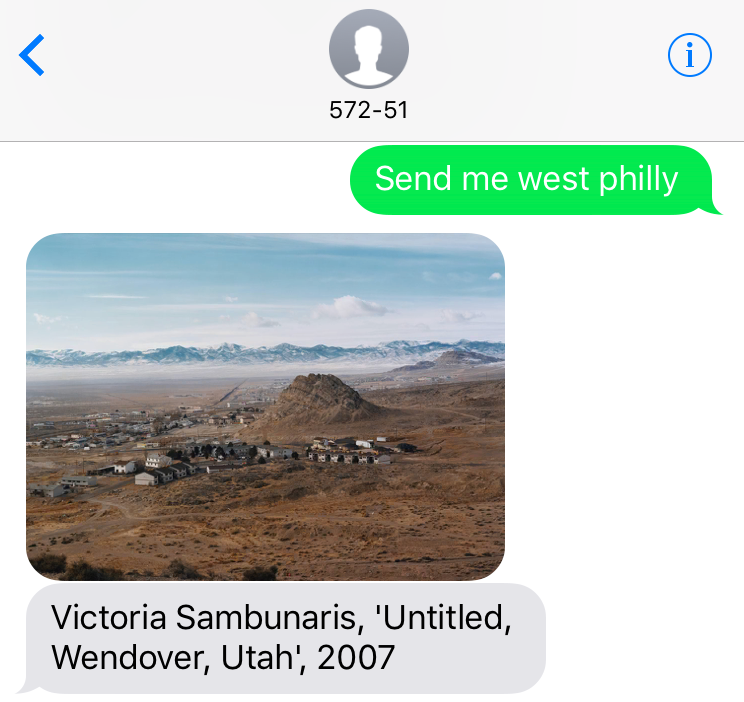 Send me: water ice
SFMoMA sent: Minor White, "Devil's Slide, San Mateo County, California," 1948, printed 1980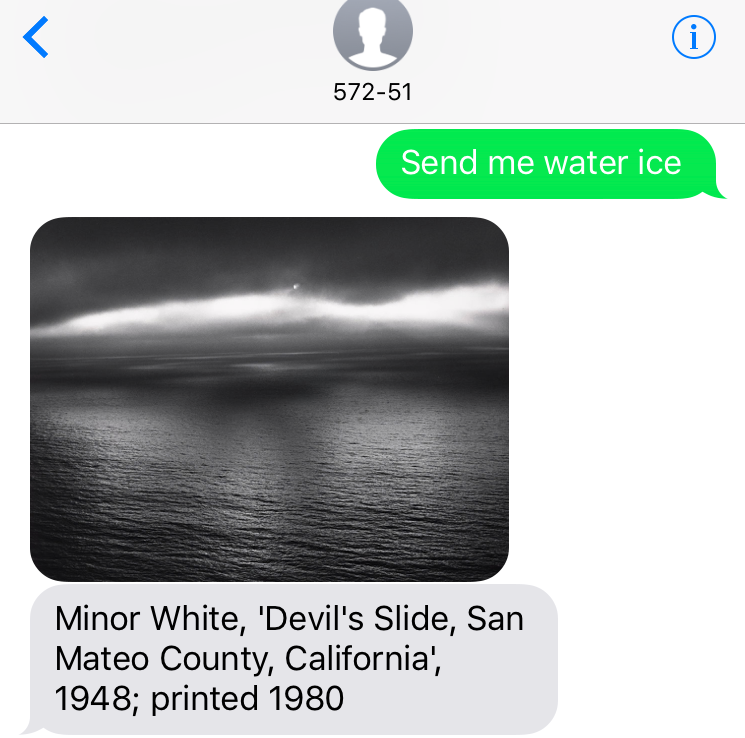 Send me: Temple
SFMoMA sent: Auguste Salzmann, "Jerusalen Enceinte du Temple. Porte Herodienne (Jerusalem. Temple wall. Herodian gate)", 1954-1856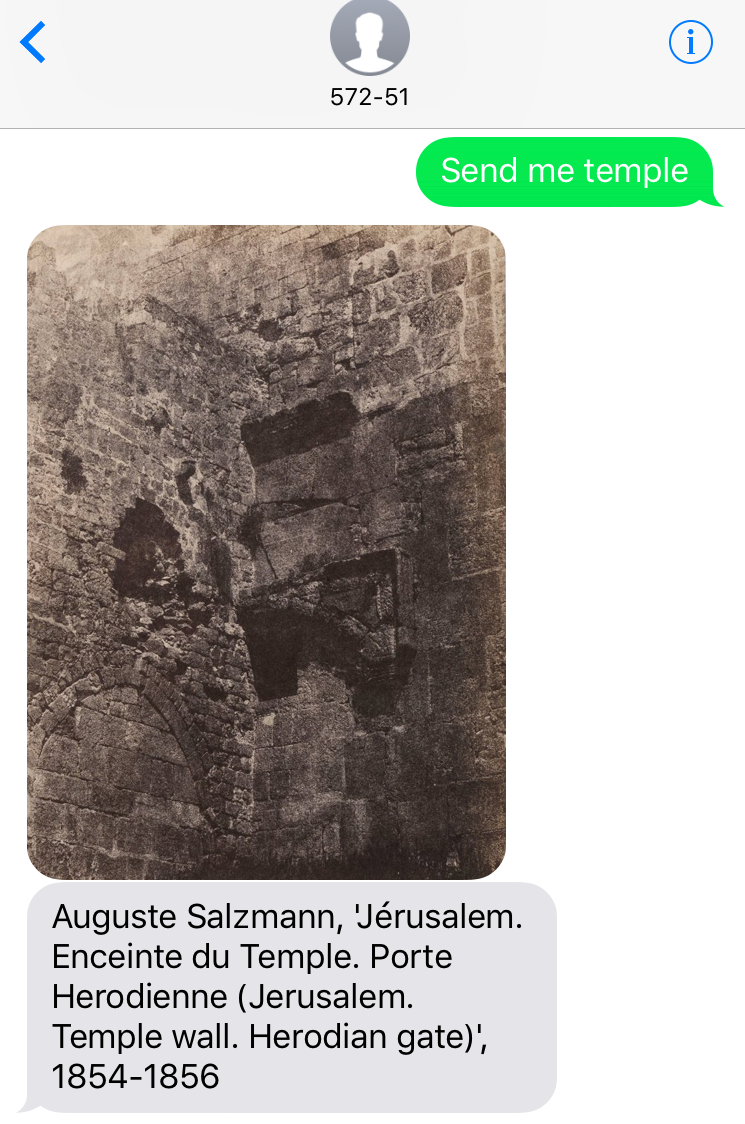 Send me: soft pretzel
SFMoMA sent: Judith Joy Ross, "Scott Kreims, Juniper Systems, Silicon Valley 2000," 2000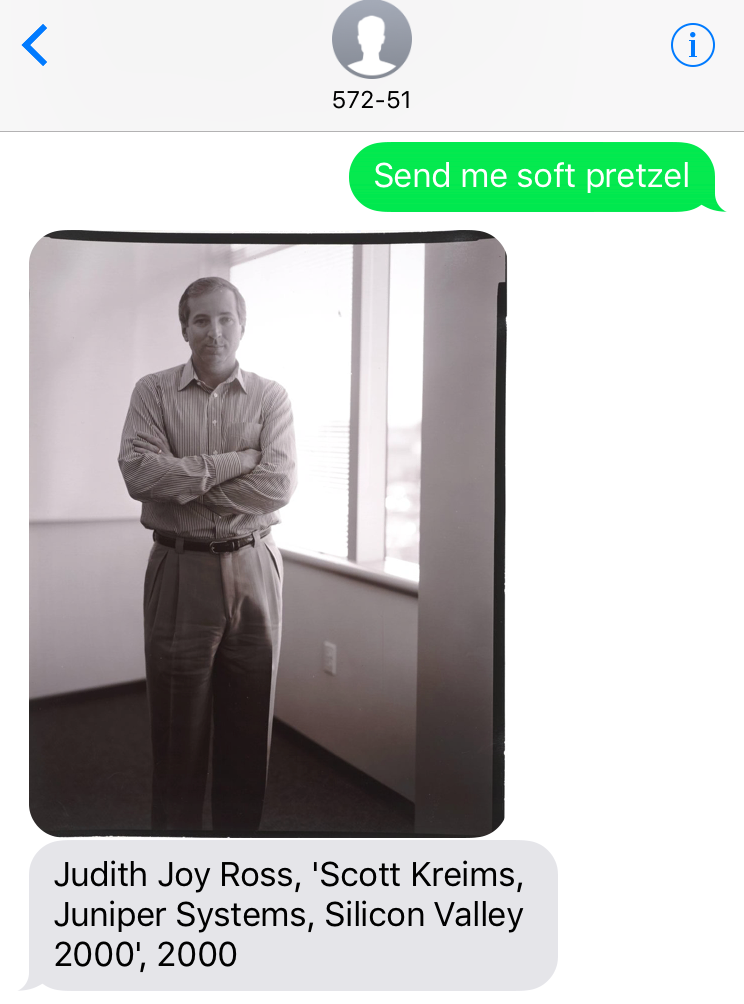 Send me: shore
SFMoMA sent: Sonya Noskowiak, "Landscape, Skyline Boulevard, San Francisco, California," 1937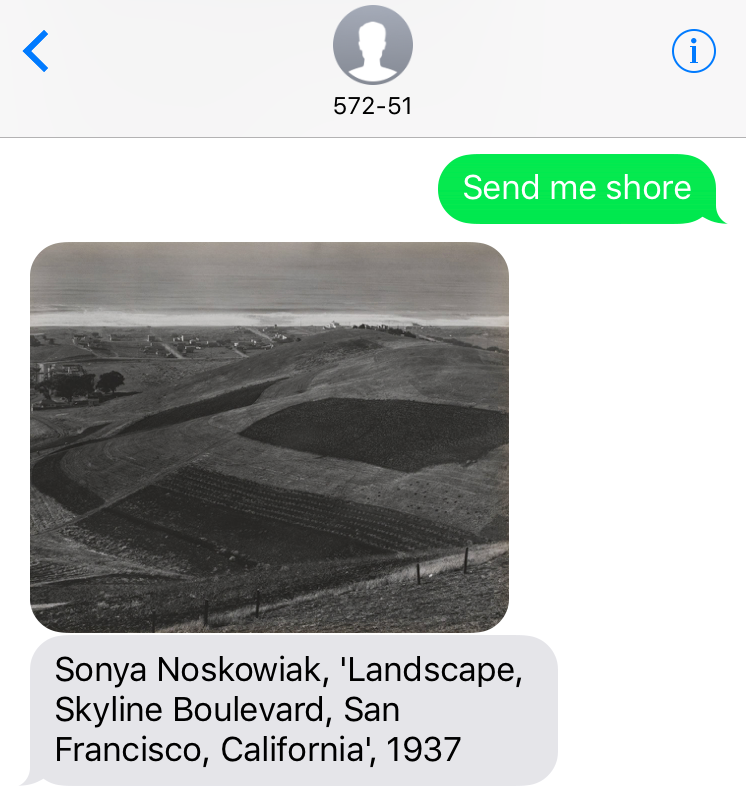 Send me: Rocky Balboa
SFMoMA sent: Ansel Adams, "Marion Lake, from the portfolio Parmelian Prints of the High Sierras", 1925; printed 1927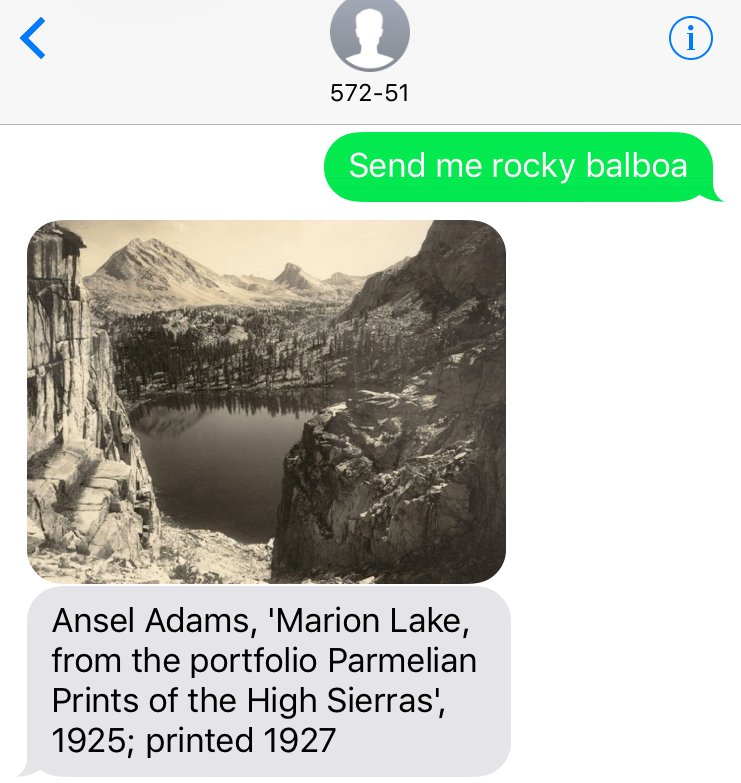 Send me: Point Breeze
SFMoMA sent: Robert Rauschenberg, "Sky Rite (Stoned Moon)", 1969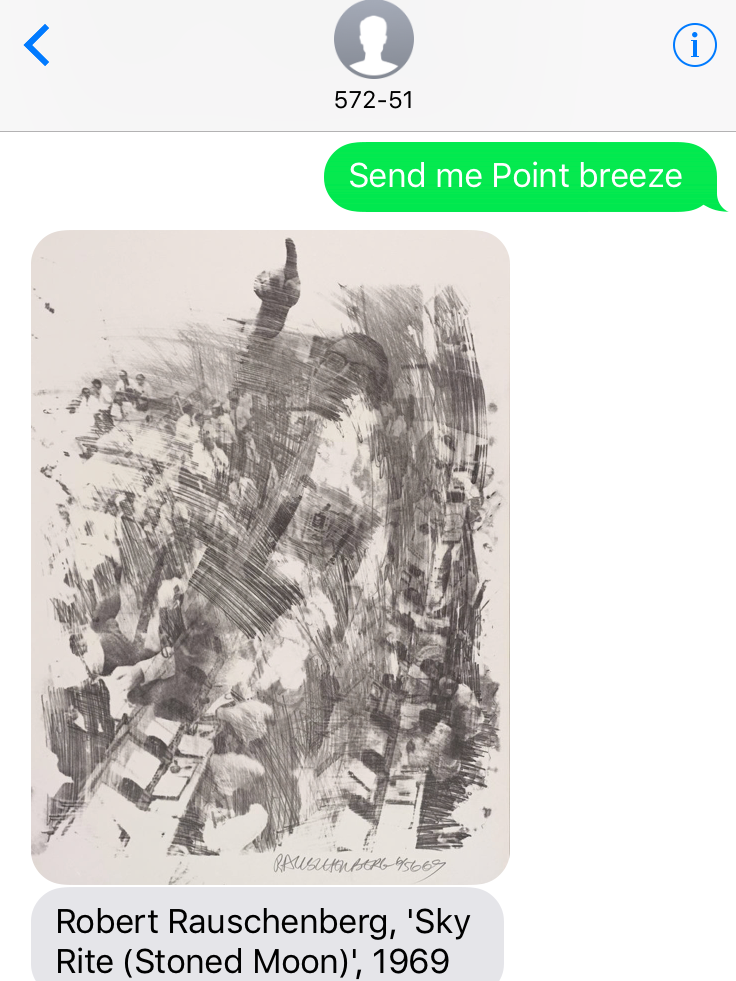 Send me: Philadelphia
SFMoMA sent: Unknown, "Untitled (Painting of the Declaration of Independence)", ca. 1850s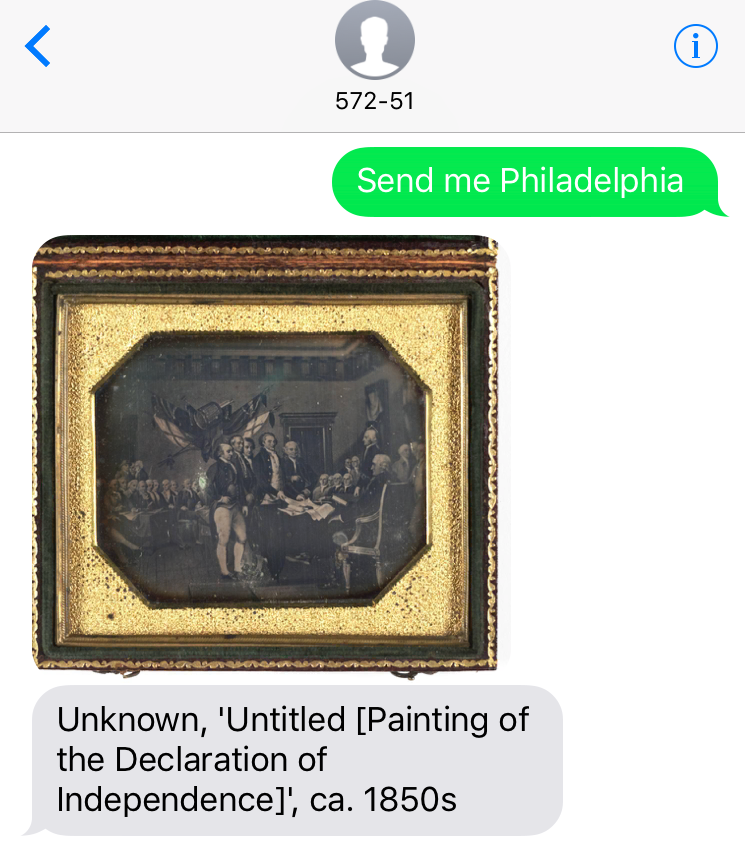 Send me: Old City
SFMoMA sent: Eric Fischl, "Portrait of the Artist as an Old Man," 1984
Send me: Northern Liberties
SFMoMA sent: Stephen Shames, "IRA Gunman, Ireland, 1971," 1971, printed 2009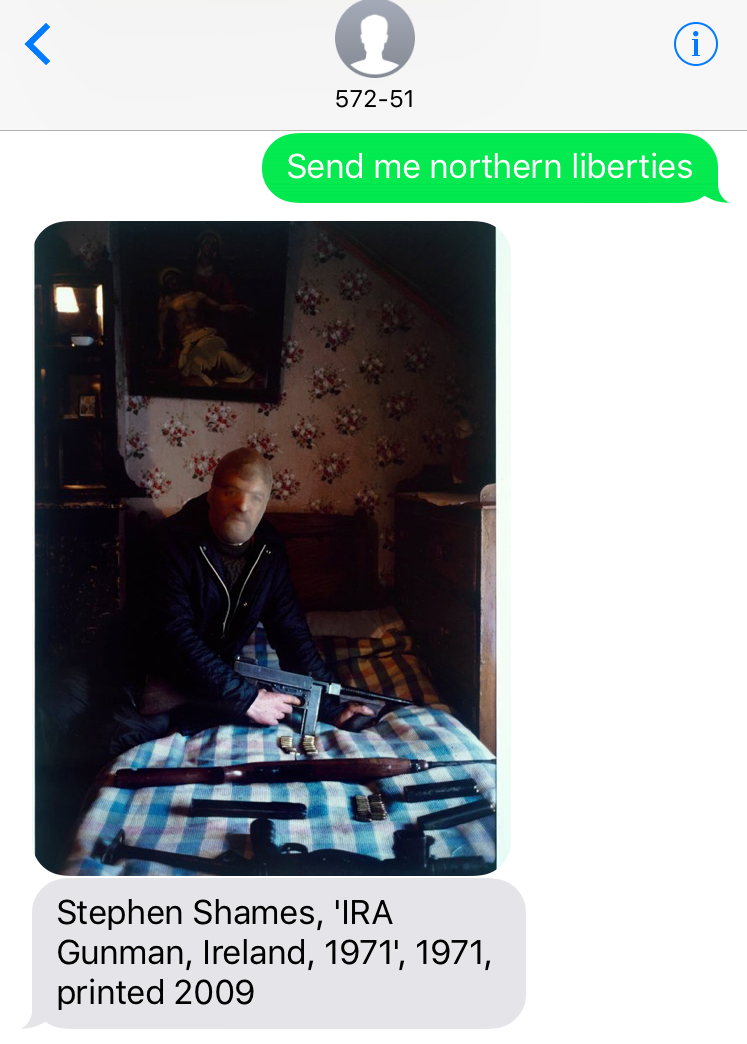 Send me: Liberty Bell
SFMoMA sent: Tsunehisa Kimura, "Untitled," 1984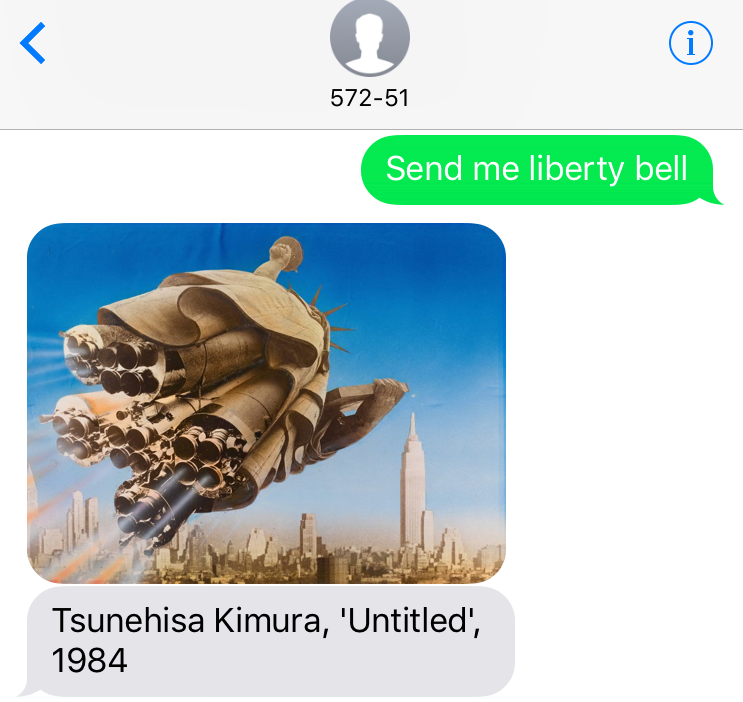 Send me: Independence Hall
SFMoMA sent: Keizo Kitajima, "1/10/1991 Vilnius, Republic of Lithuania. A festival to commemorate the 650th anniversary of the death of Grade Duke Gediminas., from the series 1991 USSR"; 1991, printed 2001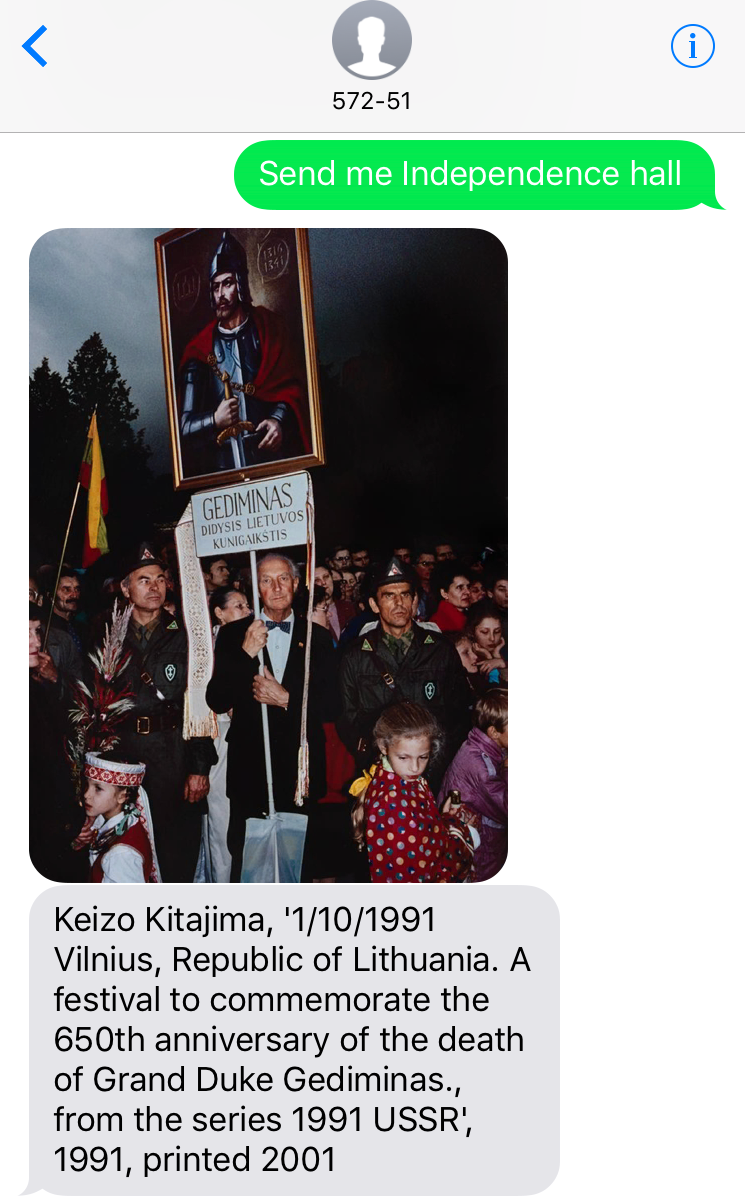 Send me: Eagles
SFMoMA sent: Unknown, "Untitled [Man holding eagle with spread wings]", n.d.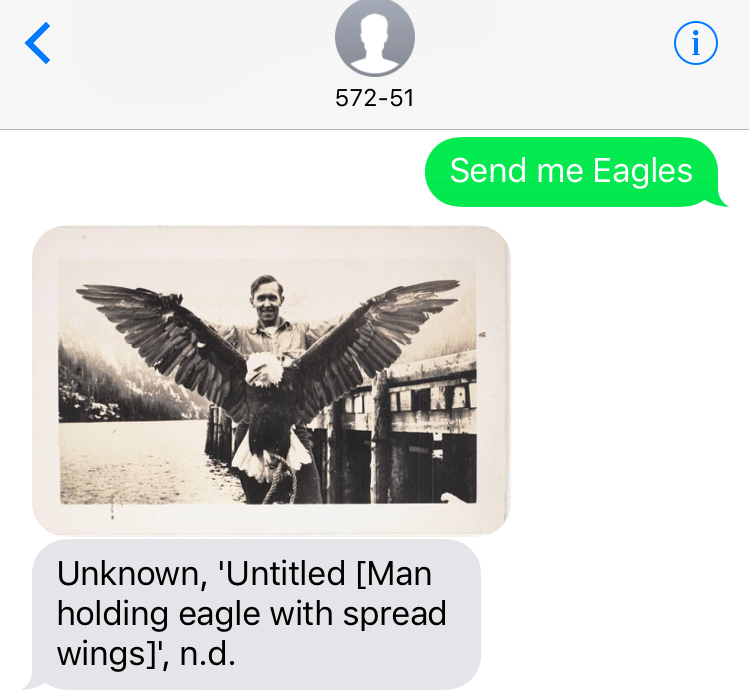 Send me: Ben Franklin
SFMoMA sent: Catherine Wagner, "Northwestern Corner, from the series Settings – The Civic Center Project", 1985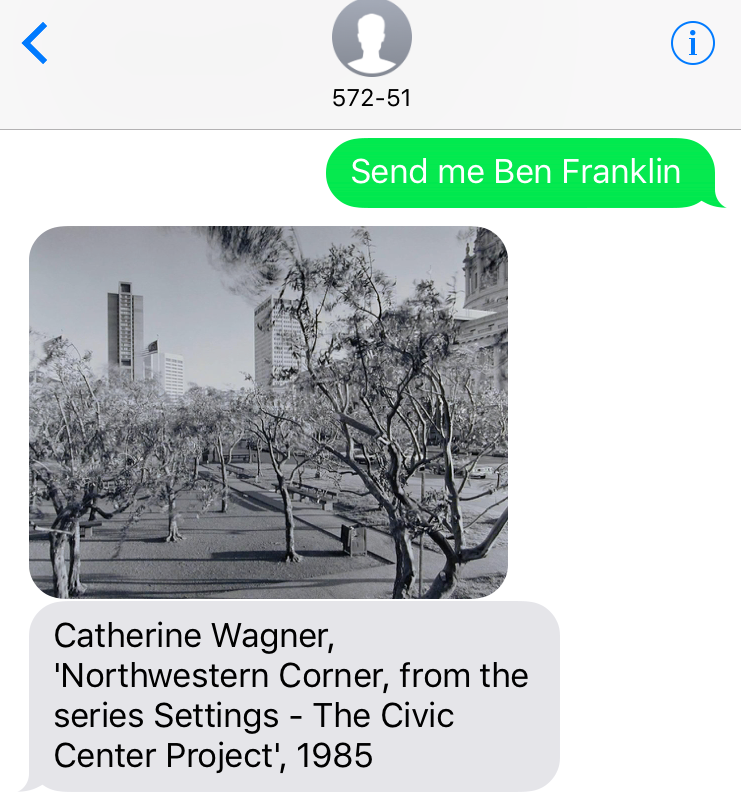 Some words we tried but got no response: cheesesteak, Fishtown, Rittenhouse, jawn, Phillies, Flyers, Lawncrest, Passyunk, Wawa, citywide special, scrapple, roast pork, Boyz II Men and Springsteen.