'Firebird'
rises anew
PHOTOGRAPHER / Staff Photographer
Sketches of the puppets, some of which require three manipulators to make the move.
A South African spin on Stravinsky's score adds Ladysmith Black Mambazo and puppets to the Philadelphia Orchestra.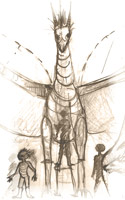 In the big classical concert of the summer, Stravinsky's score to The Firebird unfurls its familiar dark Russian mysticism with glints of impressionism at the Mann next month. But the production will also be sending out some unexpected cultural signals. The full Firebird will be performed by the Philadelphia Orchestra, but the story playing out on stage will reflect something of the national experience of its creative directors — from South Africa.
Dubbed Firebird: Reimagined, the piece receives its live-orchestra world premiere at the Mann on July 20, following a recorded-music run in South Africa. From the Mann, it will move on to Wolf Trap, Ravinia, the Hollywood Bowl, and other summer venues.
The idea was the brainchild of concert promoter and agent IMG Artists, which approached South African artist Janni Younge about adapting something for her medium: puppets.
What Younge came up with is hardly of the papier-mâché-over-chicken-wire variety.
The dragon of this production has a wingspan of 33 feet, and weighs in at 440 pounds. Some of these puppets, to be operated by the dancers, have extremely complex mechanisms to control movement — "pretty high-tech," Younge says. "The beast has three manipulators — one inside the body, one in the head, and it's walking and flicking its ears and opening its mouth and has teeth. There are all these little subtleties that people won't notice, like the teeth lifting up so the mouth can close back up. At the studio, that's a lot of work. You have to work them well to create the beauty of illusion. You have to build them elaborately from day one."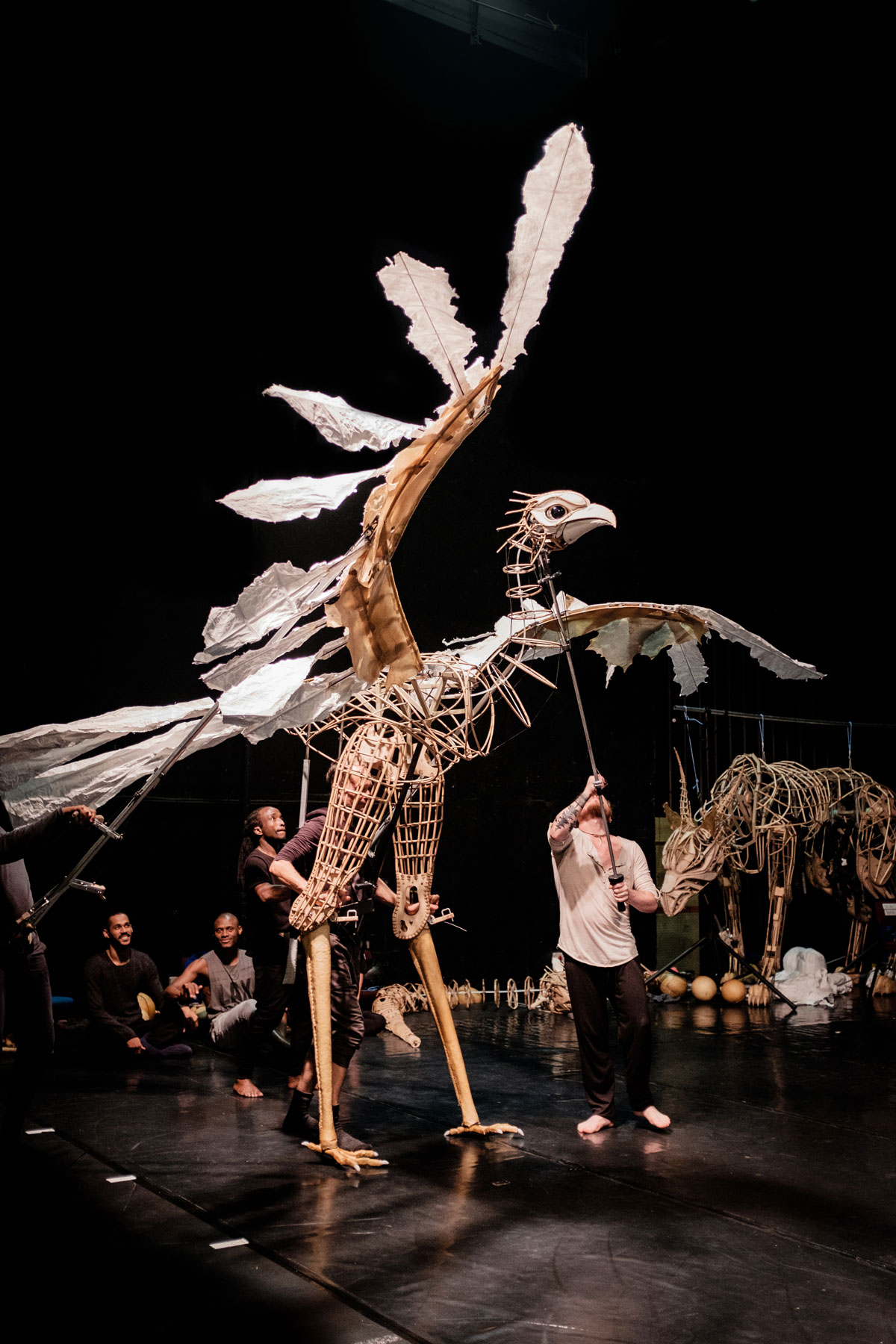 "They literally said, 'If you could do anything, work with anyone, who would it be?' " Linder said. "And I said Handspring [Puppet Company], who did the puppets for 'War Horse.' "
Younge, who has worked on the project for two years, previously was director of South Africa's widely adored Handspring Puppet Company (which created the puppets for War Horse) and now heads her own production company. She says she previously was only vaguely familiar with Stravinsky's score. But what she and Cape Town choreographer Jay Pather heard had tremendous personal resonance. "There are two conversations going on in the piece — one is an individual striving toward balance of power, which means negative and destructive as well as passionate and creative," she says.
"At the same time, there is a sense in South African society where everyone thought we were free at last, and it was all wonderful, and everyone believed in it. But 20 years on, so much is the same. There is so much anger and frustration, so many people saying that nothing has changed. So there is a really a meeting of both a very positive transformative energy in last 20 years, and at the same time a reexamination of us as a country, which is not where we want to be."
Firebird: Reimagined, then, she says, is "a metaphor for an evolving society," a narrative perhaps not unfamiliar here.
It might also be seen as a metaphor for an evolving institution. While the Philadelphia Orchestra's presence at the Mann Center each summer has remained at depressed levels for the past few seasons, the Mann is intent on maintaining a classical series and using classical music for a social purpose — extending both its traditional season and mission.
It has retained Nolan Williams Jr., who has worked extensively at the Kennedy Center, as its festival artistic director, and last year devised with him a network of programs under the Liberty: Unplugged! banner that included concerts, a poetry slam, a Twitter town-hall meeting, and newly commissioned music.
The goal is to expand the Mann's footprint: geographically, with visiting concerts and master classes in churches, schools, and in neighborhoods outside of the main campus in Fairmount Park; and artistically, with a slate of programs that go beyond just concerts and more deeply into education.
"We believe in music and arts as a force for social good. We want to get the Mann out of the Mann."
Nolan Williams Jr.
The Mann, for instance, worked with students from the KIPP DuBois Collegiate Academy, nearby on Parkside Avenue, to create an original Firebird Urban Youth Suite, inspired by the Firebird story. The Firebird theme extends to related programs at the Free Library, the Rosenbach, and Philadelphia Zoo. The Mann also imported a Howard University production of Sarafina!, the Broadway musical about the 1976 Soweto student uprising. (That free morning performance June 14 at the Mann is sold out.)
"We believe in music and arts as a force for social good," Williams says. "We want to get the Mann out of the Mann."
"It's about mission and values," Mann president/CEO Catherine Cahill says. "It's about the Mann being accessible and reflecting our region and serving the population we have. We do not think of ourselves as sitting in an ivory tower."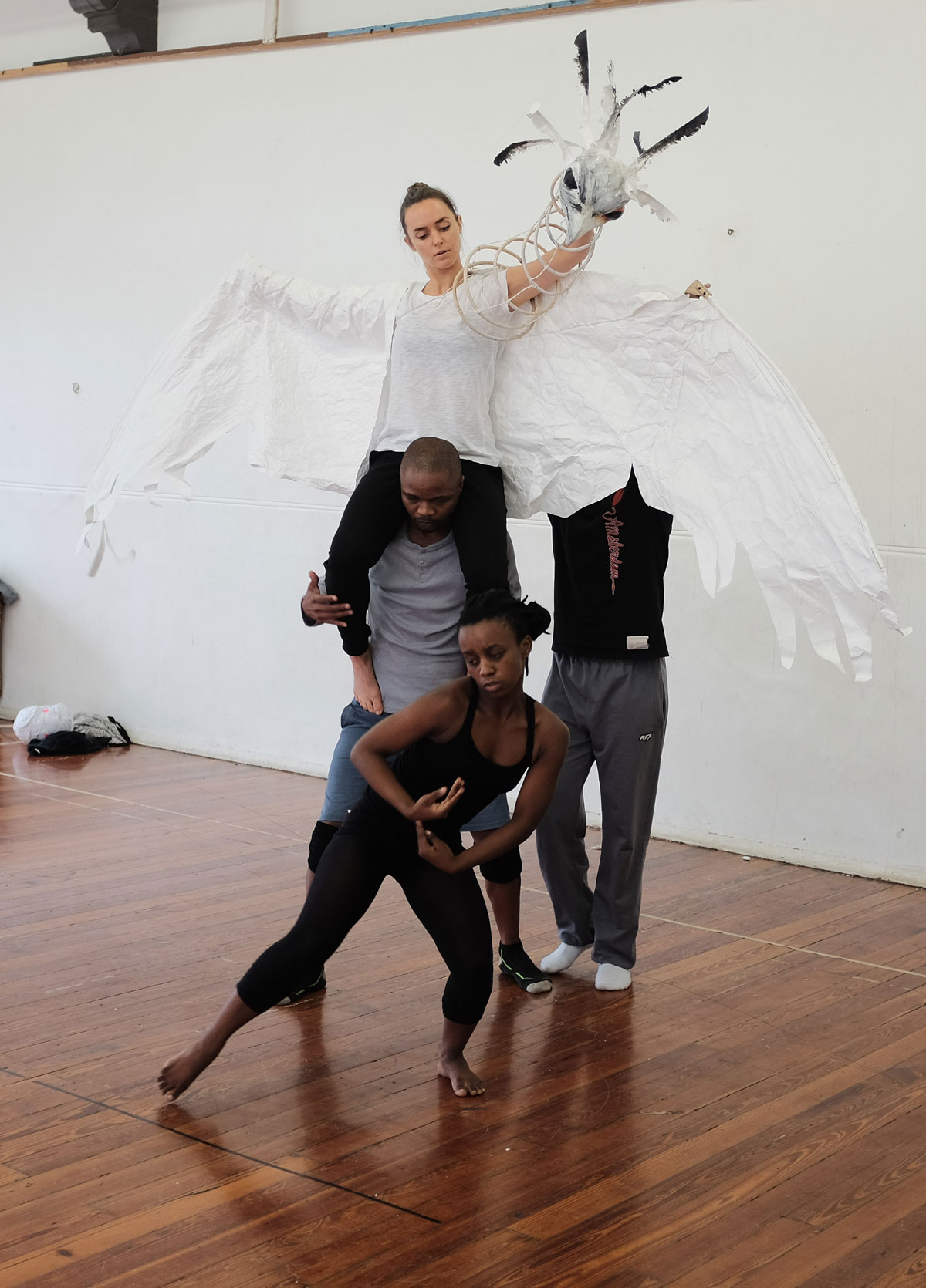 From top: Dunty La Trobe, Nkosinathi Mngomezulu, Thulisile Binda rehearse "Firebird." |
More rehearsal photos
The creators of Firebird: Reimagined also worked to integrate the visual aspects with the music, with dancers moving "through the orchestra while it is playing, so the reach of the puppetry goes out and over the orchestra," says Steven A. Linder, the IMG Artists senior vice president who helped develop the project. "That was very important to us, rather than having everything happen downstage in front of the orchestra, which doesn't feel like an integrated performance. We didn't want the orchestra to be a musical backdrop."
"We didn't want the orchestra to be a musical backdrop."
Steven A. Linder,
Williams has come up with a perhaps deeper cultural melding to share the program with Younge's Firebird. He has taken two Russian folks songs that inspired Stravinsky, "The Larch Tree" and "The Vain Suitor," and arranged them for the South African musical aesthetic of vocal ensemble Ladysmith Black Mambazo, which will perform them on the first half of the program.
In Williams' mind, all of these programs are thematically tied. Sarafina!, although about apartheid, has echoes of Cleveland and Ferguson for young audiences, he says. Concepts of good and evil, freedom and rebirth culminate in The Firebird's conclusion when the soul of the Kastchei, in a giant egg suspended high over the orchestra, morphs into something Williams says "will blow audiences away."
"We talk about the arts coming alive," Williams says. "You have to meet your people where they are."
The dancers will move "through the orchestra while it is playing, so the reach of the puppetry goes out and over the orchestra," Linder says.
Puppets, visuals, fresh thinking to ignite new 'Firebird'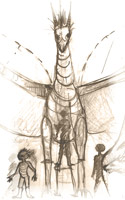 At orchestras today, the music is all about the visuals.
The Firebird: Reimagined project debuting at the Mann sprang not from the imagination of a composer or a theater director, but from IMG Artists, the large management firm whose roster includes performers like pianist Hélène Grimaud and violinist Joshua Bell, as well as film-with-orchestra presentations like West Side Story, E.T. with orchestra, and Bugs Bunny at the Symphony II.
In the eyes of Steve Linder, IMG's senior vice president, global head of attractions, the Firebird puppet-with-orchestra show is part of an evolution.
"I think that there is absolutely nothing wrong with an orchestral performance of the complete Firebird," Linder says, "but there is something to say about our society, especially the younger generation, wanting something more visual, whether we like it or not, and I think this is a combination of that, and you see it all over."
All over, and especially this summer. The Mann Center is a big facility, with more than 10,000 spots to fill. Many of the orchestra concerts there in the next few weeks aim to fill as many seats and lawn blankets as possible for presentations such as Harry Potter and the Sorcerer's Stone and The Lord of the Rings: The Two Towers with the Philadelphia Orchestra, and Back to the Future and Pokémon: Symphonic Evolutions with the Pittsburgh Symphony Orchestra.
This trend of incorporating visuals started, Linder says, with orchestras playing film music showing shorter clips, and then it became longer film evenings. "Audiences wanted something more substantive — they wanted a beginning, a middle, and an end," he says. "The old ways of orchestras doing opera highlight evenings — it's a lovely evening, very pretty, but to me, and I think a lot of other people, doesn't quite add up to something fulfilling. So what you've seen is orchestras doing semi-staged operas. It gives people something greater, and I think that is very similar to what we are doing here, but doing Firebird with a visual element gives them something greater. The music certainly stands on its own, with all due respect to Stravinsky, but I think there is a place in the orchestra world for both."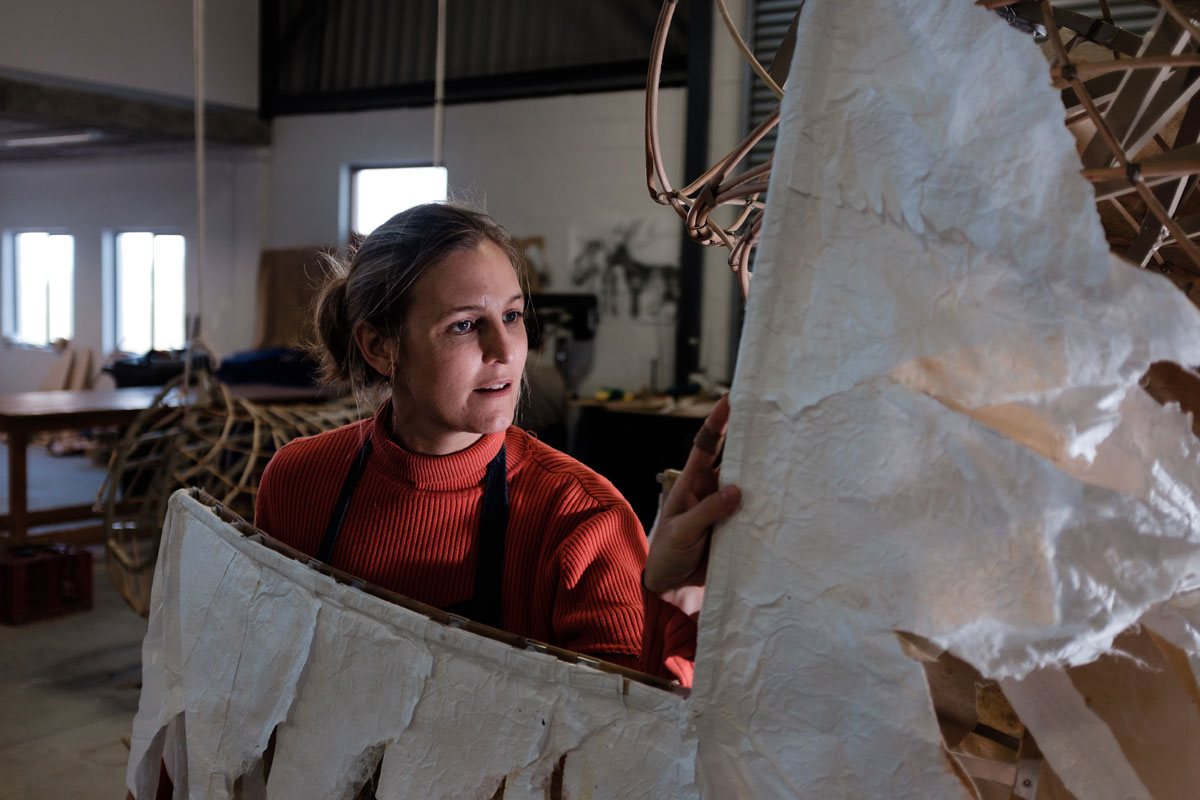 LUKE YOUNGE
South African artist Janni Younge has worked on "Firebird" for two years.
Firebird: Reimagined had its beginnings in talks that started several years ago, when IMG asked Linder to come up with new ideas for projects involving orchestras — anything. "They literally said, 'If you could do anything, work with anyone, who would it be?' And I said Handspring [Puppet Company], who did the puppets for War Horse."
He called the South African troupe, and it soon became clear that both he and Handspring's leaders had independently hit on The Firebird as the music with which they wanted to work.
"It made complete sense, because the story is somewhat timeless," Linder says. "Anyone wanting to interpret the story with their personal vision, taking their personal culture and using what they know to reenvision it, I think that makes sense. There is no right or wrong way to interpret it."
See how the puppets were built.
The Mann is already working on another idea, for next summer — a marriage of classical music and space travel. And the Mann is not the only one searching for new ideas. Orchestras across the country are increasingly integrating visuals into the experience, for both summer and main-subscription series.
"A lot of orchestras are experimenting with it, and I think it is the way of the future," Linder says. "It is scary for people, for orchestras, because I think they are scared that the traditional format of overture, concerto, big symphonic work is going to go away. It's not going to go away. But to appeal to a broader audience and to remain relevant to as many people as possible, I think that is changing the way we cloak the concert experience. It is critically important for orchestras. They are all looking for things like this."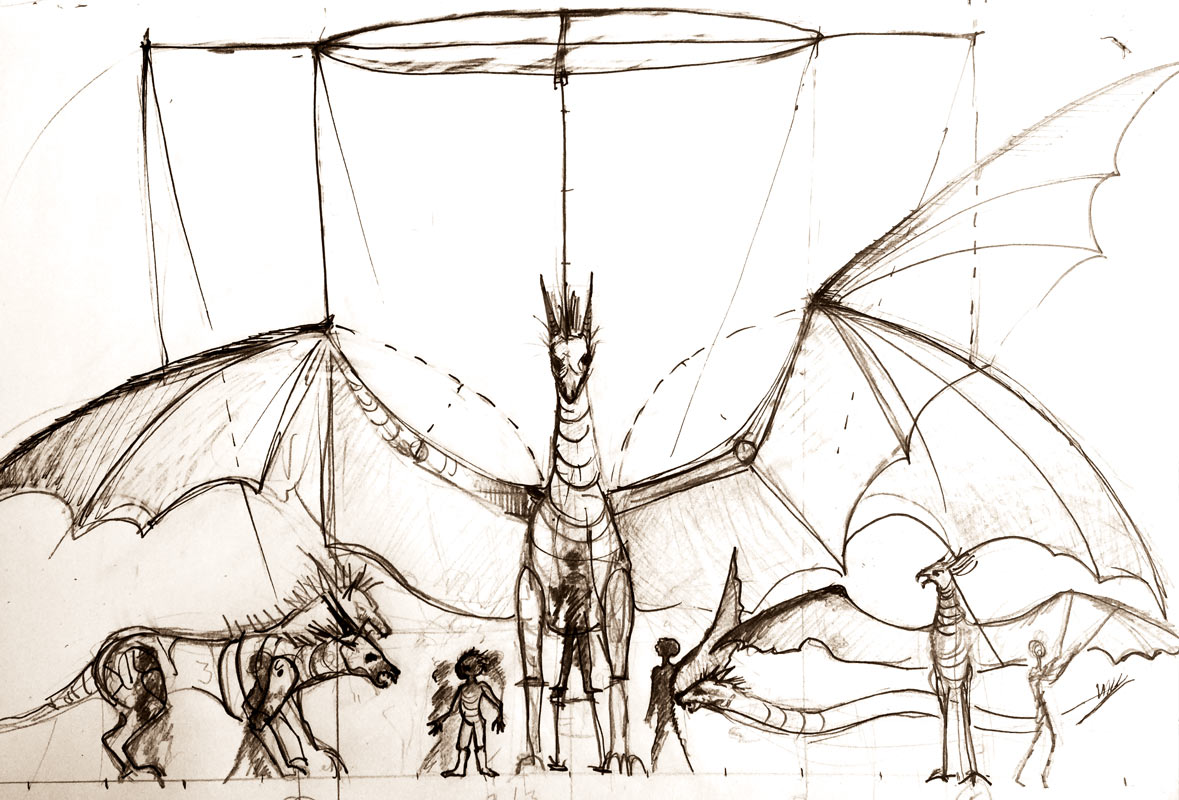 How to arrange Stravinsky for Ladysmith Black Mambazo?
Throw away the score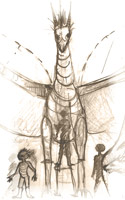 It wasn't long into his first rehearsal with Ladysmith Black Mambazo that Nolan Williams, Jr., with his Oberlin College music degree and bona fides in musicology, realized that perhaps he had overshot the assignment a bit.
Williams — artistic director of the Mann Center's ongoing original-programming festival — had taken it upon himself to arrange two well-known melodies from Stravinsky's The Firebird for the South African vocal ensemble.
The power of Ladysmith Black Mambazo's tradition and aesthetic, however, had plans of its own.
"Originally I sat down with all of my classical composition background and, as a composer, you always want to do something that is going to be weighty and impressive and substantive," said Williams. "So I went out with all these different parts and polyrhythms, and when I got to Durban to meet with them, I realized that what I had done was far more complex than what it needed to be. It's almost like you're trying too hard."
And so he set his scores aside.
Mann festival artistic director Nolan Williams, Jr. rehearses an arrangement of "The Larch Tree" with Ladysmith Black Mambazo.
Williams followed the group on tour, meeting with them in hotel rooms whenever he could grab an hour of their time. Over the course of several rehearsals, he and the group worked together to meld these two very Russian melodies with a South African sensibility.
The results will be heard on the first half the Mann Center program that concludes with Firebird: Reimagined.
Many in the audience will recognize Ladysmith Black Mambazo's two tunes as material drawn from The Firebird. But fewer perhaps know that the broad, radiant horn solo that leads to the piece's finale, plus the other tune being adapted, were not original to Stravinsky.
"There are two songs embedded in The Firebird. These are both Russian folk songs that clearly were part of Stravinsky's upbringing," said Williams, referring to "The Larch Tree" and "The Vain Suitor." They also appeared in a compendium of folk tunes assembled by Rimsky-Korsakov published in the 19th century.
Taking those tunes and South Africanizing them meant understanding something about the tradition from which Ladysmith Black Mambazo sprang, Williams said — an a cappella style drawing upon Zulu folk singing, and revolving around tight harmonies, syncopations, and repeated chord progressions (for music theory fans, that would be the the one-four-five chord progression).
The group also brings an important physical element to their experience.
A lot of work on the building end is required, Younge says, "to create the beauty of illusion. You have to build them elaborately from day one." |
More photos of puppet building
"There is this tightly choreographed movement, their characteristic soft kick, the way they kick up their feet," he says.
Williams is bringing in yet more cultural influences. Two Philadelphia singers will join the South African group: University of the Arts graduate Andrew Lawson, and neosoul singer Zeek.
The evening is designed to take listeners along on a process of discovery — the basic melodies the same, the interpretations vastly different — and perhaps an altered sense of context for classical music.
"I think that's a very important point, because we've isolated classical music in many ways from its traditional moorings," said Williams — "what influences composers bring to bear, the performance practice. A lot of this music wasn't performed in this sterile environment. It was in pubs, where audiences could respond to a soloist and demand an encore.
"I think projects like this are great because they help to reconnect the music in a way and make the music alive, which is the problem the classical world is really having in the contemporary age. How do we help audiences to access this music, and to understand and appreciate it?"
Firebird Urban Youth Suite was developed by students from the KIPP DuBois Collegiate Academy in Philadelphia.
One way, surely, is through the memorable lines of folk music.
"What actually makes folk music meaningful is the simplicity of it," says Williams. "It's something Stravinsky understood, something Rimsky understood, and certainly something Mambazo understands."
Williams, too: "I quickly realized the sweet spot is the beauty of their voices, the sound of them coming together, and really highlighting that."
pdobrin@phillynews.com, 215-854-5611
Firebird: Reimagined. The Philadelphia Orchestra led by Cristian Macelaru and Ladysmith Black Mambazo perform July 20 at the Mann Center, 52nd St. and Parkside Ave. Tickets: $15-$55. Information: 800-745-3000, www.manncenter.org.
Projects like "Firebird" are great, Williams says, because they help to reconnect the music in a way and make the music alive.