The verb taking - as in, taking pictures - has, perhaps, never been more apt than when applied to street photographer Mark Cohen.
He walks by a subject, snaps a photo without a glance through the viewfinder, and is gone. He does not ask permission.
"When you ask permission to take a picture," he said, "it destroys the subtlety and the chance and the drama of the small theft that happens."
Cohen has stolen thousands of such moments - more than 50 years' worth of daily life in the small cities of northeastern Pennsylvania. His work has fueled solo shows at the Art Institute of Chicago and the Corcoran Gallery, among others. Now, it can be seen in Frame, a retrospective book out this month from the University of Texas Press.
The images aren't always beautiful, but they're compelling, said Peter Barberie, curator of photographs at the Philadelphia Museum of Art, who organized a 2010 exhibition of Cohen's work there.
"It can be challenging and unsettling to look at these pictures, but I think they show us really important truths about human experience," he said. "In a way, he reveals the good and bad in all of us."
Cohen, who moved to Philadelphia in 2013 at age 70, started shooting as a teenager in Wilkes-Barre, his hometown, working as a stringer for the Times Leader, photographing car crashes and check presentations.
Soon, he found his way to art photography and drew early recognition, including a solo exhibition at the Museum of Modern Art at age 30.
But instead of following the art world to New York, he stayed in Wilkes-Barre, running a photo studio to supplement his income.
Cohen stayed, in part, because he likes working within limitations: shooting the same places, working exclusively with 35mm film, and making almost nothing but 16-by-20-inch silver prints - never digital.
"Limitation," he said, "develops a very high aesthetic in your art."
A side effect is that his images, taken collectively, are a longitudinal study of the postwar depression and white flight that laid low many small cities.
"He watched the city decline and lose, in some ways, its identity," Barberie said. "His work captured that change over time, because he stayed with this place."
The result is "one of the great bodies of work of the last 50 years," Barberie said. But, partly because Cohen refused to move to New York (and play the gallery owners' game), "he didn't remain as well known in art circles as many of us think he should have."
Cohen was motivated to move, finally, in 2013, only because he felt he had taken every photo there was to take in Wilkes-Barre and Scranton.
"I would drive to Scranton and take pictures for five minutes," he said, "because I had done everything."
Relocating to Philadelphia has reinvigorated his practice. In a darkroom in the Center City apartment where Cohen lives with his wife, Lillian, archival boxes marked "2013," "2014," and "2015" sit on shelves, awaiting what he hopes will someday soon be a show of his Philadelphia photographs.
He has found subjects close to home, shooting in Rittenhouse Square and in the narrow confines of Juniper Street.
Other days, he said, "I get on the trolley and I go to 50th Street, or I get on the Market-Frankford Line and I go out to Somerset Street. Somerset is one of my favorite stops. These are like colors on a palette, almost, and they can match my mood."
Still, street photography in Philadelphia can be a delicate business.
People at Somerset and Frankford, for example, "are more suspicious. They're tired of being ripped off. There's a whole social-fabric interface that has to be considered, so I'm much more fearful there."
Though people are more accustomed than ever to being photographed, the dynamic has changed over the years. And some photos Cohen took 40 years ago he just couldn't get today.
Many of his most striking photographs are of children - blowing chewing-gum bubbles, smoking cigarettes, or gleefully brandishing a six-shooter.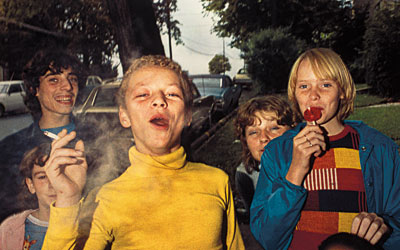 "It was like 1971 and I'd take a picture of some kid's chest - he'd be making muscles and he'd be out on the street someplace - or some girl's knees. It was just me and a bunch of kids in an alley," he said.
More recently, "I took pictures in Philadelphia of a whole bunch of kids who were sitting on the lawn by the Franklin Institute, like a school group. . . . Someone said, 'Why are you taking pictures?' So I don't do that too much."
He's also stopped using a flash, as he did in many early photographs, so he's less conspicuous.
Still, Cohen is less concerned with his subjects than with his process.
When he's ready to go out on the street and shoot - which he does these days only when inspired - he simply sets his lens to focus at a distance of two feet and goes for a stroll.
"I'm looking for a picture to walk by," he said. "And a guy comes with a coat that's falling apart, he's just on the edge of homelessness, and he slips his hand into his pocket. And when he does that, I'm 24 inches away and it's starting to snow - and I take the picture and I wonder what I did. I have no idea . . . until I develop the film."
He was first inspired by the work of Henri Cartier-Bresson, the French master of candid photography. But the randomness of his work, he said, is more akin to Max Ernst.
"I think of myself as a surrealist," he said.
He leaves space for chance and for the subconscious to dictate his compositions, which are often just fragments: a broken bottle. A pair of hands. A neck with the head omitted, as if to say, "Nothing personal, buddy."
"There's no real interaction between me and the subjects. They're just like actors on a set," he said.
It was on one of these walks that he came upon the 1974 image "Hole in Shirt," the cover of Frame. It's a story of marginal living, told through mismatched clothing, a hole frayed in a sweater, debris on the ground. But, he said, "look at her hands. They're absolutely beautiful, the shape of the thumb and finger. And it's in the midst of all this degradation."
Forty years later, Cohen still loves this image. Whether it can sell books is a different matter.
"Think about an Ansel Adams book. They've got Yosemite on the cover!" he said. "And we're trying to sell a book with civilization falling apart on the cover."
215-854-5053
@samanthamelamed