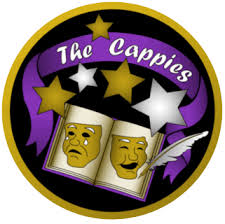 The Cappies was created in the summer of 1999 by Bill Strauss, author of Millennials Rising:The Next Great Generation and founder of the Capitol Steps, and Judy Bowns, the Fairfax County Public Schools theatre resource teacher, in co-operation with theatre, music and journalism educators in the Washington D.C. area. Bill and Judy wanted to bring more positive attention to the creative efforts of teenagers. Bill, through his research and writing about generations especially the youth generation whom he named the Millennials, saw great promise in the talents of these young students and wanted to strengthen and celebrate their education in the arts and journalism.
There are currently fifteen Cappies chapters across the US and Canada. Each is made up of a cluster of high schools ranging in size from ten to sixty schools (public and private schools as well as home school groups). Within each chapter, every participating high school forms a critic team of students and designates at least one of its school shows to be its Cappies show which will be attended and reviewed by the critic teams from other schools.
The following articles are written by students in the Greater Philadelphia Cappies participants from the following participating schools: Abington Friends School, Academy of the New Church, Agnes Irwin School, Archmere Academy, Barrack Hebrew Academy, Bordentown Regional High School, Cardinal O'Hara High School, Central Bucks High School West, Conestoga High School, Delaware County Christian School, Eastern Regional High School, Friends Select School, Friends' Central School, Germantown Academy, Harriton High School, Haverford High School, Interboro High School, Lindenwold High School, Phoenixville Area High School, Plymouth Whitemarsh High School, Ridley School District, Springside Chestnut Hills Academy, Springfield High School, Sun Valley High School, The Baldwin School, The Episcopal Academy, The Haverford School, The Philadelphia School for the Creative and Performing Arts, Unionville High School, Upper Darby High School, Upper Dublin High School, Upper Merion High School, Upper Moreland High School, West Chester East High School, Westtown School.
Annie by Academy of the New New Church in Bryn Athyn, PA December 11, 2018 Review submitted by Julia Jennings of Upper Moreland...

Godspell by Archbishop John Carroll High School in Radnor, PA December 3, 2018 Review submitted by Aiden Kaliner of Harriton...

Our Town by Friends Select School in Philadelphia, PA November 20, 2018 Review submitted by Rachel Tierney of Unionville High...

The Miracle Worker by Conestoga High School in Berwyn, PA November 20, 2018 Review submitted by Phoebe Barr of Episcopal Academy The...

The Sea Voyage by Phoenixville High School in Phoenixville, PA November 20, 2018 Review submitted by Mable Peach of Haverford...

12 Angry Jurors by Interboro High School in Prospect Park, PA November 20, 2018 Review submitted by Stephen D'Antonio of Archmere...

Brighton Beach Memoirs by Ridley High School in Folsom, PA November 15, 2018 Review submitted by Anji Cooper of Academy of the...