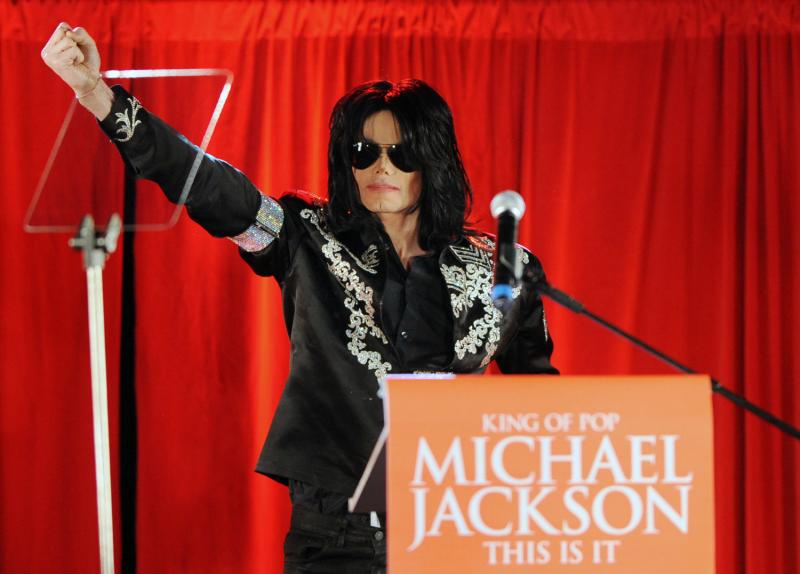 Unfortunately, this is by no means it.
In fact, it's only the beginning. Michael Jackson's life as an after-death recording artist is underway with "This Is It," the "new" song – that actually came into existence (under a different name) 26 years ago - that was released in a streaming version on MichaelJackson.com on Monday.
Will the posthumous profiteering over Jackson's corpse be entirely coarse and crass? Almost certainly. But it's not really fair to come to that conclusion solely on the basis of this thin though perfectly pleasant song, which was probably recorded (and left off) 1991's Dangerous, but was originally written by Jackson and Paul Anka, of all people, all the way back in 1983, when it went by the title "I Never Heard."
The provenance is complicated. And after squawking to TMZ.com that he'd been ripped off, Anka, who has been a particularly well paid songwriter throughout a career that's included compositions such as Frank Sinatra's "My Way" and the theme to Johnny Carson's The Tonight Show - not to mention "Put Your Head On My Shoulder" and "Having My Baby" - seems happy, now that the Jackson estate has given him a 50% stake in the song. "It was an honest mistake," he says.
But the marketing is straightforward. "This Is It" is the first unreleased Jacko out-of-the-box because out of the hundreds of recordings he left in the vault when he died, it's the one that that lent itself to a punchy sales campaign. This Is It was the name hung on the 50 shows at London's O2 arena that Jackson was rehearsing for when he died on June 25, and surely, the tour that would have followed had he survived that grueling run.
And more to the point, it's the name of the documentary that will include rehearsal footage into shot in Los Angeles earlier this year that opens nationwide in theaters on Oct. 28 (with preview screenings the night before) for a two week run.
And "This Is It" is also the first unreleased Jackson to see the light of day because it presents an easily
accessible, modestly catchy ballad that projects a measure of the save-the-world innocence that keeps the more unpleasant aspects of Jackson late career conveniently locked away.
Back when the song was still called "I Never Heard," it was released in 1991, with Jackson's blessing, apparently, in a percolating, sort-of sexy version by Safire, a Puerto Rican dance-pop songstress who presumably will be resurfacing any second now.
The Jackson version of the song largely whitewashes out the funky elements, though it does have a trace of his trademark hiccuping vocal mannerisms that can still grab your attention. It's a piano and strings soarer, that includes finger snaps and creamy back-up vocals from his brothers, as well as a trace of signature Jackson megalomania. In Safire's version the song goes, " In the light of the world, love is grand," but Michael sings "I'm the light of the world, I feel grand." A crucial, familiarly solipsistic difference.
All in all, not terrible, but not terribly promising when it comes to anticipating the archives yet to be
unpacked. After a half dozen listens, I'm not completely sick of it yet - though I've had it up to here with the 30 second movie trailer again that you'll be forced to endure when you stream the song here.
Previously: What Was That Noise?