Photography is quickly evolving. The digital era has made us leave our cameras at home and opt to use the convenient iPhone for taking video, audio, and pictures anywhere. Ease of use, when it comes to capturing and sharing, has become a priority; and Instagram is, without a doubt, the easiest way to do both.
Many discredit forms of digital photography under the belief that it's inauthentic. Digital has allowed users to doctor photos, sometimes on the spot, to their liking–usually to the point where it looks nothing like the original. But what makes a photo authentic is the unaltered context it focuses on.
Candace Karch, also known as sugarbeam, is one of Philadelphia's greatest Instagram street photographers. She's taken full advantage of the app's ease of use and portability to document her surroundings, without using filters or tricks. Her photos capture characters and the unexpected that pass through her life on a daily basis. She photographs human as she sees them, completely unpolished. "I live in Fishtown and have been here for over ten years. Like most people, I carry my phone with me at all times. I am always ready to chase someone for [his or her] photo. It's part of my daily routine."
Karch has been working with film for years prior, lugging around her three favorite machines: a 35mm, a Mamiya C330, and a Diana. "This was before the time of digital photography and I wanted to make sure I got the pic. But now that I think about it, it was kind of insane. I couldn't make my mind up about which camera I wanted to use." Eventually, she narrowed it down to one: the Diana. The lightweight machine was easy to carry and the film's natural light leaks left for a surprise once the film was processed. When digital photography became the industry standard, the rest was history. "Digital photography was my new god," said Candace. "It's like all [of] those cameras morphed into one little compact thing that I can carry around and be discreet [about]."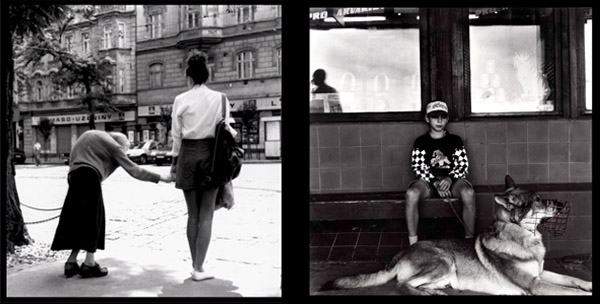 Karch, a former photography and film student at University of the Arts, used to own the now extinct Bambi Gallery in the Piazza, located in Northern Liberties. Both of her parents were creative individuals. Her father was a hairdresser, who then became a landscaper, and her mother was a makeup artist. At the age of five, she received her first camera. Although she lived outside of Philadelphia, she found herself in the city often when she was very young. "I was always in the city hanging out with lots of older people and sitting on bar stools from a young age. I think that's where I got my fascination with characters," says Candace. "At that time I didn't realize that it was the booze that intensified expressions. I always felt most comfortable around drunk people." These folks and run-ins became her inspiration.
During her time as a studying and professional artist, she was drawn to outsider art and closet artists—those who choose not to admit that they are involved in the arts. This explains why anonymity is an important aspect of being a street photographer. The focus is not on the one behind the camera, but more about capturing what's in front of you. The subjects and moments are the star, not the artist. This style requires one to blend into the scene—they must be as camouflage as possible. Or, in Karch's case, you might have to ask once in a while. "Sometimes, I ask people [if I can] take their photo and other times I just click and hope I capture them. For me, I am taking photos of beautiful people and I am very sincere about why I want their picture."
"The privacy thing is a huge, huge draw to me, the whole phenomenon of privacy happening in public," street photographer Daniel Arnold told Gawker back in 2012. Arnold is an Instagrammer who has received heaps of attention for his NYC street photography that is both straightforward and striking. Why? Like most street shooters, the subject matter. Last year he was banned for posting a photo of women sunbathing topless on the beach. His breach of privacy in his photos hit a whole new level; but he's not ashamed. "The privacy thing is a huge, huge draw to me, the whole phenomenon of privacy happening in public," he said. This genre of photography can come off as invasive, but as Candace points out, "It's real life. I'm documenting. I hope that you can see my sense of humor in my images."
A recurring character in Karch's photographs is a friend of hers named Marie, or as she's known on Instagram, Ms. Ulmer. The 95-year-old woman is comfortable being photographed everywhere: in her tub, in the kitchen, picking flowers, and sitting at her kitchen table. The serene and sweet moments that are captured of Ms. Ulmer are ones that only a trustworthy friend could take. The two first met at Bambi Gallery, and according to Candace, the rest is history. "We have a friendship and sometimes it seems like there is no gap with our ages. Marie is going to be 96 in August but still drives a car, takes the subway, goes to tai chi, makes art and can be a bit of a diva. She has become my muse." These photographs are so loved by Instagram fans that there is currently a collaborative book in the works between Marie and Candace. The book will showcase Marie's illustrated self portraits, including one from when she was seven-years-old, alongside images Candace has been taking of her for the last five years. The book will be supported by a Kickstarter.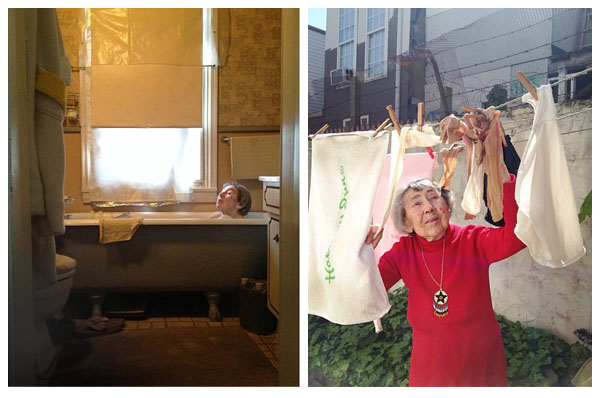 It goes without saying that Zoe Strauss, a famous Philadelphia street photographer, whose style can be compared to that of Candace's work. For a decade, Strauss captured real, close encounters with Philadelphia's overlooked and jilted subjects. Another University of the Arts grad, Strauss was recently honored at the Philadelphia Museum of Art in a retrospective exhibit titled Zoe Strauss: Ten Years. This came shortly after her announced retirement and her final, sounding off exhibit under I-95—an annual event that stretched from 2001-2011. "She picked up a camera and remained focused for ten years and that is a testament to her determination and commitment to her subjects," Candace told me. Pioneers of art and photography like Eugène Atget, Diane Arbus, and Joel-Peter Witkin have heavily impacted Karch's work and a number of other artists like her.
Not allowing amazing moments to escape you is one of the biggest rules to follow when it comes to good street photography. It takes a certain dedication and eagle eye to be able to witness moments and see them as photographs or stills. Filmmaker and photographer Chris Weeks once said, in a short film about capturing the human condition in photographs, "Street photography is like life. You never know what it's going to throw at you, or what you're going to get." Anyone can be a street photographer; it's just all about training the eye to see what others may ignore.
-
Candace is active in her studio working on various mediums of artwork, along with being a bartender at Johnny Brenda's and a cat wrangler. She also has a hand in curating shows around the city. If interested in contacting her about her work, you can reach her though e-mail: info@bambiproject.com.