At long last - and after some confusion due to web site issues this week - the details of the Budweiser Made in America festival schedule have been announced.
Yes, Kanye West closes out Saturday and Kings of Leon does the honors on Sunday. We knew that already. All of the other stage and set times particulars are below. The music on the Ben Franklin Parkway starts at 1:15 on both days on the Skate Park stage, with the Ooh Baby Give Me Mores on Saturday and Misterwives on Sunday.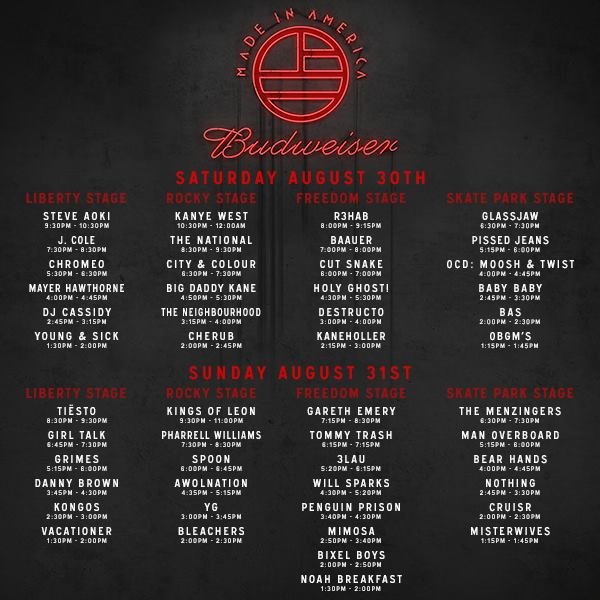 West, who plays from 10:30 to midnight on the Rocky stage in front of the Philadelphia Museum of Art steps, will be preceded by cake throwing deejay Steve Aoki on the Liberty Stage on Saturday night. On Sunday, Kings of Leon are up from 9:30 to 11, with Tiesto spinning as the set up act.The EDM Freedom stage bill is topped by R3HAB on Saturday and Gareth Emery on Sunday.
Kanye's Saturday set is the clear highlight - Jay-Z 's fest would be seriously short on flash if his Watch The Throne partner wasn't doing bi-coastal duty in Philadelphia and Los Angeles this weekend. But Sunday is stacking up to be the stronger day: I'm looking at a potential run of Vacationer-Bleachers-Nothing-Danny Brown-Spoon-Grimes-Girl Talk-Pharrell that ought to be pretty cool on what looks to be a 90 degree summer day.
Saturday, Aug. 30
ROCKY STAGE
Kanye West (10:30 - midnight)
The National (8:30 - 9:30)
City & Colour (6:30 - 7:30)
Big Daddy Kane (4:50 - 5:30)
The Neighbourhood (3:15 - 4)
Cherub (2 - 2:45)
LIBERTY STAGE
Steve Aoki (9:30 - 10:30)
J. Cole (7:30 - 8:30)
Chromeo (5:30 - 6:30)
Mayer Hawthorne (4 - 4:45)
DJ Cassidy (2:45 - 3:15)
Young & Sick (1:30 - 2)
FREEDOM STAGE
R3HAB (8 - 9:15)
Baauer (7-8)
Cut Snake (6-7)
Holy Ghost! (4:30 - 5:30)
Destructo (3 - 4)
Kaneholler (2:15 - 3)
SKATE PARK STAGE
Glassjaw (6:30 - 7:30)
Pissed Jeans (5:15 - 6)
OCD: Moosh & Twist (4 - 4:45)
Baby Baby (2:45 - 3:30)
Bas (2 - 2:30)
OBGM's (1:15 - 1:45)
Sunday, Aug. 31
ROCKY STAGE
Kings of Leon (9:30 - 11)
Pharrell Williams (7:30 - 8:30)
Spoon (6 - 6:45)
AWOL Nation (4:35 - 5:15)
YG (3 - 3:45)
Bleachers (2 - 2:30)
LIBERTY STAGE
Tiesto (8:30 - 9:30)
Girl Talk (6:45 - 7:30)
Grimes (5:15 - 6)
Danny Brown (3:45 - 4:30)
Kongos (2:30 - 3)
Vacationer (1:30 - 2)
FREEDOM STAGE
Gareth Emery (7:15 -8:30)
Tommy Trash (6:15 - 7:15)
3LAU (5:20 - 6:15)
Will Sparks (4:30 - 5:20)
Penguin Prison (3:40 - 4:30)
Mimosa (2:50 - 3:40)
Bixel Boys (2 - 2:50)
Noah Breakfast (1:30 - 2)
SKATE PARK STAGE
The Menzingers (6:30 - 7:30)
Man Overboard (5:15 - 6)
Bear Hands (4 - 4:45)
Nothing (2:45 - 3:30)
Cruisr (2 - 2:30)
Misterwives (1:15 - 1:45)
Previously: Pattern is Moment at Spruce Street Harbor Park Follow In The Mix on Twitter