Unless you've been living under a Viking-size rock, you know that the biggest Eagles game in ages is coming up on Sunday. Here's a list of pro tips to help you have the best game-day experience this weekend, even if you didn't score tickets.
1. Embrace the pug.
If you're looking to get your hands on the German shepherd mask Lane Johnson and Chris Long donned after the Falcons game, you're in for a challenge. It's already sold out on Amazon after the team encouraged fans to wear them to the game this weekend. (D&J Costumes on Frankford Avenue is still taking orders by phone with a game-day delivery guarantee.)

However, there are still other breeds available. If you've set your heart on wearing a creepy dog mask to your neighbor's watch party, you can still find "underdog" masks around in the form of a Siberian husky, a pug, or a poodle. Beggars can't be choosers.
As for mask etiquette, do remove your dog face for the national anthem. Country before team, right?
2. Take out your rage on a dammit doll.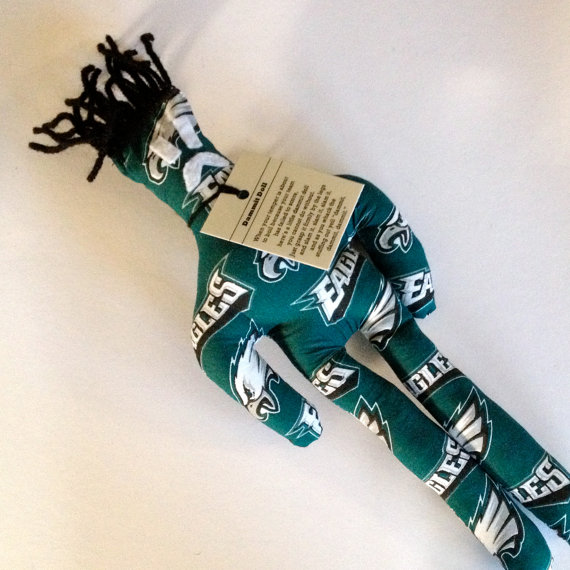 Yeah, we get it. The Eagles did something maddening again — like the punt that led to a turnover last Saturday. You're livid. We all are. But don't throw something at your screen and wind up missing the rest of the game because you broke your television.
Try smashing a handcrafted Eagles "dammit doll" against your coffee table instead. Several Etsy shops sell them. Get a Vikings one, too, if you have enough rage for two. We wouldn't recommend substituting your kid's favorite stuffed animal.
3. Have an Eagles fidget spinner close at hand.
There will be plenty of hold-your-breath-can't-even-look-at-the-TV moments this Sunday. If you're aiming to avoid elevated blood pressure, may we suggest an Eagles-themed fidget spinner to keep your hands busy while the refs deliberate? They're available at NFLshop.com and other places where extreme fan gear is sold. Another option: a set of NFL-themed stress balls.
4. Learn the physics before shotgunning a beer.
You may have by now seen the hilarious video of the exuberant Eagles fan shotgunning four beers on live TV. But before you try this trick at a watch party, you'll want to make sure you're doing it correctly.
To shotgun a beer, you have to hold it horizontally to create an air pocket, and puncture the can there. No beer will leak out if you do this correctly. Now, when you hold the beer up to your mouth and pop the top, the forces of physics will work in your favor.
5. Leave your refined taste at home.
— BlackSmith Clothing (@FlyingBirdHat) December 15, 2015
It's not every day that the Eagles make it to the NFC Championship. Historically speaking, it's been thousands of days. So it's time to up your fashion game. Lane Johnson designed a ferocious "Home Dogs" T-shirt for the big game. You can snag one online at lj65.shop or pick one up in person at the Packer Avenue Chickie's and Pete's on Thursday from 7 to 10 p.m. Proceeds will benefit Philadelphia schools.
And if you'd really like to stand out, there's the FlyingBirdHat. Yes, it is one word. Yes, it has light-up eyes and remarkably speedy, battery-operated Eagles wings that can be turned on with a switch. The website FlyingBirdHat.com is guaranteeing game-day delivery for Greater Philadelphia area fans, and the website has detailed directions on how to operate the contraption.
6. Up your cornhole game.
It's supposed to be pretty mild this weekend, so the cornhole boards will be out in force for your tailgating amusement. If you're channeling the Eagles' must-win mentality, here are two game-day tips with which to crush your opponents.
The first thing you want to do is keep the beanbag flat. If you wad up the beanbag like a ball, it's going to tumble over itself on the way to the board and probably land short of the hole.
And contrary to popular belief, you don't want to aim straight for the hole. You'll stand a better chance if you try to land the beanbag on the first six inches of the board, trusting its velocity to slide it in.
7. Learn the third line of the Eagles fight song, already.
Don't be that guy who has to blubber his way through every line of the fight song that isn't "Fly, Eagles fly!" Brush up on your lyrics here. (Fun fact: In 2014, Billboard ranked the Eagles fight song as one of the best in the NFL.)
Fly, Eagles fly!
On the road to victory!
Fight, Eagles fight!
Score a touchdown 1, 2, 3!
Hit 'em low!
Hit 'em high!
And watch our Eagles fly!
Fly, Eagles fly!
On the Road to victory!
E-A-G-L-E-S!
Eagles!