Fall Arts Preview 2009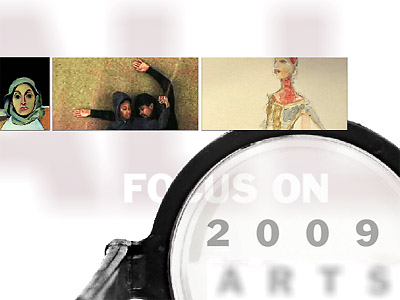 If it weren't for Fox's Glee, there would be little excitement in a fall TV season whose biggest promise is five prime-time hours a week of the soporific stylings of Jay Leno. While lacking creative dazzle, they may stimulate the late-news ratings, if local stations tone down the shows so snoozing Leno fans don't awake to turn the TV off before Conan comes on.
It's the end of the world as we know it (The Road, 2012), our wives and/or children are being killed (The Boys Are Back, Law Abiding Citizen, The Lovely Bones), vampires and woolly beasts are on the prowl (Twilight, Where the Wild Things Are), a 1930s aviatrix and a 1960s Japanimation icon are flying high (Amelia, Astro Boy), and the monosyllabic movie musical is back (Fame, Nine, Dare)!
Perched on the economy's shifting shoals, arts groups are bracing for a rough fall season. How does money play out in the concert hall?
Over the last 15 years, Philadelphia's dance climate has improved dramatically. Festivals such as the Live Arts/Fringe and the now-dormant DanceBoom! cultivate ever-larger audiences, and excellent university dance departments turn out performers who often plant roots here instead of heading north. The funding climate lures out-of-towners - Headlong Dance Theater, Kun-Yang Lin/Dancers - to relocate here, providing both competition for the community's dancers and mentoring in alternative styles and dance vocabularies.
Curtain up, light the lights - really, we're talking about 50 curtains and row upon row of lights, as the Philadelphia region's professional theater debuts another season with everything from world premieres to pieces staged here for the first time to classics and warhorses.
As any casual art-world observer could have predicted, this fall season looks to be a muted, sensible one - of reflecting, selecting from under-the-radar holdings and archives, shoring up, and sticking close to home. It's a correction, yes, but in many instances the scrutiny was long overdue.
In this new 2009-10 art season, the Muppets square off against modernism and Renoir goes up against Hollywood. The mix of exhibitions planned by the region's art museums has rarely been so eclectic.
Book lovers will be able to read by literary star light this fall, as new works from some of the biggest names in publishing appear on bookstore shelves.
It's the season for football, falling leaves, and new video-game releases. And though all of us are feeling the pockets pinch a bit, there is no doubt we will dig deep for at least a couple of titles to keep us company through winter.
Retrenching, rebalancing, whatever you want to call it, the local dining scene went through more than nips and tucks after disposable incomes tanked last year. But it hasn't been an all-bad thing: Menus have been recalibrated, average checks are down (along with some restaurant rents). Even serious-eats places - Bibou and Fond come to mind - are keeping prices in line.