For art museums, this season is all about the Big Picture, in more ways than one.
The Pennsylvania Academy of the Fine Arts is providing a visual panorama of how Americans responded to one of the most catastrophic events of the 20th century. And at its heart is an epic, CinemaScope-scale painting of a grotesque event, Gassed by John Singer Sargent, on loan from the Imperial War Museum in London.
The great 20th-century Mexican muralists also produced some big pictures, often on big subjects, such as The Epic of American Civilization, by José Clemente Orozco. The Art Museum's big show on Mexican modernism includes this work, and many others in various sizes and media to provide a comprehensive view of an important and popular artistic and social movement.
Meanwhile, the Institute of Contemporary Art's Freedom Principle goes beyond the big picture, to connect art with music and other aspects of African American culture during the last half-century.
The Freedom Principle: Experiments in Art and Music from 1965 to Now (Through March 19, Institute of Contemporary Art). This much-acclaimed, ambitious multimedia exhibition was organized by the Museum of Contemporary Art, Chicago. It focuses on the largely African American jazz avant garde that arose in that city in the 1960s and its interaction with the visual arts at the time and in the decades since. It includes hybrid works, such as musical scores by composer-instrumentalist Anthony Braxton that double as visual art. During the run of the show, there will also be an extensive schedule of performances. (118 S. 36th St., free, 215-898-7108, icaphila.org)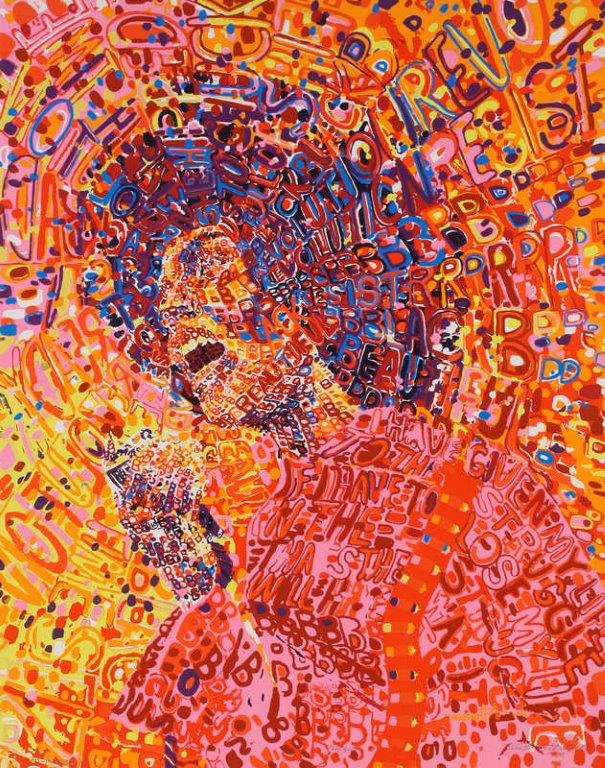 From the ICA show "Freedom Principle": Revolutionary (1972) by Wadsworth Jarrell (b. 1929 in Albany, Ga.; lives in Cleveland). Screenprint on paper.34 x 26 1/2 in. Courtesy of the artist.
Ann Hamilton: habitus (Through Oct. 10, Municipal Pier 9, and through Jan. 8 at the Fabric Workshop and Museum). In this ambitious two-part project commissioned by FWM, Hamilton seeks to explore the relationship between text and textiles. At the pier, rope-and-pulley mechanisms activated by viewers will set curtains in motion that will create spaces. At FWM, Hamilton will fill three floors with examples of historic textiles from Philadelphia collections and will show her own interpretations of them. (1214 Arch St. and Christopher Columbus Boulevard south of Race Street, free, 215-561-8888, fabricworkshopandmuseum.org)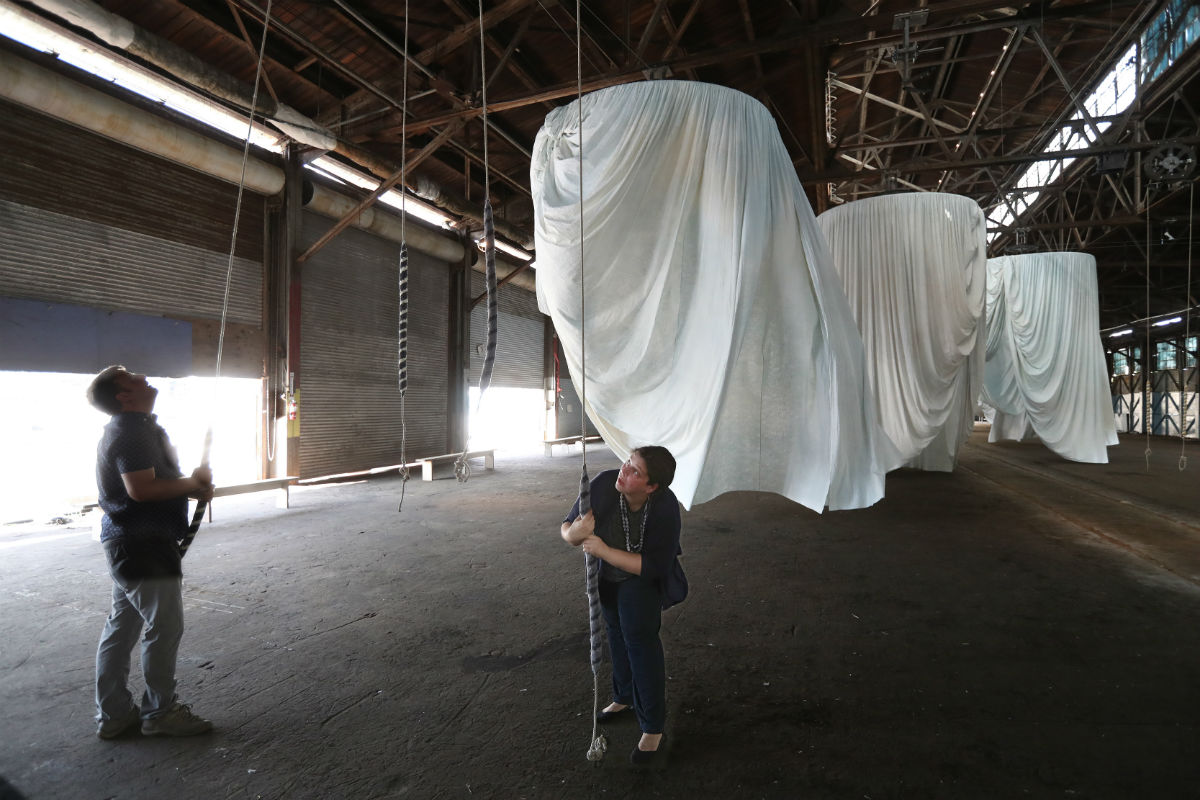 Gallery Guides Tommy Wison, left, and Stephanie Greene, right, pull on the ropes to make one of the 12 large circular curtains spin, as if the wind currents are making it move in the art installation Ann Hamilton.habitus As part of the Fringe festivals, the Fabric Workshop brings in artist Ann Hamilton to design an immersive, interactive installation at the much-underused Pier 9, next to the Race Street pier. Photo: MICHAEL BRYANT / Staff Photographer
Bruce Nauman: Contrapposto Studies, I through VII (Sunday through Jan. 8 Philadelphia Museum of Art). The well-known contemporary artist presents an installation consisting of seven large-scale video projections with sound. They show Nauman walking in the asymmetrical stance of contrapposto, familiar in sculpture since classical times, both toward the viewer and away, and in positive and negative and fragmented images. (Benjamin Franklin Parkway at 26th Street, $14-$20, 215-763-8100, philamuseum.org)
A Million Faces: The Photography of John W. Mosley (Saturday through Jan. 16, Woodmere Art Museum). Mosley (1907-69) was a self-taught photographer who documented black life in Philadelphia from the 1940s through the height of the civil rights movement. This show, produced in partnership with the Charles Blockson Afro-American Collection at Temple, shows Mosley both as a chronicler of everyday life and as an artist. (9201 Germantown Ave., $7-$10, 215-247-0476, woodmereartmuseum.org)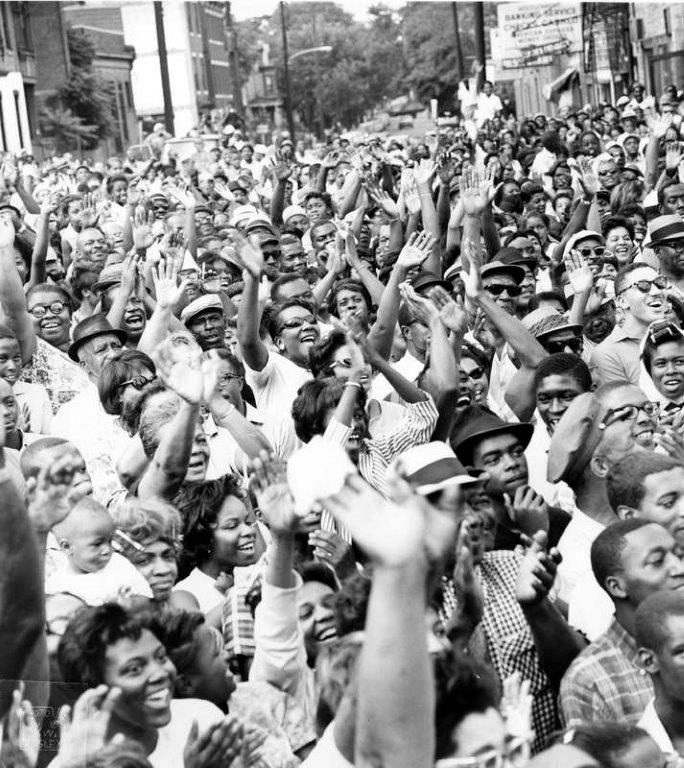 From the Woodmere Art Museum Show "A Million Faces": View of the crowd as Dr. Martin Luther King, Jr. addresses civil rights demonstrators at 40th Street and Lancaster Avenue, Philadelphia, Pa., August 2, 1965, by John W. Mosley. Photo: John W. Mosley Photograph Collection, Charles L. Blockson Afro-American Collection, Temple University Libraries.
New South Asian Galleries (Open Oct. 2, Philadelphia Museum of Art). This is not a special exhibition, but it is one of the major events of the fall. The Art Museum's collection of sculpture, paintings, textiles, and folk art from the Indian subcontinent and the Himalayas, long considered top-notch, has been strengthened by new acquisitions. Its presentation has been reimagined along thematic lines, and the South Indian temple at its center has been relighted so its abundant sculpture can be seen and reinterpreted based on recent research. (Benjamin Franklin Parkway at 26th Street, $14-$20, 215-763-8100, philamuseum.org)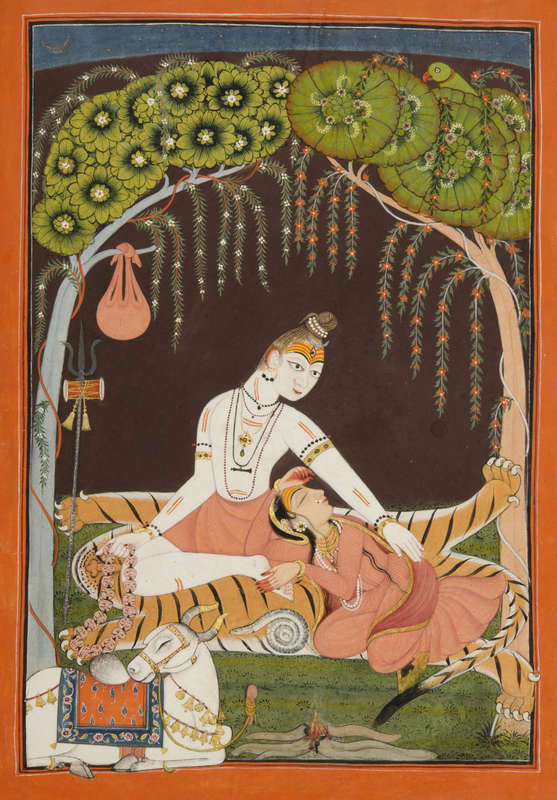 From the Philadelphia Museum of Art New South Asian Galleries: The Immortal Marriage (Amara Beah) Shiva and his wife Parvati at home in the Himalayas. Artist/maker unknown, Indian. Made in Mankot, Himachal Pradesh, India, c. 1700-1725. Opaque Watercolor and gold on paper. Stella Kramrisch Collection, 1994.
A Curious Nature (Oct. 6-Dec. 4, Philadelphia Art Alliance). Four crafts artists consider animals and their remains. The works include ceramic animal figurines by Linda Cordell, embroidered animal skeletons by Caitlin McCormack, taxidermy-inspired stuffed animal figures based on images from the Internet by Tasha Lewis, and a series of carved passenger pigeons by Emily White. (251 S. 18th St., $3-$5, 215-545-4302, philartalliance.org)
Live and Life Will Give You Pictures: Masterworks of French Photography 1890-1950 (Oct. 8-Jan. 9, Barnes Foundation). Nearly 200 vintage prints by photographers including Eugène Atget, Ilse Bing, Erwin Blumenfeld, Brassaï, Henri Cartier-Bresson, Edgar Degas, Eugène Druet, André Kertész, Jacque-Henri Lartigue, Dora Maar, Man Ray, Lisette Model, László Moholy-Nagy, and Félix Thiollier will fill the walls, salon-style. The premise is that many of the famous works in the Barnes' permanent collection came from Paris at a moment when it was considered the capital of modernity. These painters were trying to make works that did not look like photographs, but they were part of the same milieu as those taking the pictures. (2025 Benjamin Franklin Pkwy., $10-$25, 215-278-7000, barnesfoundation.org)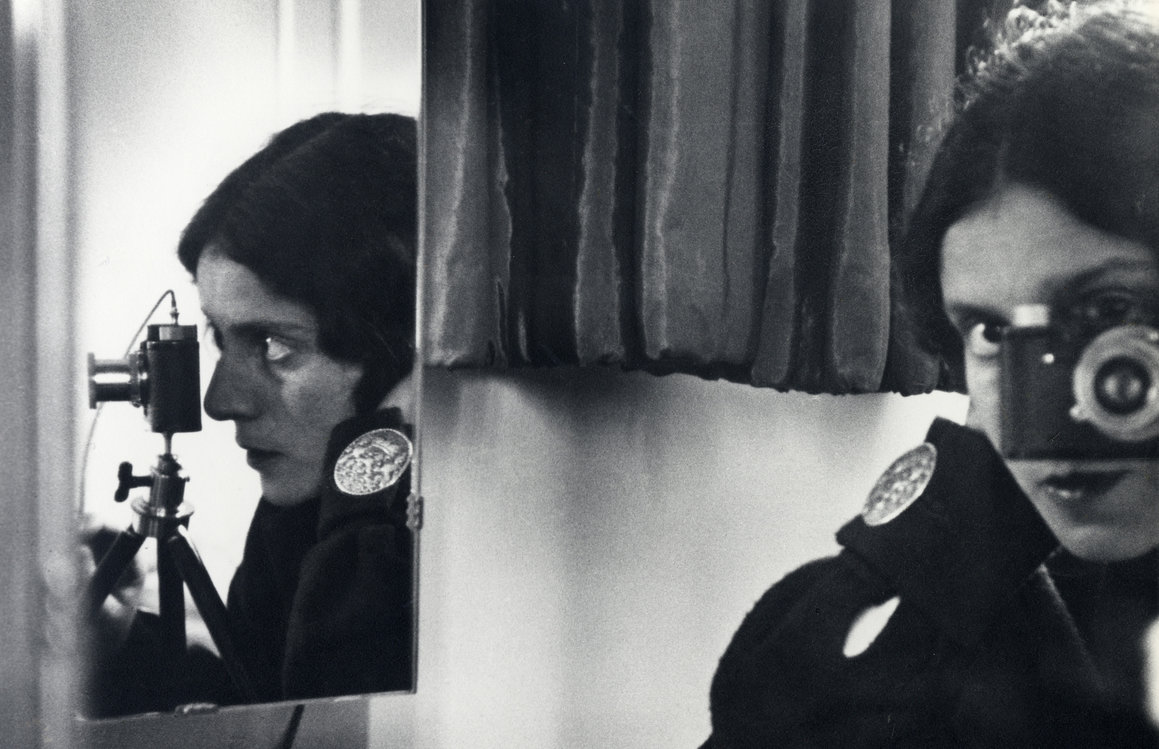 Ilse Bing, Self-Portrait (1931).
Thomas Eakins: Photographer (Oct. 19-Jan. 29, Pennsylvania Academy of the Fine Arts). In observance of the 100th anniversary of the great painter's death, PAFA is showing more than 60 photographs and a handful of paintings and sculpture. They all belong to PAFA, though they have not been shown in many years. Many document Eakins and his students - in the studio and swimming nude in a pond. (118 N. Broad St., 215-972-7600, $8-$15, pafa.org)
Truth & Vision: 21st Century Realism (Oct. 22-Jan. 22, Delaware Art Museum). This survey of the century so far features works by 20 representational painters from the United States and Canada. Its two major themes are the depiction of the natural world and "the creation of fantastic imaginings." (2301 Kentmere Pkwy., Wilmington, $6-$12, 302-571-9590, delart.org)
Paint the Revolution: Mexican Modernism, 1910-50 (Oct. 25-Jan. 6, Philadelphia Museum of Art). This show, organized by the Art Museum and the Museo del Palacio de Bellas Artes in Mexico City, its only other venue, is billed as the most comprehensive show of Mexican modernism to be seen in the United States in more than seven decades. It will include examples of the murals that are the most famous works to emerge from Mexico at that time, along with a wide range of paintings, prints, photographs, and books. Some of the key works of the three most celebrated artists of the period - Diego Rivera, Orozco, and David Alfaro Siqueiros - are on display, along with those of other artists, including Frida Kahlo and Rufino Tamayo. (Benjamin Franklin Parkway at 26th Street, $14-$20, 215-763-8100, philamuseum.org)
Rural Modern: American Art Beyond the City (Oct. 29-Jan. 22, Brandywine River Museum of Art). Modernism is usually considered an urban phenomenon, but this show focuses on American artists from the 1920s to the 1940s who got out of town and brought a sophisticated sensibility to rural landscapes, people, and the problems of the times. It will feature 60 works by such artists as Charles Demuth, Arthur Dove, Marsden Hartley, Georgia O'Keeffe, Charles Sheeler, Grant Wood, Anna Mary Robertson "Grandma" Moses, and Andrew Wyeth. (1 Hoffman's Mill Rd., Chadds Ford, $6-$15, 610-388-2700, brandywine.org)
World War I and American Art (Nov. 4-April 9, Pennsylvania Academy of the Fine Arts). The Great War, as it was called when it happened, is remembered as a turning point in European culture and aesthetics. But PAFA says this huge show of 160 works by 80 artists is the first to examine how American artists responded to the war. Works in the show document the ghastly and the triumphant and include huge canvases and ugly propaganda posters. Because the war happened when modernism was only beginning to take hold here, there is also a wide range of styles, from the illustrative to the abstract. (128 N. Broad St., 215-972-7600, $8-$15, pafa.org)
The Death of Impressionism? Disruption & Innovation in Art (Nov. 12-Feb. 26, Michener Art Museum). As a way of making art, impressionism is still dead. But Bucks County is where it made its last stand. And it still gets museumgoers in the door. It's too early to know whether this show is a brilliant concept or desperate marketing, but it promises to examine the moment in the early 20th century when Philadelphia artists, if not their audience, realized they had better look at things in a new way. (128 S. Pine St., Doylestown, $8-$18, 215-340-9800, MichenerArtMuseum.org)
Jitash Kallat: Covering Letter (Nov. 13-March 5, Philadelphia Museum of Art). This is a one-work exhibition, but it promises a novel experience. It is the first United States presentation of the Mumbai artist's 2012 work. It consists of a letter written by Mahatma Gandhi to Adolf Hitler on the eve of World War II, projected onto a curtain of fog. Viewers can walk through it and interact with it. (Perelman Building, 2525 Pennsylvania Ave., $14-20, 215-763-8100, philamuseum.org)