KIDS
9:30 a.m. to 5 p.m. daily through Oct. 9, Brandywine River Museum of Art, 1 Hoffman's Mill Road, Chadds Ford. $15; $10 seniors; $6 students and ages 6 to 18; ages 5 and under admitted free. 610-388-2700.
If there's one place any kid can feel taken seriously, it's in a well-written, finely illustrated book, even if it's goofy. Face it, you may be reading it to them, but you're just a guest in this world.
A favorite book is sure to be represented in this display of paintings and drawings created by top artists Sophie Blackall (A Fine Dessert, Four Centuries, Four Families, One Delicious Treat), Bryan Collier (Trombone Shorty), Raúl Colón (Draw!), Marla Frazee (Is Mommy?), Jon Klassen (Sam and Dave Dig a Hole), Melissa Sweet (A Splash of Red: The Art and Life of Horace Pippin), David Wiesner (Mr. Wuffles!), and Mo Willems (The Pigeon Needs a Bath!).
The exhibit opens Friday. - Michael Harrington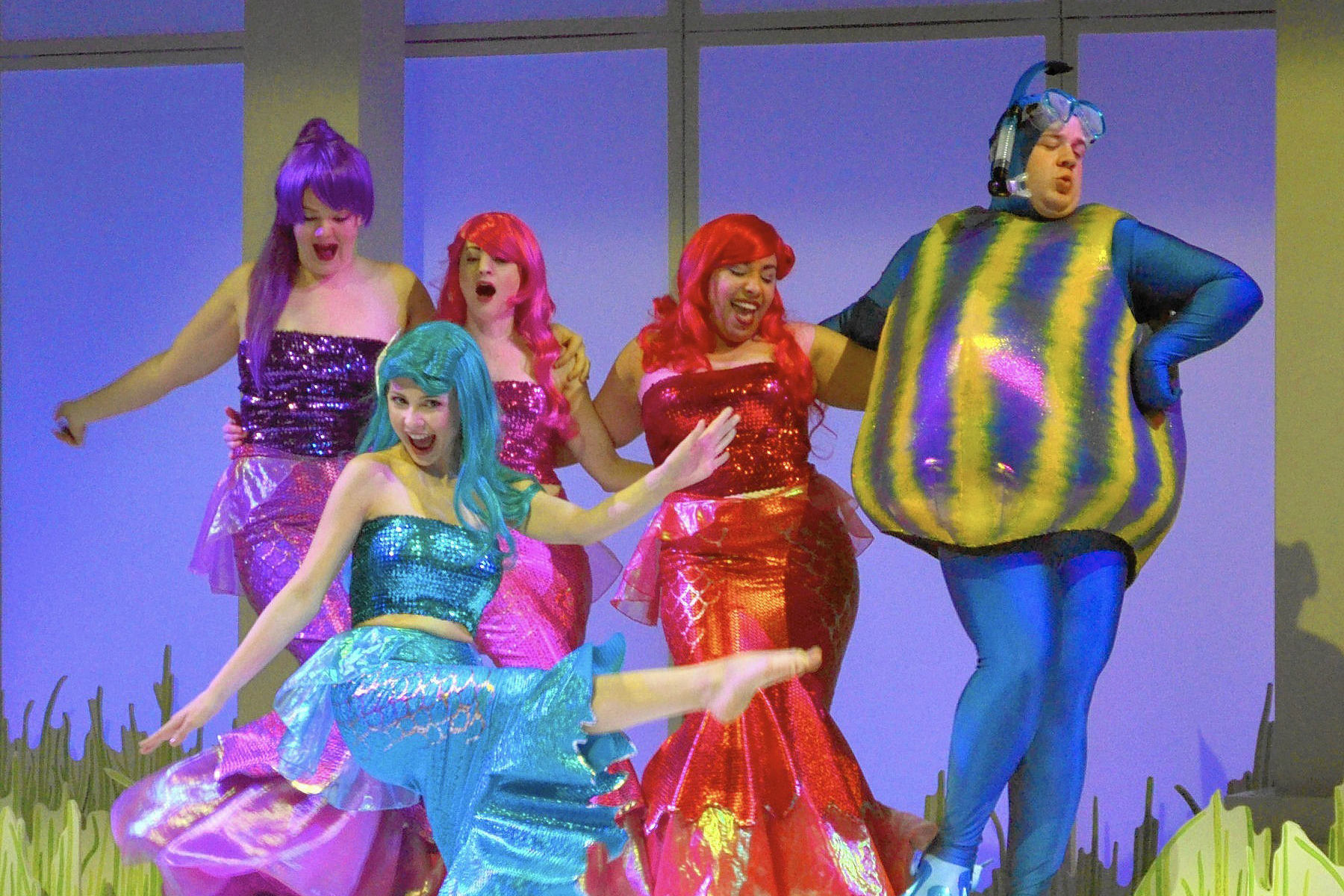 10 a.m Tuesdays through Saturdays, DeSales University's Schubert Theatre in the Labuda Center, 2755 Station Ave., Center Valley. $16.50; $12.50 ages 12 and under. 610-282-9455
The Pennsylvania Shakespeare Festival's adaptation of Hans Christian Andersen, by Lisa Daughtery, borrows a bit from the original while mixing in a bit of Disney and 1980s pop in the story of girl who just wants to trade in her tail for a bit of landlubber fun.
This one is best for ages 3 to 12. - M.H.
6 p.m. Saturday, Kimmel Center's Verizon Hall, Broad and Spruce Streets. Free; tickets required. 215-893-1999.
A program of Carnegie Hall's Weill Music Institute, NYO2 features orchestral musicians ages 14 through 17 from across the nation. Conductor Giancarlo Guerrero leads NYO2 and the Philadelphia Orchestra in a joint concert featuring works by Rachmaninoff, Tchaikovsky, and Respighi at the Kimmel Center. - M.H.
EXHIBIT
10 a.m. to 4 p.m. Mondays through Saturdays, Ocean City Historical Museum, 1735 Simpson Ave., Ocean City. free.
Surf's up! And it has been for a while in Ocean City - like since the 1920s, dude. Get some knowledge before you wax your board and grab a curl (or just watch others hang 10, like we do) at this exhibit, which covers the surfing scene from the days of jazz-age legend John Carey to the 1960s. Along with photos and videos, there's a display of surfboards that will demonstrate the evolution of the sport. Kowabunga! - M.H.
Opening reception, 6-9 p.m., Friday, exhibit runs through Aug. 21, Mount Airy Arts Garage, 11 W. Mt. Airy Ave., 215-242-5074.
The Mount Airy Arts Garage is being kicked out of its building. But instead of shutting down, members are holding one last exhibit before finding a new space. Artists working in different media, all tied together by their love of the Mount Airy Arts Garage, will display their work. Don't weep for the Mount Airy Arts Garage, though. A new pop-up shop and retail space will open at at 6622 Germantown Ave. - Molly Eichel
10 a.m.-4:30 p.m. weekdays, 10 a.m.-5 p.m. weekends and holidays, through July 29, Academy of Natural Sciences, 1900 Benjamin Franklin Parkway, free with admission, 215-299-1000.
Hair strands from George Washington, John Adams, Thomas Jefferson, John Quincy Adams and Andrew Jackson will be on display at the Academy of Natural Sciences of Drexel University. Thanks to attorney and naturalist Peter Arrell Browne, the museum has an ample collection of hair samples, including clips from 12 former presidents. Browne studied hair much like we do DNA, looking for connections between hair type and disposition or intelligence level. Of course, he never came to any scientific conclusions that connected your 'do with your IQ, but he did preserve a piece of history through his work that can link modern-day viewers with the past. The exhibit will also feature a letter from Teddy Roosevelt and some of the fossils and samples that belonged to Jefferson. -Alexandra Villarreal
ART
5 to 8 p.m. Friday Clay Studio, 137 N. Second St. Free. 215-925-3453.
Join artist Hope Rovelto on First Friday to make a clay tile in the shape of the United States. Then, come back in two to four weeks to pick up your artwork after it's glazed and fired. - M.H.
10 a.m.-5 p.m. Sunday, Philadelphia Museum or Art, 2600 Benjamin Franklin Parkway, pay-what-you wish, 215-763-8100.
This monthly discount allows you to pay what you will at the Philadelphia Museum of Art. But we say jump on this one. It's usually crazy crowded at the PMA on pay-what-you-wish days, so take advantage of people who leave town for the holiday weekend. Even better? A new exhbit, Embracing the Contemporary, just opened. - M.E.
MOVIES
4:30 p.m. Saturday; 3:30 p.m. Sunday; 7 p.m. Tuesday & Thursday, PFS at the Roxy, 2023 Sansom St., $7, 267-639-9508,.
We promise: The title sounds a little dirtier than it is. This acclaimed documentary is actually about an annual competition in Longview, Texas, where 24 participants compete to see who can keep their hand on a truck the longest without leaning or squatting. The grand prize? Said truck. The 1995 competition, filmed by S.R. Bindler, lasted 77 hours. The film recently inspired a Tony-nominated musical, with music cowritten by Trey Anastasio of Phish. - M.E.
DRINKS
1-11 p.m. Friday and Saturday, noon-10 p.m. Sunday and Monday; runs through July 4, Schuylkill Banks at Walnut Street Bridge, 2501 Walnut St., prices vary.
A new city initiative brought to life by Morgan's Pier, Parks on Tap takes advantage of the largest inner-city park system in the country by creating makeshift beer gardens at green spaces around Philadelphia. "Think of it like the carnival or the circus," said owner Avram Hornik. Equipped with a full outdoor kitchen, mobile truck, bathroom trailers, lights, and seating for 200 people, Parks on Tap lets kids play life-size chess while parents sip on a glass of wine or munch on a watermelon salad. The traveling beer gardens will make their debut at Schuylkill Banks this week, offering a view of the fireworks with a drink in your hand. - A.V.
MUSIC
6-8:30 p.m. Friday, Barnes Foundation, 2025 Benjamin Franklin Parkway. $25; includes gallery admission. 215-278-7200.
Powerhouse vibraphonist Tony Miceli joins saxophonist Tim Warfield and trumpeter Joe Magnarelli for some swinging First Friday jazz, plus there's food, a talk on Consumer Culture and Hunting Norms, and Cezanne's The Large Bathers. What better way to start your weekend? - M.H.
With Puro Instinct and Mercury Girls, 9 p.m. Friday, Johnny Brenda's, 1201 N. Frankford Ave. $12. 215-739-9684.
Although the UK's Fear of Men sounded sprightly twee on 2014's Loom, things take a darker turn on Fall Forever, the band's second album. Jessica Weiss still sings inviting melodies in a thoughtful soprano, but the music is cloaked in stark electronics and effects-laden guitars. Rather than alienate the listener, Fall Forever is alluring - ominous and tense but beautiful. Come early for compact bursts of fuzz-pop from Philly's Mercury Girls. - Steve Klinge
With Acid Dad and Louds, 9 p.m. Saturday, Johnny Brenda's, 1201 N. Frankford Ave., $10-$12, 215-739-9684.
Former Philadelphian Ron Gallo, now in Nashville, used to front the singer-songwritery band Toy Soldiers. There are traces of that formalist songcraft on the guitarist's new solo album. But as its title implies, Heavy Meta, which comes out in September on Gallo's own American Diamond label, mainly turns it up to 11 and lets the fuzz-tone, garage rock rip. He brings his power trio for this hometown show. - Dan DeLuca
With Steve Winwood, 7 p.m. Sunday, BB&T Pavilion, 1 Harbour Boulevard, $25-$140, 856-365-1300.
Say what you will about Steely Dan, but at least they have a sense of humor. Donald Fagen and his partner Walter Becker have dubbed their current tour "The Dan Who Knew Too Much Tour." Steely Dan are touring with a 13-piece band, so look for some luxurious and lush jams from the 1970s rockers. - M.E.
8 p.m., July 1-3, Ardmore Music Hall, 23 Lancaster Ave, $10 each night, 610-649-8389.
The Grateful Dead tribute band Splintered Sunlight plays a three-night residency at the Ardmore Music Hall, with the help of three different bands, including bluegrass outfit the Kitchen Dwellers (Friday), country-folkers the Wallace Brothers Band (Saturday), and the excellently-named Whiskeyhickon Boys (Sunday). Fans can also attend a "shakedown" flea market inside the theater. -A.V.