Music's top artists responded to the CBS-issued dress code memo by showing flashes of leg, open backs, and plunging necklines Sunday night, something the Recording Academy's president called "much ado about nothing."
An abundance of creativity and personality sparkled on the 2013 Grammy Awards red carpet prior to the show with stars arriving in an array of big-name designer looks. Highlights are as follows.
"I'm wearing ideas," Janelle Monae told Giuliana Rancic. The nominee looked fierce in her typical red carpet choice of menswear - an embellished Moschino tuxedo blazer and suit, punctuated by a black chapeau by Ralph Lauren. Monae added a girly touch to her look with sparkly diamond clustered earrings and a bright red lip.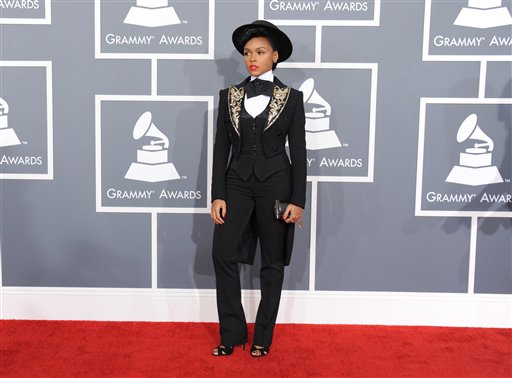 Jennifer Lopez stepped out, quite seriously, with her full right leg exposed in a black Anthony Vaccarello gown. The singer, who joked that she "got the memo" on stage, paired her part leotard?-dress with a black/gold envelope clutch, and swept her hair back in a chic top knot. Among the qualms we have with J.Lo's look: Those golden claws she showed on E!'s manicam? Terrifying.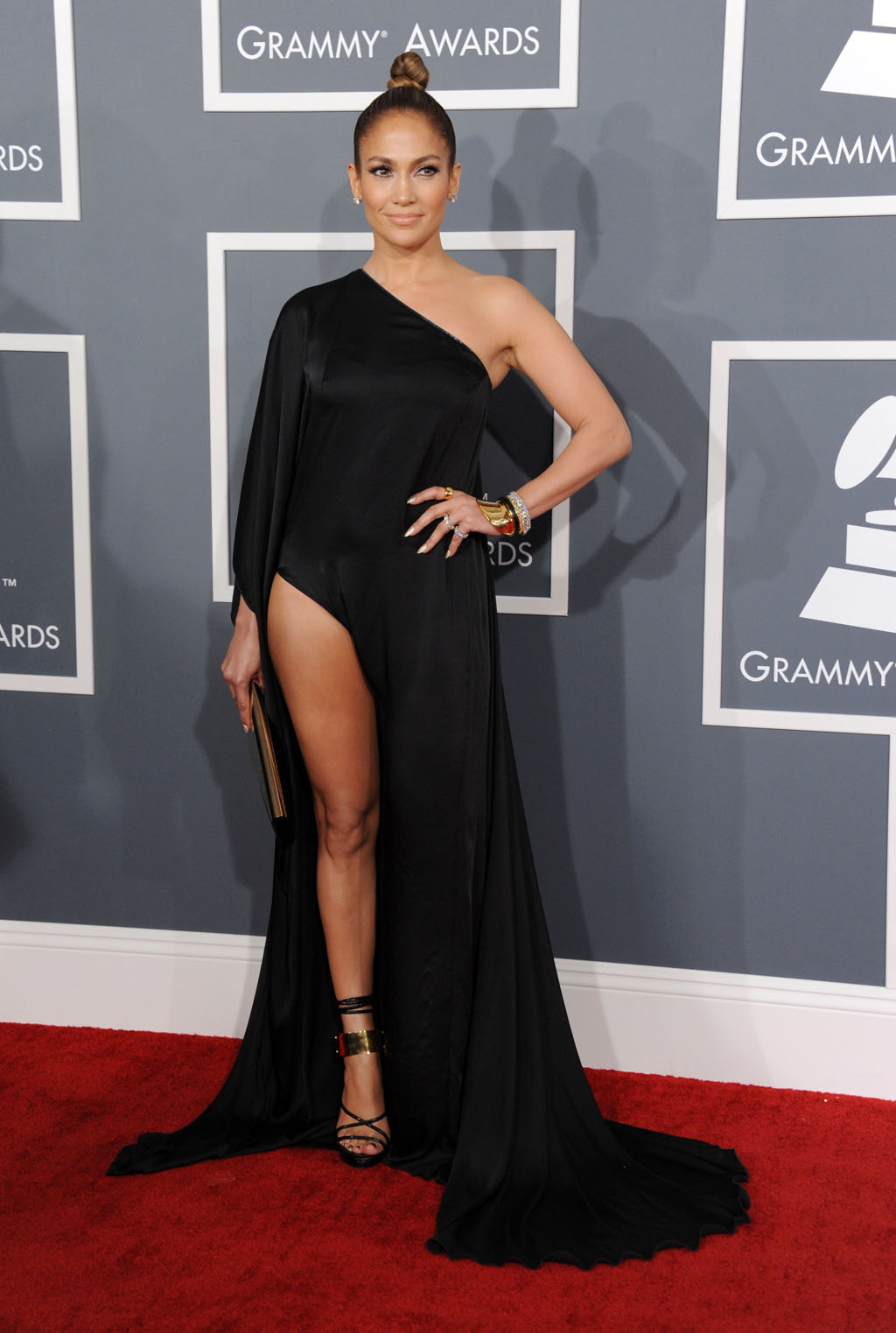 Alicia Keys bared just enough skin on the red carpet in a black Azzedine Alaia cutout gown. She accompanied her look with Lorraine Schwartz jewels and Jimmy Choo shoes. But the real winner in a cutout gown at the 2013 Grammys was neither Keys nor Kelly Osbourne.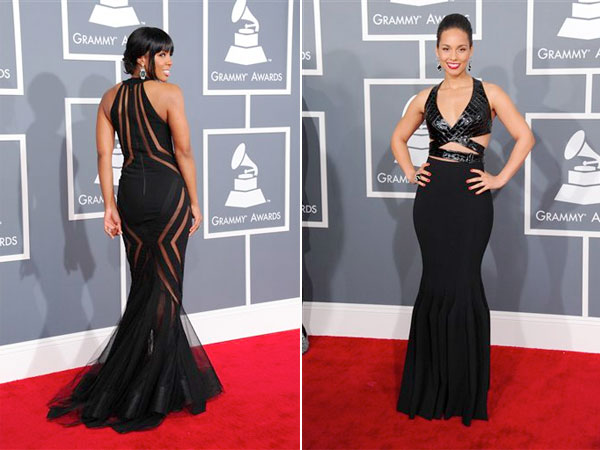 A demure Kelly Rowland reveled in the spotlight in a floor-length Georges Chakra number.
Rowland's black dress included strategically-placed slashes for an edgy, illusion effect on what would have been just another standard piece. The artist, who gushed over her Super Bowl moment, managed to make the risque dress look classy.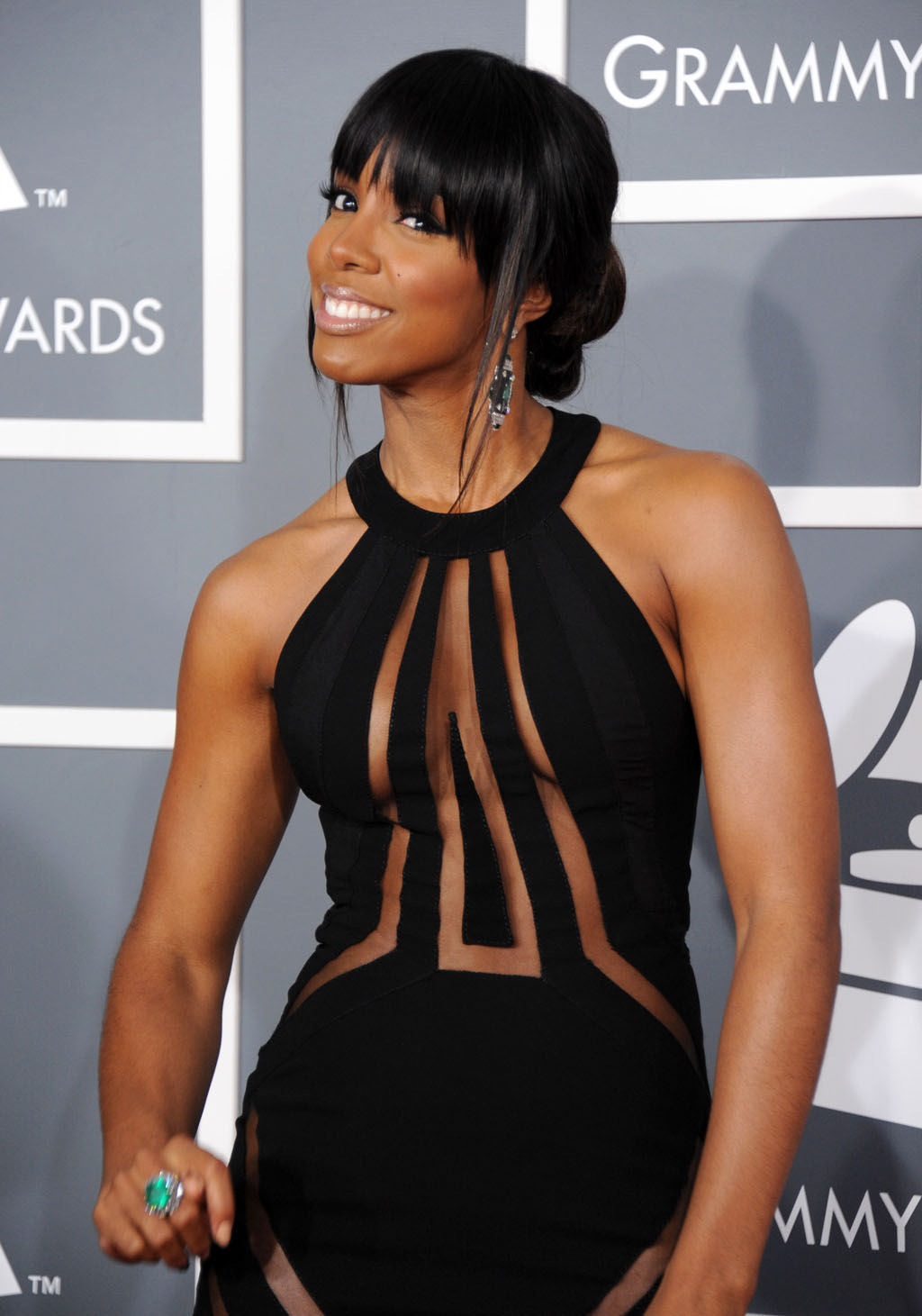 Carrie Underwood looked "regal" - according to Ryan Seacrest - in her strapless, embellished, black Roberto Cavalli gown. She paired her tiny physique and super svelte arms with a 381-carat diamond necklace. The blonde country singer added dark eye makeup and a nude lip to her glamorous, overall look.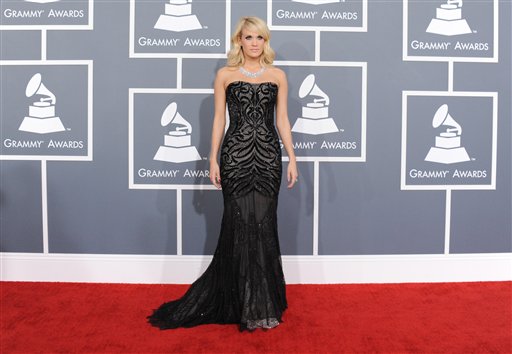 Underwood's country sister Miranda Lambert also wore a black Roberto Cavalli gown. However, in typical Miranda fashion, the tiny, feisty artist packed a punch to her look with a plunging neckline.
Carly Rae Jepsen was the third nominee to walk across the red carpet in Cavalli, but the "Call Me Maybe" crooner ditched the black and donned a gorgeous, gray, glittered gown with a mini train. We would rave over the selection, but the calamity was that it simply didn't fit Jepsen as well as we would have liked: She should have had it cinched and tailored especially at the waist. Otherwise, it was an attention-grabbing, suitable choice for the breakout pop artist.
After dabbling in darker hues, Taylor Swift went back to white Sunday night in a pleated, cream-colored J. Mendel gown with a plunging back. The metallic, lined embellishments on Swift's dress were placed to help promote the artist's transitional, "I'm a grown girl" image. She topped her look off with a milkmaid braid for a youthful touch.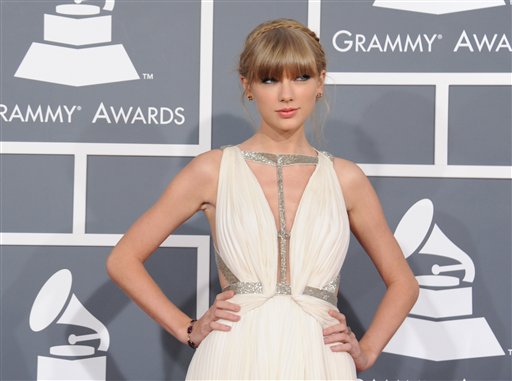 Also in J. Mendel was country royalty Faith Hill, who walked besided her Tom Ford-suited hubby Tim McGraw. The black cowboy hat was an added necessity, Tom Ford-approved or not.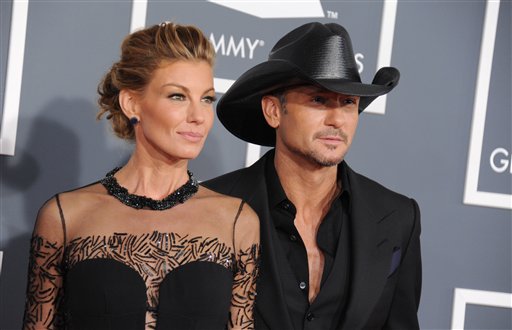 Florence Welch looked part haunting, part extraterrestrial in her custom-designed, emerald-green Givenchy gown. The fashion-forward singer added an element of surprise to the metallic piece with stegosaurus spikes aligning the top part of her dress. This had to have been one of the more interesting looks of the evening.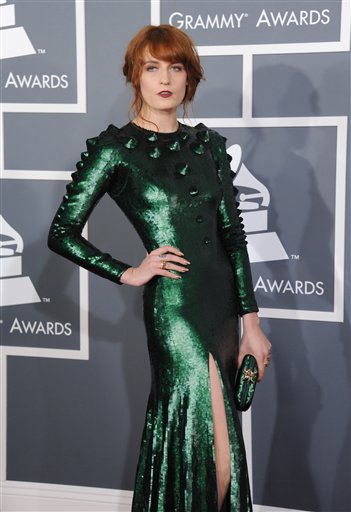 Our final mention of the evening goes to Rihanna, who looked so sweet in a sheer, conservative, custom-designed Azzedine Alaia couture gown that blended in perfectly with the red carpet. She paired her look with flowy ombre locks and a matted red lip. From grit to glamour - if any artist can pull both off, it's RiRi.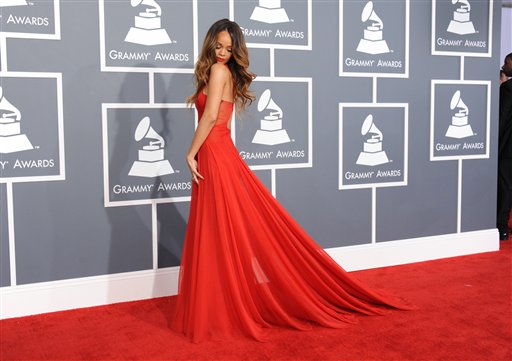 Overall, the looks that lined the Grammy Awards red carpet weren't too outrageous or ostentatious like previous year's fashions, nor were they particularly memorable. However, they were loud, lovely and full of flavor.
For the full red carpet gallery (including Beyonce and more), click here.