Shiny trophies sat on a table waiting to be collected. Dignitaries made speeches and shook hands. A house band and choir played hopeful music.
For 25 city principals, Tuesday was their Academy Awards, as the Philadelphia School District honored the best and most improved schools in the traditional public and charter sector.
Schools were evaluated on the basis not just of test performance, but of overall student growth, climate, and other measures used to calculate each building's School Performance Report (SPR) score based on data from the 2015-16 school year.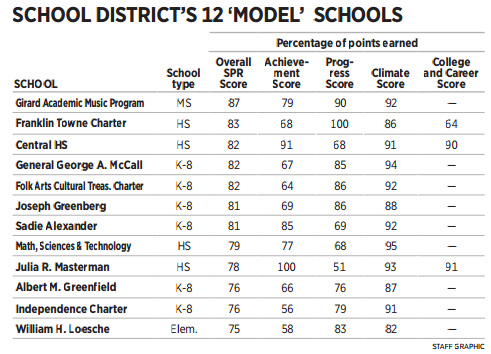 Citywide, the leaders are Loesche Elementary in Somerton for elementary schools; McCall Elementary in Society Hill, for K-8 schools; GAMP in South Philadelphia, for middle schools; and Franklin Towne Charter High School in Bridesburg, for high schools. Loesche and McCall are neighborhood schools; GAMP is a magnet, and Franklin Towne is a citywide admission school.
Also recognized were four of the most improved schools in the city: Watson Comly Elementary, in Somerton, for elementary schools; Chester A. Arthur Elementary, in Southwest Center City, for K-8; AMY Northwest in Roxborough, for middle schools; and Paul Robeson High School for Human Services, in West Philadelphia, for high schools. Comly and Arthur are neighborhood schools; AMY Northwest is a magnet, and Robeson is a citywide admission school.
The ceremony took place at Olney Elementary, a K-8 on the rise. The school district places schools into four categories, from highest to lowest: model, reinforce, watch, and intervene. Olney jumped a level, to an SPR score of 56, putting it into the reinforce category.
Superintendent William R. Hite Jr. noted that while the district is not where it needs to be -- 256 schools, or 75 percent of district and charter schools are in the lowest two tiers -- it was important to celebrate growth.
"I am proud to say we are making progress here in Philadelphia," Hite told the principals, parents, and students crowded into Olney's gym.
More than half of district schools, and most charter schools saw an increase in their scores. Most schools made progress in school climate.
School Reform Commission Chair Joyce Wilkerson noted that while important, the numbers don't tell the whole story about schools.
"What you don't see is the progress being made by individual students inside their classrooms," she said.
An emotional Mayor Kenney was also on hand to offer congratulations. After a weekend spent at Philadelphia International Airport fighting against President Trump's immigration order, he said the ceremony was a bright spot.
"Every now and then, something comes up like this that makes you feel good about what you're doing," Kenney said, adding that city schools' diversity is among their strengths.
Michael Roth, Olney's principal, said his school's growth was due in large part to a strong teaching staff.
"I've spent a lot of the last three years tapping into their expertise," Roth said.
Richard Gordon, the Robeson principal, agreed. Robeson's SPR score was 49 percent, which puts it in the watch category, one point shy of the reinforce category.
"This isn't over one school year," Gordon said. "This is about building relationships within the building -- everyone's contributing, buying into the process."
AMY Northwest Principal Jodan Floyd, whose school scored a 67 percent overall, putting it into the reinforce category, said that staff have benefited from common planning time and from being creative.
"If we have to send some sixth graders in to do seventh-grade math, we do," Floyd said.
Resting on their laurels isn't an option, the honored principals said.
"I was walking around and I said: 'What does this mean for us? It means we have to work harder,' " said Sherin Philip Kurian, Loesche's principal. Loesche scored a 75, landing it in the "model" category. "Loesche is on the move from good to great."
Still, all the pomp and circumstance felt validating, they said.
"Our staff pours out their heart and soul for the students on a daily basis," Roth said.