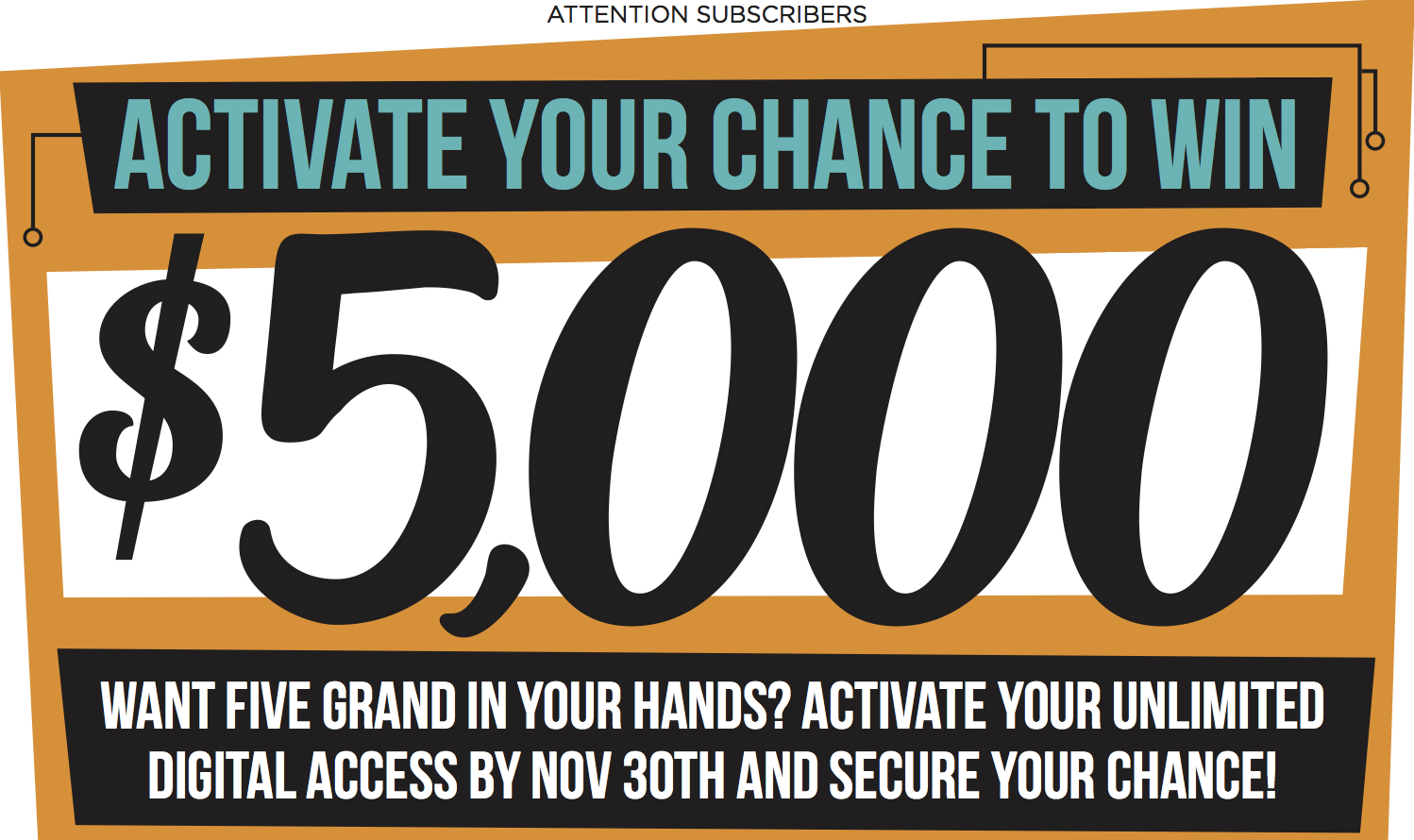 To activate your digital access and enter to win click here!
If you're a PRINT ONLY subscriber call Customer Service at 215-222-2765 to add on digital access to your account and enter to win!
Not a subscriber? Click here to Subscribe!
The 2017 Activate Now Giveaway will run from October 15, 2017 to November 30, 2017 and is sponsored by Philadelphia Media Network, PBC, the publisher of The Philadelphia Inquirer and the Philadelphia Daily News. No purchase necessary to enter. Contest is open to individuals aged 18 years or older in Pennsylvania, New Jersey and Delaware.
To enter, activate your Unlimited Digital Access subscription by going to www.philly.com/activate if you have not activated, or complete the entry form at http://philly.secondstreetapp.com/Activate-Now-Giveaway/. If you are a digital-only subscriber or a subscriber who had already activated your digital access, you will be automatically entered. Entry forms can be found at http://philly.secondstreetapp.com/Activate-Now-Giveaway/ from 12:00 a.m. October 15, 2017 until 11:59 p.m. November 30, 2017.All entries must be submitted to PMN no later than November 30, 2017 at 11:59 p.m. (Philadelphia time). One entry per individual. No photocopies or other means of entry will be considered valid. Not responsible for lost, late, misdirected or non-delivered entries. Upon receipt, entries become the property of PMN. The Contest prize is $5,000.00. The Winner will be selected by random drawing on December 5, 2017. The Winner will be contacted by telephone or email on December 5, 2017. By entering, you allow PMN to use your name, address, telephone number and e-mail address for marketing purposes. The Winner grants PMN the right to use its name, voice and/or likeness for promotional purposes without further compensation.
The Winner will be required to sign a statement of his or her eligibility, as a condition to prize delivery. Prize must be claimed within ten (10) business days of the date that such prize was awarded. Unclaimed prizes will be forfeited. No substitution of prizes. Entrants agree that neither PMN, nor any of its respective parents, subsidiaries, affiliates, directors, officers, employees and agents are liable for any claims for injury, loss or damage of any kind resulting directly or indirectly from participation in this contest or from acceptance or use of any prize. Taxes are solely the responsibility of the winner. Employees of PMN and its respective affiliates, their immediate family members are not eligible. Decisions of PMN regarding contest entries and winner are final and binding. Void where prohibited by law. ​