Resilient Foles rolls a 7

Resilience without a doubt is one of the keys to longevity in any arena in which you compete. If you can't roll with the ins and outs of life and take a positive spin there is no way for you to reach your full potential. If you can't bounce back from a "clunker" you will forever be mired in quicksand. If you want to look at the poster child for resilience look no farther than Nick Foles and his gutty performance against the Raiders.
In the dreaded Black Hole he shredded an Oakland defense that came into Sunday's game ranked very high in the NFL and brimming with confidence … maybe over-confidence. The Raiders were given a dose of reality that was tendered by the most unlikely of quarterbacks and, like us; they sure were "Foled." In my eyes he had an Invincible Moment by rebuffing the Dallas debacle and delivering a masterpiece like he did in Oakland. When asked if he had ever thrown for seven touchdowns in a game at any level, Foles just smiled and said "only in a video game." You gotta love his innocence, humility and grace … a nice change in a tough town like Philly no less.
The only modern-day QB to throw for seven touchdowns is Peyton Manning. He also had a bad day at the office in prime time no less. Back in 2007 Manning had what may have been the worst game of his career, throwing six interceptions — including five in the first half -- in a loss to the Chargers. I'm not suggesting that Nick today is at the same level as Peyton but I guarantee you that the both of them are not alone in having the toughness to recover from an absolute embarrassment. Just ask Brady, Favre, Romo, Flacco, Rodgers, Brees, and Ryan how they handle adversity. Frank Robinson said it best when he said, "You have to have a short memory to be a closer!" You young guns like RG3, Luck, Newton, both Smiths, Kaepernick, and Foles -- take note.
As to who will be the starter for next week game at Lambeau Field there is no doubt. But I'm sure you are asking yourself how could Foles go from so bad to oh so good, with not so bad sandwiched in between? Aside from my reasons above I wonder how long into the Dallas game was he concussed as everything he did in that game was totally out of character for him. Whatever, thank goodness he passed the concussion baseline test, hopefully providing stability to the rockiest position on the Eagles roster today.
Hidden in all of the Foles euphoria was the solid play of the bomb squads and the defense -- making it three straight weeks of strong play for the defensive unit.
I had fun watching the game with former Eagle Darwin Walker at Millers Ale House in Mount Laurel, N.J. We were doing an event for the Eagles and I loved it when all of the "knuckleheads" dressed in their Cowboys & Giants jerseys strutted in rooting loud and hard against the Eagles and were silenced. The last laugh is always the best laugh. I was amazed at how many people came up and asked me if my wife is still a Giants fan. Just for the record she is a Penn State and Eagles fan and was a member of the USA World Gymnastics Team back in her glory days. Then she became head gymnastics coach at The University of Pennsylvania in the late 70s and 80s. I'd need a lobotomy if I married a Giants or Cowboys fan.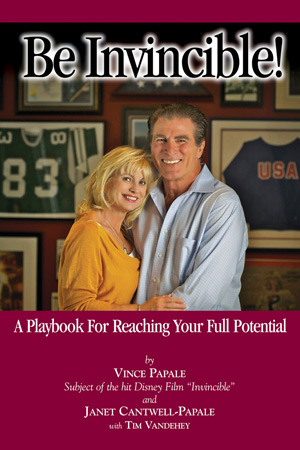 Oh, back to Foles and his record setting performance being an Invincible Moment … Janet & I have written a book titled, "Be Invincible! A Playbook For Reaching Your Full Potential." It contains 20 great inspirational stories of individual moments of personal greatness as well as action plans to get to the next level. Check out the holiday special we are running with our autographed book/dvd combo at: http://shop.vincepapale.com/
Finally, thanks Nick for lifting up a team and a city this week. For all of the negativity that is pounding at us every day you are so refreshing and welcomed. You, Nick Foles, have shown us that no matter what, in the face of adversity, that if you have faith in yourself and your teammates that, yes, nice guys can finish first!