I've always known that Philadelphians are united by their passion for the Eagles and their hatred of the Parking Authority.
I didn't know, until working on a follow-up column about Philomena Stendardo, that we're also united by our noncompliance with the state law requiring us to license our dogs.
Count me embarrassed to be among the whopping 97 percent – that number is not a typo – of Philly dog owners who thumb their nose at the law.
My family's four-pound Yorkie is not registered, nor was the 50-pound border collie we owned before her. It just never occurred to us to register our dogs, though the law clearly requires it for pups older than three months.
I learned this nugget last week after publishing my column about Philomena, who was just 8 years old when she died in July from brain cancer. Her parents are considering moving her remains from Most Holy Redeemer Cemetery because of dog owners who let their pets use the Bridesburg burial ground as a toilet.
"I may have to exhume Phil and move her somewhere else to give her the respect she deserves," her mom, Mina Carroll, told me. "Burying her once was far too much for my family. I can't believe we even have to consider this."
Thousands of appalled readers flooded social media and my inbox to express disgust about the Stendardos' plight.
"I'm a dog lover, but I would never take my dog to a holy and sacred spot and walk her," wrote Maureen McDermond Rose. "How does anyone think this is ok????"
Katy Curran Beisel bristled at the idea that neighborhood dog owners who flout the cemetery's ban on dogs are following a decades-long "tradition" to let their mutts romp there anyway.
"What it boils down to is this: The [cemetery] said, 'No dogs,'" fumed Beisel. "That is in their rules. That should be honored. Period."
She was one of 3,400-plus readers who answered our poll asking if dogs should be allowed in cemeteries. Eighty-four percent voted no.
But the minority would not be silenced.
"Why should I be punished for what bad dog owners do?" asked a caller who requested anonymity. (He didn't want to be seen as heaping pain on a grieving family.) "I'm a responsible dog owner."
But not, he admitted, responsible enough to license his dog.
"I don't know anyone whose dog is licensed," he said defensively. "So it's not just me."
"Or me," I told him.
A 2015 report by former City Controller Alan Butkovitz found that only 3 percent of the city's estimated 348,828 dogs were licensed.
In 2015, licensing fees generated just $191,756 for the city's general fund, which was a mere sliver of the $1.3 million the city had called for in its annual budget. And that modest prediction was a smidgen of the $5.6 million the city would've collected if all 348,000-plus dogs had been licensed.
The pattern repeated itself all the way back to 2010, the report found, leaving millions uncollected. (As to why the city continues to budget for money it clearly isn't interested in collecting, officials gave me no clear answers.)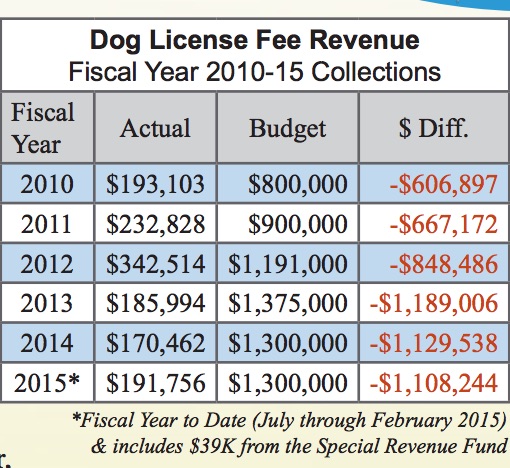 Licenses, which require that a dog be vaccinated against rabies, give city health officials a sense of how safe the public is. They also help reunite lost dogs with their owners, which saves expensive space in city dog shelters.
The revenue generated by licenses could help fund Philly's Animal Care and Control Team, which in 2017 took 6,377 stray or abandoned dogs into its care.
Or on-site monitoring at Parks and Rec properties. While dogs are always welcome at these sites, their owners often ignore city law that requires dogs be leashed everywhere but on private property or within dog parks.
"The biggest complaint we get is that dogs are off leash and that owners don't clean up after them," says Eileen Gargano, president of the Friends of Dickinson Square Park, a heavily used haven in densely packed Pennsport.
So far, public shame has been the best deterrent to the bad behavior. Last year, fed-up members posted photos of two offending dog owners on the Friends' Facebook page. The jerks were angry or embarrassed enough to not return.
The biggest return on dog licensing, though (which costs $16 annually per spayed or neutered dogs; $40 for unaltered pups), is that it can help reunite lost pets with their owners.
Last year, ACCT euthanized 834 dogs, one of its lowest numbers yet. Some were ill but among them surely were lost animals whose owners didn't know where or how to look for them.
The possibility of such an outcome makes me shudder. I'm licensing my dog today.
And trust me, I won't use it as a license to let her poop on a grave.