Editor's Note: Let's Eat is a weekly dining newsletter written by Michael Klein with contributions from Craig LaBan and the rest of our food team. It tells you what to eat, where to go and what to drink in and around Philadelphia. Sign up for the Let's Eat newsletter to get these tips in your inbox every Wednesday.

On the up and up
With warmer weather on the way, you'll want to embrace the outdoors. How about a stunning view to go with that cool drink? I pushed the top button on many elevators in town and found seven great rooftop bar options. I'll also tell you about two new under-the-radar restaurants: a BYOB in South Jersey and a smart bistro in University City. And alcohol your attention to two current events: Center City Sips starts Wednesday, June 7 with weekly happy-hour discounts, and Philly Beer Week runs through Sunday, June 11. Colleague Craig LaBan is back with hard info on soft-shells, now in season. Need more food news? Click here and follow me here and also here. Email me here with suggestions/questions/etc. If someone forwarded this free newsletter to you and you like what you're reading, sign up here and you'll get it every week.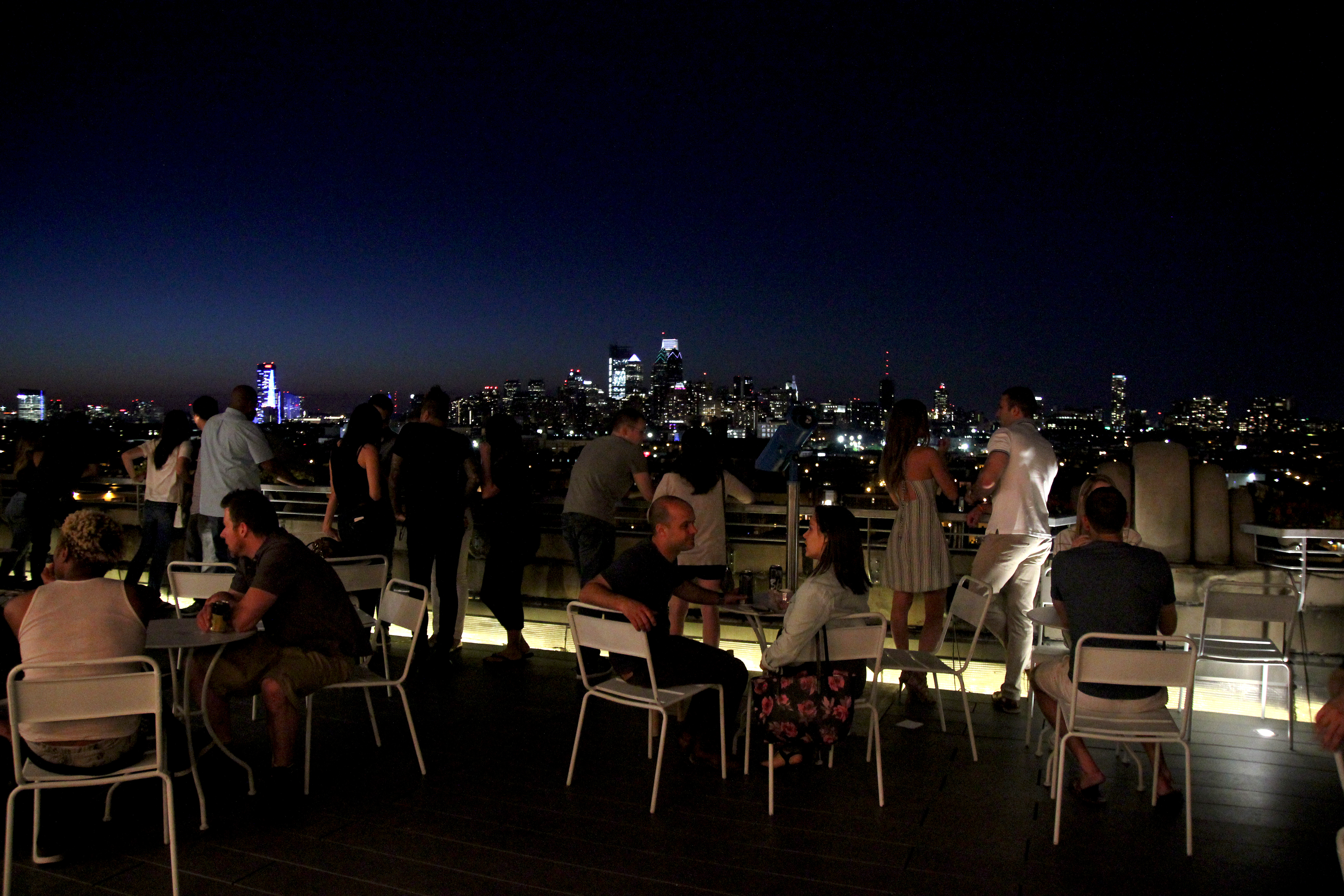 Drinks with altitude: 7 rooftop bars above it all
The sun goes down, the city lights twinkle on, the drinks are flowing, and there's suddenly 24-karat magic in the air at Philadelphia's rooftop bars.
Right up tops is Bok Bar (1901 S. Ninth St.), in its third season on the eighth floor of a decommissioned public high school, now a work space. Bok rocks Wednesday to Sunday (which is family day) with $1 dumplings, easy-on-the-wallet drink prices, cool furniture designed in-house, and a stunning view that shows South Philly rolling up into Center City like a rumpled quilt.
The city's highest experience is at Three Logan Square, where beer garden SkyGarten grooves indoors and out 51 stories above 1717 Arch St. with beer, snacks, and more sky than you can shake a swizzle stick at. It's open 5 to 10 p.m. Wednesday and Thursday; till 11 p.m. Friday and Saturday.
Assembly, a chichi lounge open nightly on the ninth floor of the Logan hotel (18th and the Parkway), features fire pits, lounge seating, $14 cocktails, and a million-dollar view of Logan Circle and the Parkway to the Art Museum.
While not on the roof, the Kimmel Center (Broad and Spruce Streets) has the new Balcony Bar, a happy-hour destination overlooking Broad Street and open 5 to 9 p.m. Wednesday through Friday with beer, wine, liquor, and food by Garces Group. At XIX (Nineteen) at the Hyatt at the Bellevue, two balconies each have four dining tables for the cocktail crowd, 19 stories up.
Two other altitudinous standouts are weekly pop-ups: Skyline Beer Garden, bumping on the fourth-floor terrace at the Free Library on the Parkway, offers beer, wine, cocktails, and snacks to the multitudes from 5 to 9 p.m. Thursdays only through June 29. And World Cafe Live's Friday-night-only Beer Garden at Cira Green lets a Center City view unfurl from the 11th-floor deck of the garage at Cira Center South (129 S. 30th St.). It runs 5 to 9 p.m., ending June 23. Each week includes a limited-release keg, plus a few beers, ciders, and wines, and a cocktail.
You see lots of sky and the tops of Center City high-rises from such nightspots as Vango SkyBar, Continental Mid-town, and Stratus Rooftop Lounge at the Hotel Monaco, but their enclosed sides block the truly grand vistas. For bird's-eye spying one or two stories up, try the upper floors of 24 Wood-Fired Fare (over the Schuylkill), Revolution House (Old City), Tiki (Midtown Village), Standard Tap (Northern Liberties), and Warmdaddy's (South Philly).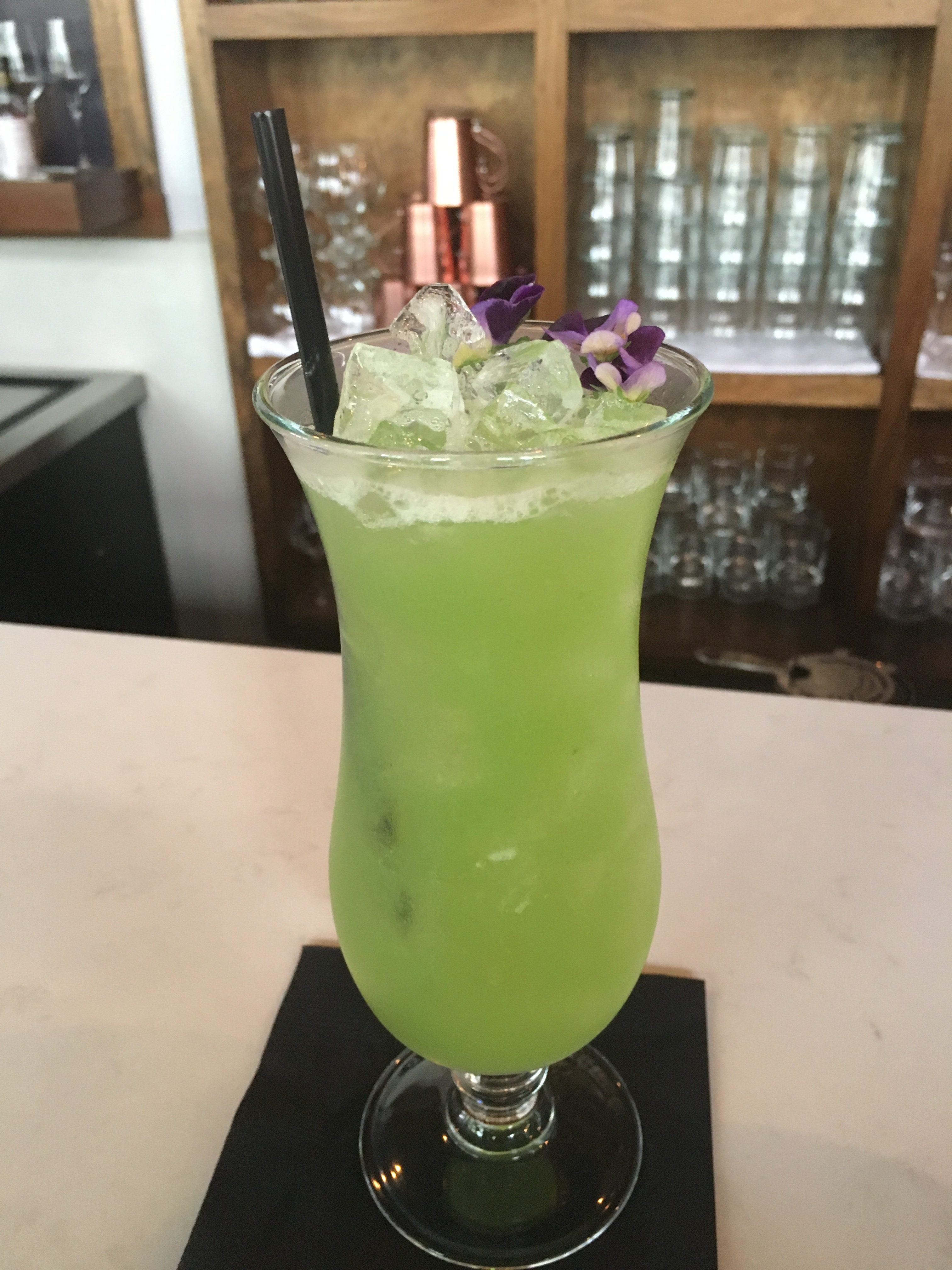 What we're drinking
Center City Sips, that warm-season Wednesday happy-hour promo, resumes June 7 with 80-plus bars offering deals. Aldine, on the second floor at 1901 Chestnut St., is a stylish midpoint between the clubby Smiths and Devil's Alley. Chef George Sabatino's refined snack menu is worth the 21 steps upstairs. He offers pork chicharrones with garlic aioli, chicken-liver mousse, and crispy buffalo potatoes, to be washed down with Pennsylvania Apple (Effen Green Apple, whiskey, house grenadine), Blood Orange 75 (Effen Blood Orange, Lillet), and the utterly summery Cucumber Sour you see here (gin, cucumber, lemon and lime).
Where we're eating: Nocella's and Co-Op
But it's a pizzeria! Well, yes. Tasty brick-oven pies do come out of the oven at Nocella's, a BYOB newly tucked into a Haddonfield storefront  (67 Ellis St., 856-528-5070), just as they did at previous occupants Sal's and Franco's. But Joe Nocella's fans, who don't mind the lack of frills, eagerly snag one of the five marble-topped tables (plus a few outside) to enjoy rustic Southern Italian cooking at lunch or dinner. Joe offers the usual marsala/parmesan/piccata standards. I'll steer you to the Sunday gravy (above) — a hearty bowl of pork braciole with provolone, short ribs, pork sausage, and meatballs, served over rigatoni. All house-made, it's available daily; on Sundays, it's goes on special, served with soup or salad and cannoli or tiramisu for $18.95.  It's also available as a sandwich (sans pasta) between ricotta-smeared slices of semolina bread from Aversa's. You'll need a reservation and a doggie bag.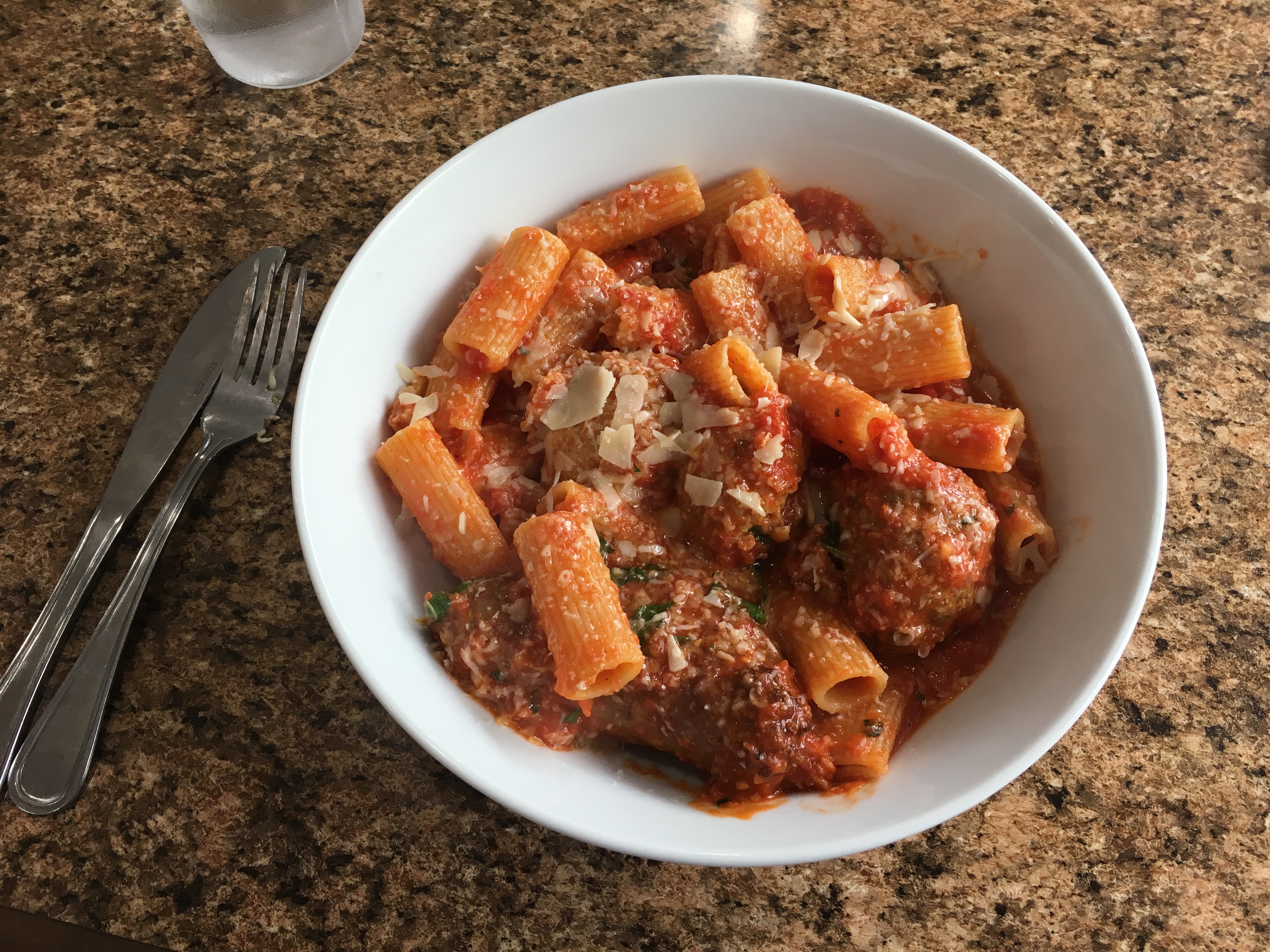 Looks can be deceiving. Co-Op, the cheery restaurant tucked into the new University City hotel The Study (20 S. 33rd St., 215-398-1874), bears some of the markings of corporate dining — until you dive into chef Craig Russell's locally sourced menus. Craig, in his first executive-chef's role, was Chris Kearse's go-to kitchen guy in the early days of Will BYOB before he went home to Cape May to take a turn at The Red Store. Much like that Shore dining destination, Co-Op runs all day, starting at breakfast and spilling out onto the sidewalk at happy hour. (Co-Op's bar maintains a dark, mysterious air, even in the daytime.) Weekend brunch stars avocado toast, omelets, and corned-beef hash, and you'll see sea at dinner in the Cape May fluke ceviche as well as the scallops entree, a substantial plate with cannellini beans and artichoke barigoule.
This week's openings and closings
aMuse
Le Meridien (1421 Arch St.) has put a million bucks — and a lowercase A and capital M — into its French brasserie, now in new quarters in the hotel lobby.
Blue Duck on Broad
Northeast Philly's Blue Duck has come downtown to take over the Korean bar Bop at 220 S. Broad St., next to the Bellevue's parking garage. Opens June 9.
Konditori
The Swedish-theme coffee shop has opened its second Philadelphia location, at 115 S. 18th St. in Rittenhouse. It is around the corner from its first, at 17th and Chestnut — a positively Starbucksian business move.
Tired Hands General Store
T-shirts, mugs, and bottles are among the beery wares at Tired Hands Brewing's new retail shop, located next to its cafe at 20 Ardmore Ave. in Ardmore.
Paesano's
The Ninth Street location of Peter McAndrews' Italian-style sandwich chainlet is closed, as is the one on Temple U's campus. The newly relocated Northern Liberties branch at 148 W. Girard Ave. remains.
Your dining questions, answered
Reader: I had a fantastic soft-shell crab at The Hungry Pigeon and wanted to know: where are some of your favorite spots for them before the season is up?
Craig LaBan: Oh, I may need to taste that crab, as I love soft-shells, am a big Hungry Pigeon fan, and have not had nearly enough soft-shells yet. Of course, they're one of the ultimate signs of spring warming up into summer, so we should be seeing them at least through June. One of the best I've eaten recently was at Pub & Kitchen, where new chef Steven Eckerd served a gorgeous crustacean in a shatteringly crisp tempura batter over tender salad greens and a creamy avocado-ramp mousse on the bottom of the plate. Lacroix at the Rittenhouse always does something elegant with soft-shells (currently with spring onions and curry.). For more straight-forward renditions, get your fresh soft-shell fried on a sandwich at the Oyster House, which also serves them over baba ganoush and bulgur at dinner. If you're a spider roll fan, check out Royal Izakaya – chef Jesse Ito has long made one of my favorite fried soft-shells. Try them crisped Hong Kong style at Mustard Greens, the Chinese classic in Queen Village. Or, if you're really adventurous, savor them as "gejang" chopped up raw and tossed in a serious chili sauce at Dubu in Elkins Park. That gives new meaning to a rare crab experience.
Email Craig here, and join his chat at 2 p.m. Tuesdays at Philly.com/food. ​