New York style at Philly prices
An award-winning New York restaurant team has opened a restaurant at the shimmering, new FMC Tower that rules the skyline near 30th Street Station. Walnut Street Cafe literally bridges the gap between Center City and University City and strikes a balance between style and value. Also this week, I have sandwiches on the brain, particularly two tasty BLTs — one a vegan rendition at a homey cafe in Westmont, while the other employs salmon to add an Irish spin at a new Manayunk pub. Meanwhile, wine guru Marnie Old tips us to a Portuguese that she calls a perfect complement to all that summer has to offer. And it's 6 bucks on sale. Critic Craig LaBan is here with his picks for tasty pho and banh mi. If you require more food news — and there's no shame in that — click here and follow me here and also here. Email me here with suggestions/questions/etc. If someone forwarded this free newsletter to you and you like what you're reading, sign up here and you'll get it every week.
---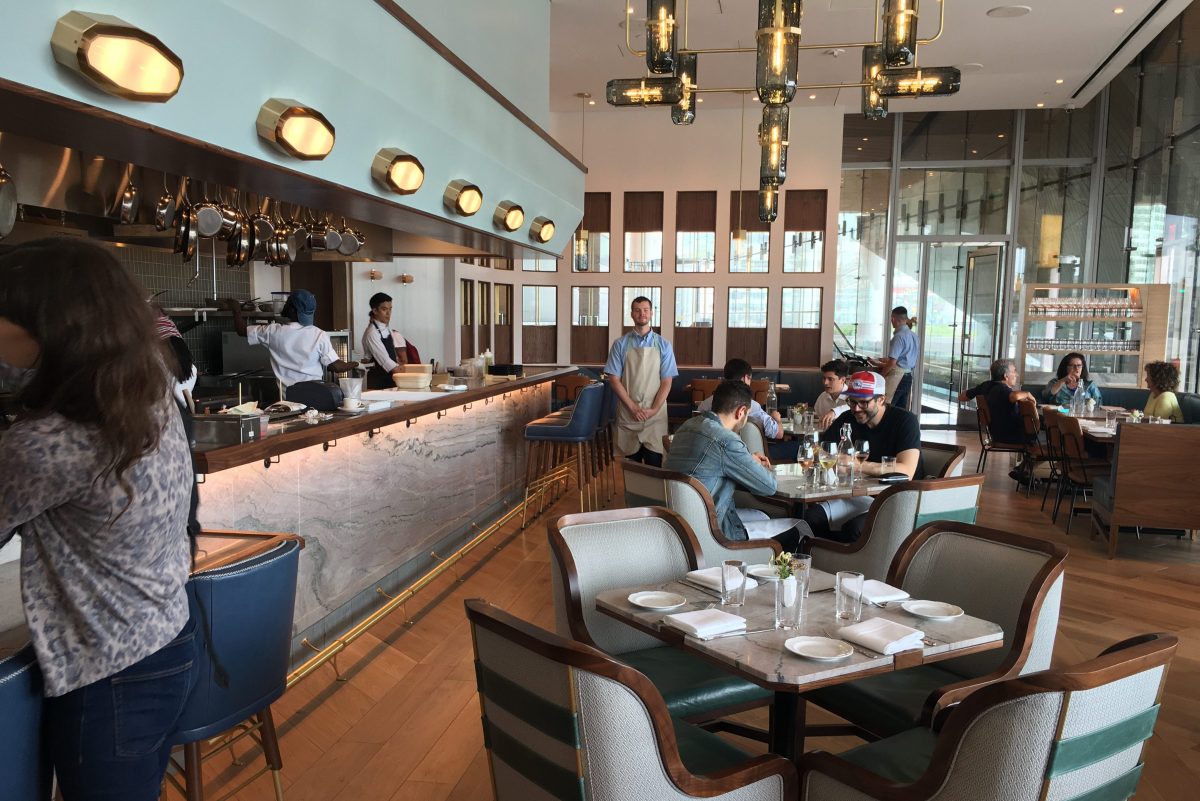 Walnut Street Cafe: Something for all
Breakfast, lunch, and dinner, seven days. A drop-in cafe for pastries and coffee from Rival Bros. A wine bar with 50 varieties by the glass as well as half-bottles, and a frozen margarita machine, and even a daily themed "citywide special." Walnut Street Cafe (2929 Walnut St.), opening officially June 30 (when the bar will start pouring), is a chic though not terribly pricey destination from the team behind NYC's Michelin-starred Rebelle. (Sub-$28 dinner entrees.) Noteworthy are chef Daniel Eddy's house-made pastas as well as a variety of baked-all-day goods from pastry chef Melissa Weller.
---
What we're drinking
Plenty of simple summer wines cost considerably less than the more "serious" wines we crave in colder weather. Our wine guru Marnie Old recommends this brisk Portuguese Vinho Verde — a bargain on sale in Pennsylvania at $5.99. The exact traits that make it so quenching on a hot day — low alcohol, sharp acidity, mild lemony flavors, and what she calls "a flirty tickle of carbonation" — make this style of wine extremely cost-effective to produce. Younger, fresher wines are better-suited to summer situations — not just muggy weather, but drinking by daylight and taking meals outdoors. From hot dogs and burgers to salads and ceviches, lighter summer wines also make perfect food partners and taste great on ice. Banish your inner wine snob and embrace the joys of cheap summer wines like this mouthwatering white. (Warning, she says — at only 9% alcohol, you're likely to find yourself opening a second bottle.)
Gazela Vinho Verde, Portugal, $5.99 (regularly $8.99, sale price through July 30)
---
Where we're eating: Humpty's Dumplings, Heart Beet Kitchen, Sona Pub & Kitchen
South Street has all sorts of culinary indulgences — fries from Smoke's Poutinerie, bigger-than-your-head pizza slices from Lorenzo & Son, cheesesteaks from Jim's and Ishkabibble's. Why not dumplings? Enter Humpty's Dumplings out of Glenside, which just opened two blocks south of South in a mosaic-tiled building at 705 E. Passyunk Ave. Chef Joe Ermigiotti's golf-ball-size dumplings (available fried or steamed) have fillings found in sandwiches, such as honey chipotle chicken, roast pork, and cheesesteak, plus sweet varieties such as apple pie and cheesecake. He also tops lo mein noodles with the same fillings. It's open from lunchtime to late night.
---
Remember when a BLT was bacon, lettuce, and tomato, along with mayo, on white toast? Whole new game here. Ashley Coyne's homey, health-forward Heart Beet Kitchen (29 Haddon Ave., Westmont), whose plant-based menu is also gluten-free and organic, subs crunchy, smoky coconut as bacon and layers avocado and lemon-garlic aioli on flax-and-millet toast; orange tahini kale salad is served on the side.
At Manayunk's cozy, new Sona Pub & Kitchen (4417 Main St.), chef Dawid Piescik's BLT includes pan-seared salmon along with Irish bacon, bibb lettuce, and oven-roasted tomatoes on flatbread slathered with malt vinegar aioli. Choose among three dozen beer options to accompany.
---
This week's openings and closings
Bar Amis
Lo Spiedo is no more, as chefs Marc Vetri and Brad Spence have retooled the former guard house at the front gate of the Navy Yard (4503 S. Broad St.) into a more casual Italian bar, reminiscent of the Washington Square West favorite Amis. This location is open for lunch.
Bardolino Italian Steakhouse
This high-end, high-energy steakhouse near the intersection of Routes 1 and 202 (1102 Baltimore Pike, Glen Mills) replaces Mile High Steak & Seafood. David Robinson is back as chef.
Phillips Seafood Shack
This casual branch of the fishhouse chain is now open at the Piers at Caesars in Atlantic City.
Saxbys
The local coffee chain has rolled out another of its student-run shops, at 3245 Chestnut St., on Drexel University's campus.
Vinny's
The Tilted Kilt, on Route 202 just outside of King of Prussia Mall, has been replaced by a Philly-themed sports bar with two dozen craft beers on tap, small plates, and eventually pizzas. The Vinny cited here is Vincent Piazza, the real estate/automotive wheeler-dealer father of baseball great Mike Piazza.
Herban Quality Eats
The counter-serve eatery with design-your-own plates closed at 3601 Market St.
Penne Restaurant & Wine Bar
Its 15-year run at the Inn at Penn concluded Sunday as the University of Pennsylvania has decided to use the slow season to redo the restaurant. Marty Grims, whose vast restaurant holdings include the nearby White Dog Cafe, will reopen it later this year as a bistro called Louie Louie.
Picnic
The University City gourmet-to-go packed it in. Co-owner Anne-Marie Lasher said competition for the lunch dollar in the neighborhood was simply too much.
---
Your dining questions, answered
Reader: What restaurants would you recommend for pho and banh mi in Philadelphia?
Craig: The best places are highly focused on one or the other of these classic Vietnamese specialties, so this is a two-part answer. For pho, there are several worthy spots along the Washington Avenue corridor, with Pho Saigon (1100 S. Columbus Blvd.) and Café Diem (1031 S. 8th St., for bún bò huế) being my go-to spots. But it's worth taking a lunch adventure to the lesser-known Vietnamese enclave on the 2500 block of Kensington Avenue, where the small-batch broths are more homey and cross-street rivals, Thang Long and Café Pho Ga Thanh Thanh, make the city's beef pho and chicken pho, respectively. For the Vietnamese hoagies known as banh mi, I was sad to see my previous favorite, Lee's, recently close. But there are so many others. Head just west of Broad on Washington to Nam Son, at 16th Street, where the banh mi are built on toasty house-baked rolls. I'm also a fan of the pâté-smeared and porky house special at QT at 38 N. 10th St. in Chinatown. The most memorable banh mi I ate all year, though, is in the Northeast, where neighborhood standby Café Saigon (827 Adams Ave.) turned out a banh mi built with warm chicken thighs, cold pickled veggies and crunchy jalapeño rings on a crusty roll package so perfect I can still taste it.
Email Craig here. His Tuesday chats at Philly.com/food will resume July 11.