One new sign of change in the Philadelphia restaurant scene is the area code that pops up on your caller ID.
The phone number from a chef-owner frequently comes up with a 917 or 646 area code.

Though chefs are migrating here (like Fork's new chef, Eli Kulp; at left), new out-of-town owners are setting up kitchens in Philadelphia like never before.
They're tempted by rents that are cheaper than what's available in Manhattan, and also sense a growing sophistication among patrons.
Some of the imports are folks coming home.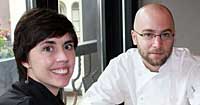 Cherry Hill native Greg Vernick of Vernick Food & Drink (2031 Walnut St.) was chef de cuisine at New York City's Tocqueville before traveling the world opening restaurants for Jean-Georges Vongerichten.
What he wanted was a better quality of life for himself and his wife, Julie.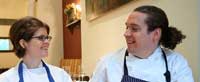 The same applies to BYO owners Andrew and Kristin Wood (left) of Russet (1521 Spruce St.). He grew up in Lancaster County and Blue Bell, while his wife's family is in New York City.
Then there's The Village Belle (757 S. Front St.), a few blocks from the childhood home of chef-brother duo Lou and Joey Campanaro.
And for Philly natives Josh and Colleen Lawler. He left Blue Hill at Stone Barns to open The Farm and Fisherman (1220 Pine St.).
Others are on their way.

Joncarl Lachman (left), who grew up in Center City and Southwest Philly, is making waves in Chicago with HB Home Bistro, says he intends to open a Northern Euro BYOB in Philadelphia to honor his family's roots in the Netherlands. The tentative name: NOORD. He has been exploring spaces on East Passyunk Avenue, among other neighborhoods.
The city's restaurant climate is impressive. Chef Michael Santoro was brought here from D.C. to open Talula's Garden. When that didn't work out, he partnered with a buddy, Main Line native Michael Dorris, and they recently opened The Mildred (824 S. Eighth St.) in Bella Vista.
How about Gregg Methot and Dawn Hone, who say they heard that Philly was "the hottest town going." The Detroit natives have transplanted here from Myrtle Beach, S.C., to open The Famous Detroit Coney Company at 212 S. 11th St., where Santa Fe Burrito Co. was.
Joe Carroll, opening a branch of his Brooklyn bar and barbecue joint, Fette Sau, in Fishtown, said he was "desperately looking to figure out how I could get Fette Sau into another city." His dilemma was simply that he didn't know how to do it. "I know food, wine, beer, but not that," Carroll says. "I taught myself how to do barbecue. It's one thing to have an operation in my hometown, but it's a bit more of daunting task to do it in another market. I didn't want to have to [come down] three nights a week and relocate my staff."
Enter dining mogul Stephen Starr, who wanted to do more in Fishtown after his biergarten Frankford Hall had exceeded his expectations. A mutual friend introduced the two men, and Fette Sau will open in October on Frankford Avenue off Girard, right beside Frankford Hall.
Starr has no problem importing chefs. He hired Peter Serpico, opening chef at David Chang's Ko in the East Village, to open a restaurant this winter at 604 South St. Serpico also cited quality of life as a reason to uproot himself.
Larry Steinberg of Fameco Real Estate calls Starr "an incubator."
Then there are restaurateurs who got a taste of Philly, left the city, and are now choosing to return.
Chris Lee, a Michelin-starred chef who worked for Starr at Striped Bass, now operates Huntington Social on Long Island. He's returning to assume a part-ownership in Salt & Pepper (1623 E. Passyunk Ave.).
Nicolas Fanucci, who was general manager of Le Bec Fin a dozen years ago, emigrated from Yountville, Calif., with a half-dozen fellow alumni of the French Laundry to buy and reopen Le Bec. "Philadelphia is [a] great city with great food," Fanucci explained in an online chat hosted by critic Craig LaBan. "Personally, we moved to Philly because we love the city and taking over Le Bec Fin was the upmost challenge I can think of."
Scott Coudriet (photo at left), who grew up in South Jersey and tended a bar in New York, wanted a better quality of life with his wife, Taylor. Together, they are opening Lloyd (529 E. Girard Ave.), a Fishtown-based bar named after his pop, that specializes in whiskey.

Chains are always kicking tires.
"We've seen Carmine's, Rosa Mexicana," said Steinberg. "But there's a limited and finite supply of space. The good stuff is not easy to get."
Chains are also signing on.
Casual eateries such as Joe, the New York coffee bar (coming to 1845 Walnut St. next year), Crumbs Bake Shop (coming to 133 S. 18th St. this winter), and Shake Shack (which opened this summer at 20th and Sansom Streets), as well as luxe destinations such as Ocean Prime, a steak and seafood house from Ohio-based Cameron Mitchell that's due next summer at 15th and Sansom Streets, are all part of the mix.
"Some people say that when chains come in that's not a good thing," said Steve Gartner, president of Metro Commercial Real Estate. "But it actually ratifies that this is a place where people want to spend their capital and time."
Philadelphia is not for everyone. John Shields, chef-owner of the critically praised Town House in Chilhowie, Va., had moved to West Chester to explore opening a restaurant in Philadelphia. But, he said in a recent email chat, he is uncertain where he'll end up. "We're actually looking at D.C. pretty seriously but time will tell," he wrote. "I do like Philadelphia but I'm not sure how receptive the city will be to food we want to do."
Jennifer Carroll, the former chef at 10 Arts, will not end up opening in Philadelphia as she had originally planned. Her investor wanted Concrete Blonde (the name of Carroll's new restaurant) to open in New York, and so it shall. Carroll says she's at least six months away from opening in the West Village.
Contact Michael Klein at mklein@philly.com.
Photo of Eli Kulp: Jim Graham