Wall Street tycoon Stephen Schwarzman's $25 million gift to Abington High School was heralded in February as a historic and good-hearted gesture to his alma mater. But as details of its attached strings leaked out, it began to resemble a deal with disturbing implications for public education in America.
This arrangement would set a treacherous precedent for our nation's already neglected public schools. The fact that the district and Schwarzman hatched elements of the quid-pro-quo agreement with zero input from taxpayers only further erodes confidence that our embattled schools can thrive or survive without desperate, confidential maneuvers involving wealthy benefactors.
It was only through a published agenda of a school board meeting weeks after Schwarzman's gift was announced that the public found out that Abington High School would be renamed after the Blackstone Group investment firm cofounder.
Another detail: The school would tweak its curriculum after receiving the money, as Schwarzman asserted on his Blackstone bio page, where he is described as a man who "has always attempted to tackle big problems and find transformative solutions."
One can't help but wonder if also buried somewhere in the fine print was a proviso that a gilded hangar be constructed on school grounds for the emperor's gold chariot.
Although Schwarzman's gift to Abington was believed to be the first of its size and type to a single such school, he clearly imagines the public-school chase for donations from the super rich — what I'll christen Billionaire Bonanza — should continue.
Schwarzman told the Wall Street Journal he planned to give several thousand superintendents advice on how to raise money from people like him: "I'm going to talk to them about how you ask people to support something that's very worthy, how to organize themselves, what it's like to be rejected, how to have a conversation. It's a learned behavior. These private schools and universities are really good at doing this."
Abington residents rightly blew a fuse when they heard about the naming rights.
District officials jettisoned that plan and on Tuesday apologized for their handling of the matter. Superintendent Amy Sichel promised that the board would vote to rescind the Schwarzman agreement April 10 and unveil a new one that the public would be able to fully review before an approval vote by April 24.
That doesn't change the stark reality that this is no way to fund the public schools that helped make some of its tycoons the people they are today.
I reached out to Schwarzman on Wednesday but was told he was unavailable for an interview. A spokesman told me he supports public and private aid for public schools.
A Billionaire's Public Schools Gift — With Strings
A $25 million gift to Abington School District by Blackstone investment firm co-founder Stephen Schwarzman initially came with an undisclosed proviso that the public high school in Montgomery County be named after him. The firm's web page (right) also noted that curriculum changes were part of the historic gift to his alma mater. Following community outrage, district officials scrapped the renaming plan and, on Tuesday, said they would replace the pledge agreement with a new, more transparent one.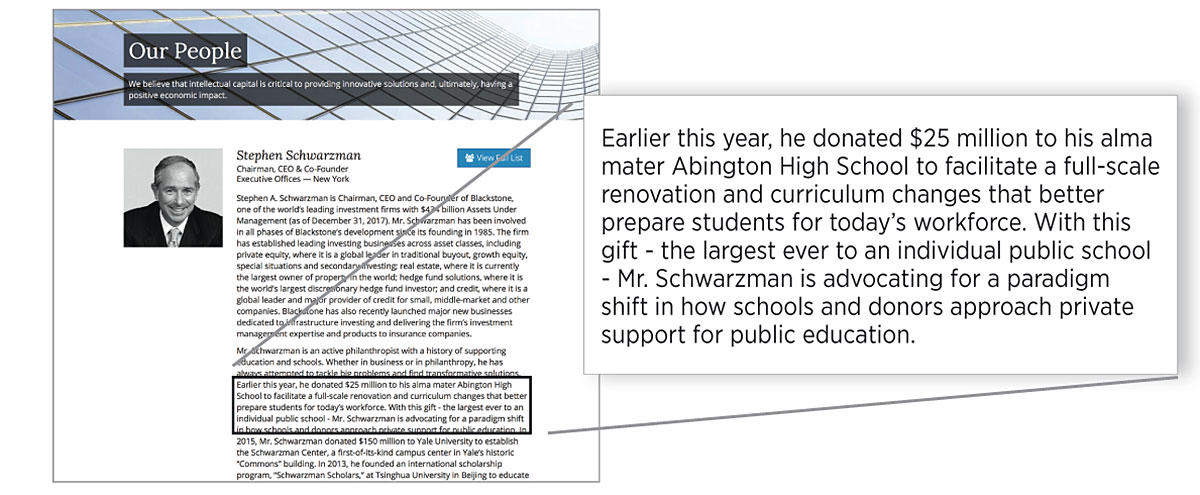 Why does a public school seek out a billionaire for aid?
Desperation.
It's the result of conservative policymakers spending decades starving schools to satisfy a proclaimed vision of Less Government. It's made worse by tax policy that allows very wealthy people to pay a smaller share of their earnings than what poorer people pay.
Schwarzman is among the class of bigwigs whose fortunes are built in no small part on the Santa-Claus-Every-Day largess known as the carried-interest tax loophole.
In case you missed Warren Buffett's clarion call a few years ago to eliminate it, this loophole allows investors like him and Schwarzman to be taxed at sometimes only half the rate of what, say, a school secretary pays.
Schwarzman's buddy President Trump swore he'd eliminate it. But guess what? It magically remained untouched despite last year's Republican tax overhaul.
Meanwhile, school districts suffer.
In Abington, the district ranks 90th out of 500 statewide in the amount it spends per pupil ($16,270), with Lower Merion topping the list at about $25,000 and Philadelphia near the bottom (414th) at $12,600. The state used to fund almost half the cost. Now it covers just 21 percent, Sichel told me Wednesday.
"It hasn't changed in my superintendency, and I have an obligation to deliver the best, fiscally responsible public education that I can deliver," Sichel said. "And you know what? We're going to do that. People should have gratitude for what this gentleman has just bestowed upon us."
Schwarzman's gift will help pay for renovations and new construction.
"It's absolutely a crazy system if we have to end up competing to see who can attract a favorite millionaire or hope that they had one graduate from their class 20 years ago," said Michael Churchill, an attorney at the Public Interest Law Center in Philadelphia who is suing Pennsylvania lawmakers over public school funding statewide.
If there was any doubt of who the winners and losers are in today's tax system, the naming-rights provision hammered it home.
"You can tell what a society values by seeing who it chooses to immortalize," said Ray Madoff, director of the Boston College Law School Forum on Philanthropy and the Public Good. "The idea that somebody can, through the power of the purse, say 'immortalize me,' is something that is discomforting for people."
The idea that public schools become beggars at the table of the uber-rich? I'd call that discomforting, too.