Mustardseed, an effervescent sprite played by Eric Zavadsky, whirls onstage, casts his magical smile over the audience, and strikes a hand-held cymbal.
"Act One-eth!" he proclaims.
And so opens what looks to be a delightful South Jersey production of A Midsummer Night's Dream.
Zavadsky, 19, and other members of a youthful theatrical troupe calling itself the Ignoble Shakespeare Company will present the Bard's classic comedy Friday and Saturday at the McLaughlin-Norcross Memorial Dell in Haddon Heights. The performances are free and start at 7 p.m. on both nights.
From what I saw before and during a rehearsal at the Dell last Friday, this Midsummer production is Shakespeare in the Park infused with Mickey and Judy's "let's put on a show" spirit. Most of the cast are students or recent graduates of the Rutgers-Camden theater program; the two senior performers have audited acting classes there.
"The show is sort of put together, not haphazardly but … collaboratively," says director Alex Scheinberg, a 24-year-old Collingswood resident. A recent graduate of the Rutgers theater program, he got the idea to do Shakespeare as a way to work with friends again and also to gauge local audience interest in the playwright's work.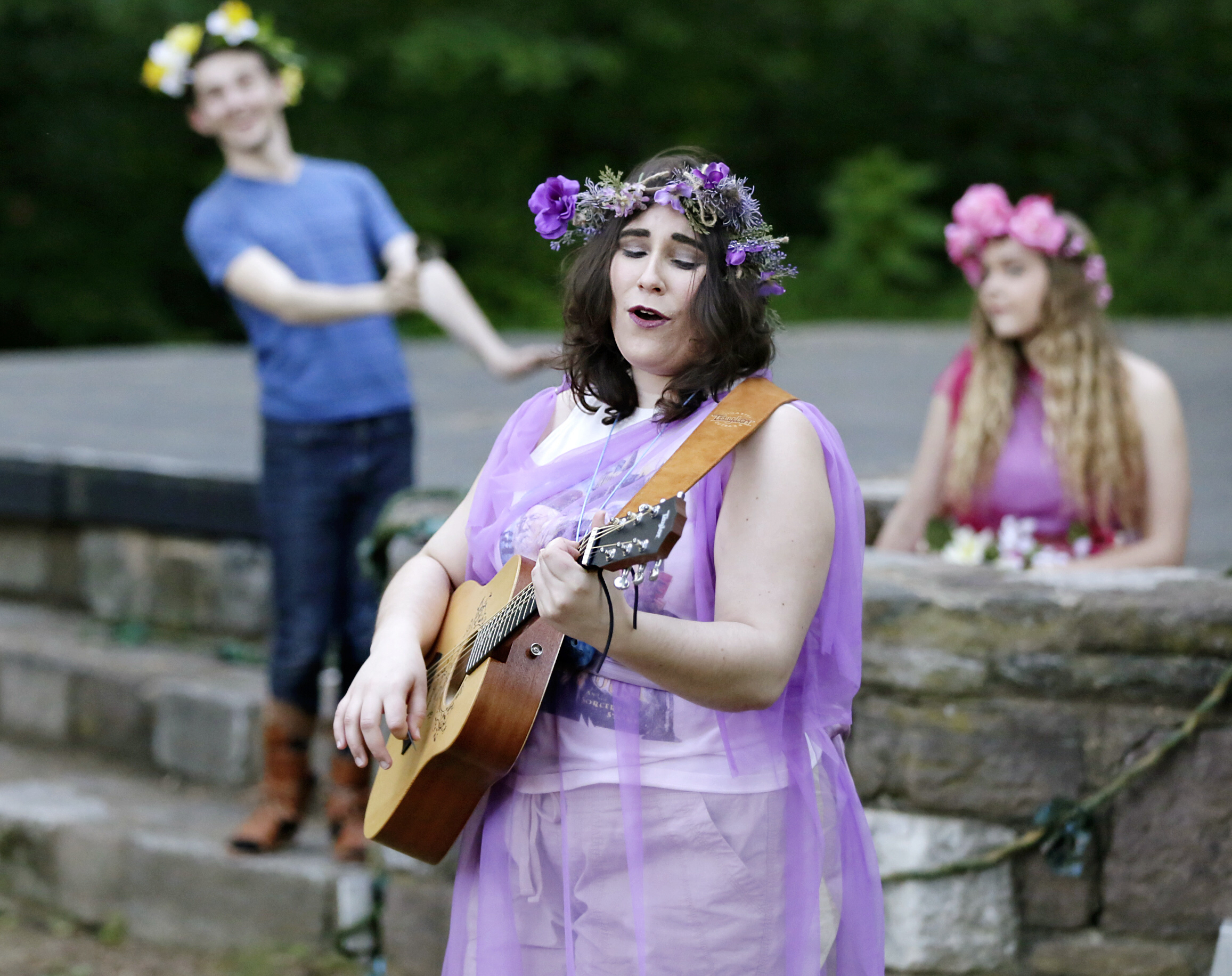 "I have a fondness for Shakespeare, because his plays included characters who were not from the noble class," Sheinberg says. "He had a more humanistic lens."
Doing Midsummer has so far been smooth, despite difficulties scheduling rehearsals (many cast members work), replacing actors who had to bow out, and working with a crew of two and a "very, very low" production budget.
Cast members have kicked in about $200, and have purchased fabric and made the chitons, or Greek togas, worn by many of their characters. I watch as Rutgers student Tay Sconiers drapes a diaphanous swath around classmate Brittany Onukwugha,  who's 19, lives in Willingboro, and is playing Peaseblossom.
"She's a fairy,"  explains Sconiers, 24, of Cherry Hill. "So her look needs to be ethereal and delicate."
Kids in the show also are contributing props — scepters, goblets, garlands of flowers — and the director himself found one of the tents that double as dressing rooms in his basement.
Mustardseed's clever little cymbal, meanwhile, was fashioned from a wooden spoon and a disc found in a Rutgers-Camden prop room. And baby monitors are being pressed into service to help offstage cast members follow the play and pick up cues.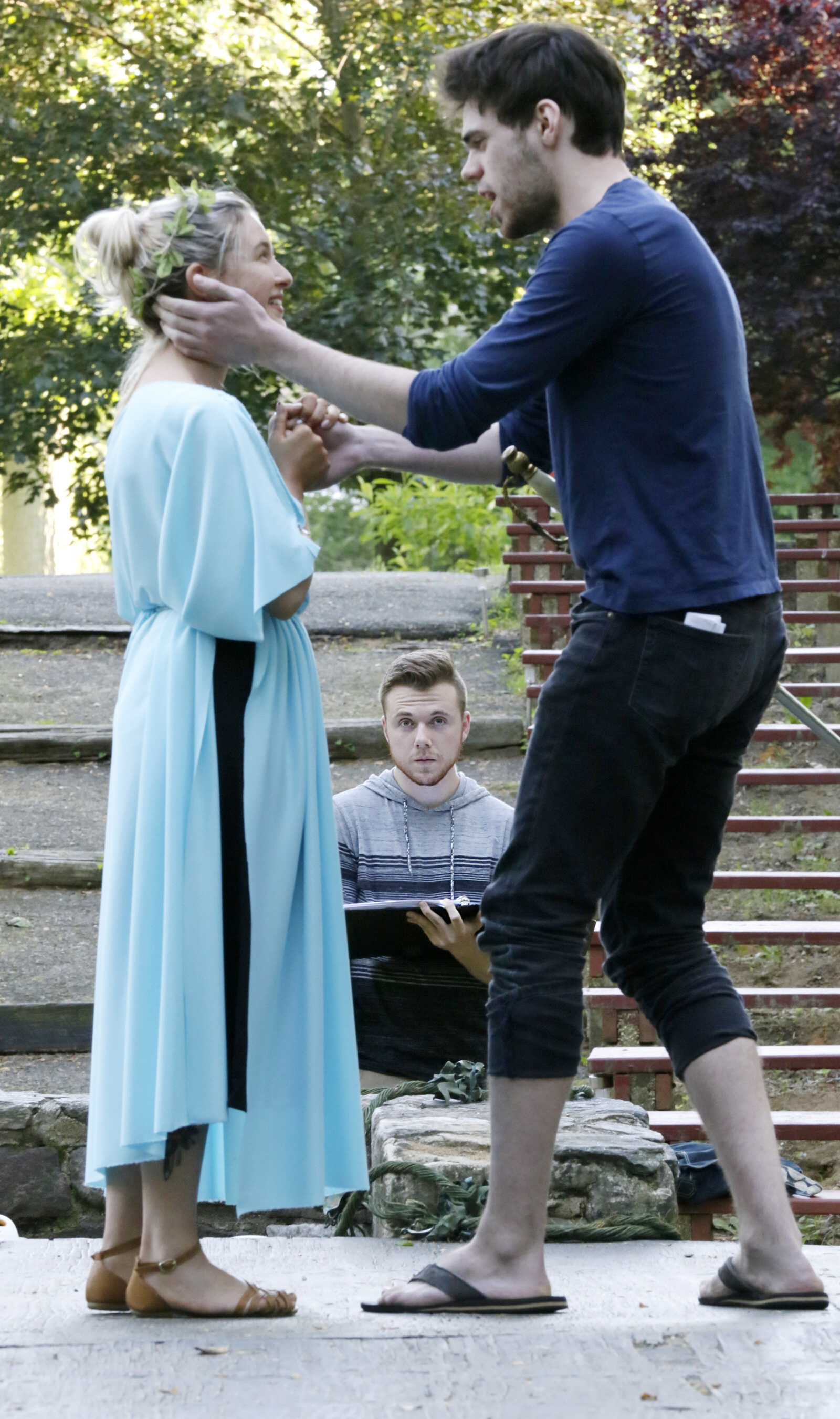 "Everybody just sort of pitches in," observes Scheinberg, who's also acting in the show and, like many of his fellow cast members, playing multiple parts.
His main role is Nick Bottom, whose head the mischievous fairy Puck transforms into that of a donkey — and with whom Titania, the Queen of the Fairies, becomes smitten. Because she's under a spell.
You get the idea.
"I am Theseus, Duke of Athens," says Ken Shuttleworth, who at 74 is the senior cast member. Possessed of a rich baritone and a memorable mug, the retired journalist — we were newspaper colleagues years ago —  says he's jazzed to work with such talented young performers.
"I'm learning from them," says the Haddon Heights resident, adding,  "but I may never do Shakespeare again. It's really challenging."
Other cast members note that while the Dell's leafy outdoor setting is lovely and appropriate — much of A Midsummer Night's Dream transpires in the woods and in the dark — voice projection is a challenge.
Nevertheless, "being outside is perfect for this show," says Kimberly Starts, 20, of Pennsauken, a rising junior at Rutgers. She played Juliet in a class production and is Titania in Midsummer; she describes her exquisite stage makeup as fittingly regal  for her "powerful" character.
"We're all such good friends – the show is like a community project," adds Starts. "I was just now running lines with Oberon."
That would be Jake Hufner, 26, of Bellmawr, a Rutgers grad who's an administrative staff member in the university's Digital Studies Center.
"The Dell is different from a traditional performance space," he says. "It's fun, and it's beautiful. But a bit unnerving."
I bet: During the rehearsal, the occasional sounds of traffic, sirens, cyclists, passing pedestrians and barking dogs were certainly atmospheric.
But  the performers, who've been rehearsing, mostly indoors, for the better part of two months — it shows — say there's great joy in making theater accessible.
"It's a different way to do Shakespeare, and it's nice for the community," says Kelsey Brown, 21. A rising senior at Rutgers, she lives in Williamstown and plays guitar onstage as a fairy named Cobweb (she also plays Hippolyta, who's more glamorous).
"Theater brings people together," notes John Hager, 20, of Burlington City, who's a Rancocas Valley Regional High School substitute teacher. Lysander (lover of Hermia) is his first Shakespearean role.
Midsummer also represents a first time for Scheinberg: He's never before staged and directed a full-length play.
But I watched him handle his actors like a pro, and enjoyed his performance as Nick, which, like those of many in the cast, was loose and full of juice.
Scheinberg hopes A Midsummer Night's Dream will spark local interest in more frequent and free summer Shakespeare.
After all, he notes, the playwright didn't just include regular folks as characters on the stage.
He got them into the audience as well.