DONALD TRUMP for president? Forget about it, say the nation's brewers. But don't expect them to line up behind Hillary Clinton, either.
That's the outlook from a straw poll I conducted among beer makers at last week's Craft Brewers Conference in Philadelphia.
Among the 96 brewers and other beer industry members I polled while strolling around the conference exhibition hall, only 15 said they'd vote for Trump in November.
Clinton was backed by exactly half of the brewers - but that support looks shaky because many of her supporters indicated they might not bother to vote in the fall.
Meanwhile, fully one-third said they'd vote for neither.
It's true, of course, that 100 percent of the brewers would rather have been drinking beer than answering an election survey. Several of those I questioned stalked off when I asked: Trump or Clinton?
But I had reasons for talking politics.
For one, the craft-beer demographic - which is mainly white and male - is a troublesome sector for Democrats in presidential elections. In 2012, President Obama lost to Mitt Romney among white males by 20 percentage points.
You might remember that Obama tried to trim that gap by targeting craft-beer drinkers. The White House famously released recipes for the president's homebrewed beers during his campaign, and then the Democratic National Convention featured speeches from the founders of two small breweries in support of Obama.
We can expect to see Clinton, who also lags in support among white males, to exploit the same craft-beer-savvy tactics - and not just because Trump is a teetotaler. As it happens, many of the swing states - notably Pennsylvania, Wisconsin, North Carolina, Virginia, and Colorado - rank above the median in breweries per capita. Don't be surprised if you see her tipping back an IPA in Wilkes-Barre or Fort Collins, Colo.
Meanwhile, despite their reluctance to talk politics at a beer convention, craft brewers are hardly silent on the issues.
After North Carolina enacted its controversial anti-LGBT law last month, for example, dozens of the state's small breweries protested by making a "Golden Rule Saison" called Don't Be Mean to People. Proceeds will benefit gay, lesbian, and transgender advocacy groups.
Last year, an Illinois brewery - objecting to Trump's anti-Mexican remarks - pulled its beer from his Chicago hotel, then renamed it Chinga tu Pelo, Spanish for F-- Your Hair.
That doesn't mean Clinton can expect craft beer to automatically line up behind her.
"She's corrupt," said Paul Allard, 49, a hops supplier from Maine. "I'm not a huge Trump fan. He's a bit of a blowhard. But I feel I have to vote for him as the lesser of two evils."
Patrick Doheny, 47, a brewer from Clearwater, Fla., said that although he's registered as a Republican, "I just don't think Trump has the ability. He's a good businessman, but that does not equate to being a good president. It might have to be Clinton."
Daniel Lanigan, a brewer in Boston, still held out hope for Sen. Bernie Sanders of Vermont. "Clinton is like the Anheuser-Busch InBev of candidates," he said. "Bernie is craft brewing."
Leigh Maberry, 24, who works in the laboratory at a Texas brewery, said, "They're both scary. It's become discouraging."
That sentiment cropped up repeatedly:
"I can't find anyone I want to vote for."
"They're both slimeballs."
"Maybe I'll move to Canada."
None of the nearly 100 brewers I interviewed expressed any passionate support for Clinton. Many, however, blanched at the idea of Trump occupying the White House:
"He's very extreme, short-sighted, and inflammatory."
"He's a poor businessman."
"He's just an entertaining idiot."
"Neither - but definitely not Trump."
The anti-Trump sentiment was most pronounced among women brewers (a distinct minority among those at the convention). Not one woman I interviewed backed Trump; instead, they were evenly divided between Clinton and "neither."
Admittedly, I'm no Nate Silver when it comes to crunching data. In fact, I was drinking a fair amount of fresh craft beer throughout the survey, so it's entirely possible my data are a bit blurred. Nonetheless, here are the results: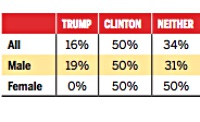 "Joe Sixpack" is written by Don Russell, executive director of the Garden State Craft Brewers Guild. Follow him on Twitter @beer_radar or sign up for his weekly e-mail update at www.joesixpack.net. E-mail: joe@joesixpack.net.