Hillary Clinton at the forefront of style?
Yep, it's true.
Although fashion pundits -- at least at the beginning of Clinton's candidacy -- said matching separates do not a trendsetter make, they have been proved wrong, wrong, wrong.
As election season heated up this year, Clinton spiffed up her signature uniform with Ralph Lauren suits in solid reds, whites, and blues, and, at the same time, American women's wear — always quick to tap into the zeitgeist — began to dust off its former love for the pantsuit.
Even the September runways, harbingers of spring's next big thing, featured tailored trouser separates from Diane von Furstenberg, Ralph Lauren, Tory Burch, Givenchy, and Céline. Before the end of October, stores such as LOFT and Bloomingdale's featured an array of pantsuits in their displays, too.
By fall, more than 200 pantsuit-wearing dancers had gathered in New York to perform a flash mob for Clinton. A pantsuit nation formed on Facebook. On Tuesday, pantsuits at the polls became a thing. And so, the pantsuit, defined as a blazer or jacket with pants -- either matching or paired separates -- transcended fashion to make a political statement yet again.
Although women occasionally wore pants starting in the 1930s, the pantsuit was unheard of in women's wear until the late '60s, when Yves Saint Laurent introduced Le Smoking — a tuxedo jacket and matching trousers for women. And when the women's movement took hold in the '70s, the pantsuit became more acceptable, eventually becoming the sartorial armor of women who meant business.
"Women really didn't adopt the look until the 1970s, because back then it was radical," said Clare Sauro, keeper of the Robert and Penny Fox Historic Costume Collection at Drexel University.
In the 1980s, skirt suits beat out pantsuits. But in the 1990s, minimalist designers Giorgio Armani and Calvin Klein introduced boxy jackets with itty-bitty miniskirts or pleated baggy trousers.
Women who wanted to be taken seriously took the pantsuit route. In 1993, then-Sens. Barbara Mikulski and Carol Mosely Braun became the first women to wear pantsuits on the House floor. Clinton was elected a New York senator in 2001, and the former first lady -- once known for headbands and prim dresses -- adopted the pantsuit as her trademark look.
So it doesn't matter that Clinton lost. The power pantsuit is here to stay -- at least until next year. The question is how to wear it in a way that's flattering to you. We asked three Inquirer readers -- Dianne Boldt, 72, of North Wales; Darisha K. Miller, 44, of Mount Airy; and Marietou Fanny, 50, of Fairmount -- to help us show you how to pull it off.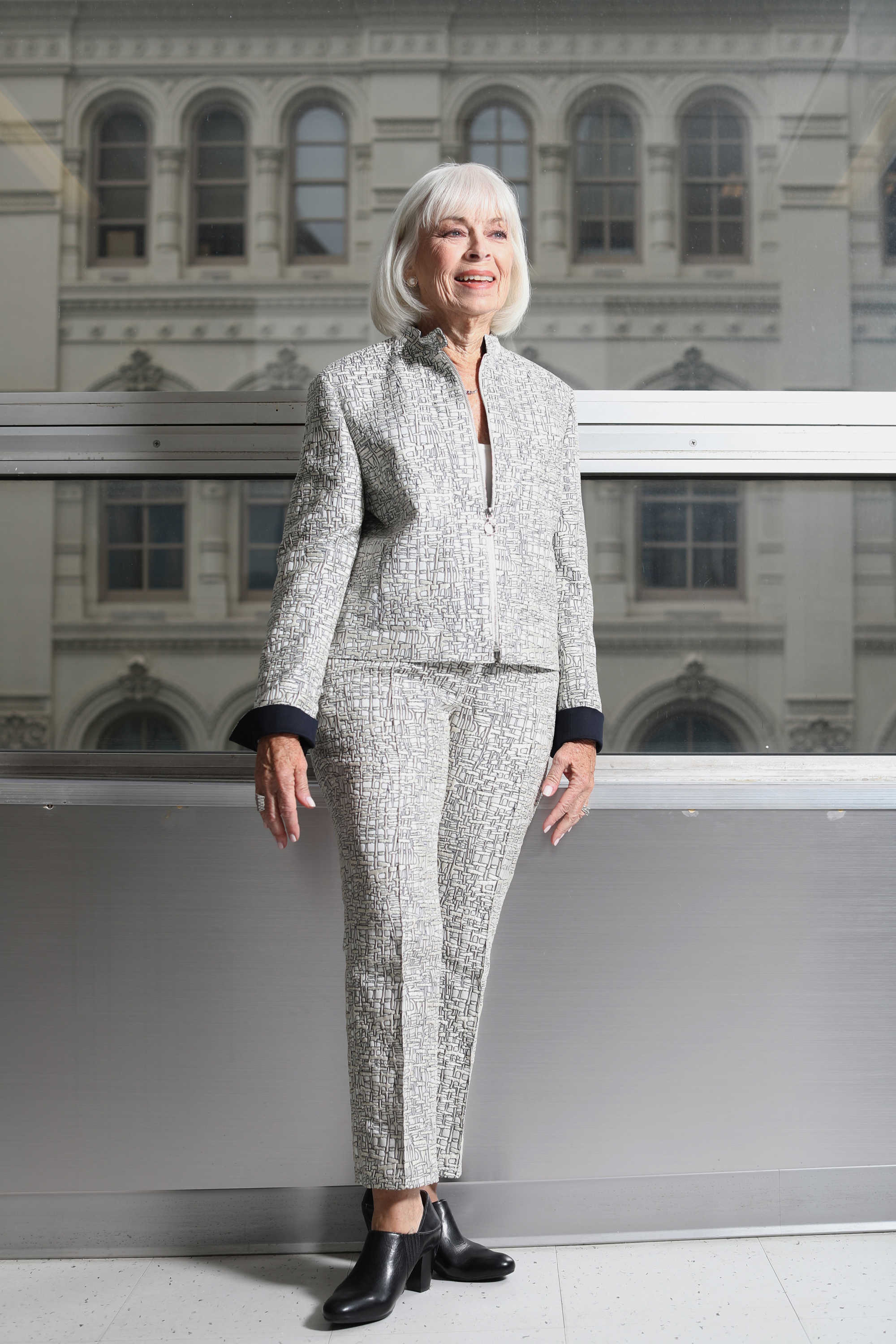 Black and white Akris round-necked blazer ($1,390) and skinny pant ($595) at Saks Fifth Avenue.
WHY DIANNE LIKES IT
"I loved the fabric. It's neat. I like the round collar. It's not bulky. The tapered ankle is flattering. It doesn't bag or pull me down, and it works well with the proportions of my body."
WHY IT WORKS
The salt-and-pepper jacquard print complements Boldt's complexion. The skinny pant and shrunken jacket is a modern silhouette, and the correct heel gives her small stature a bit more presence.
---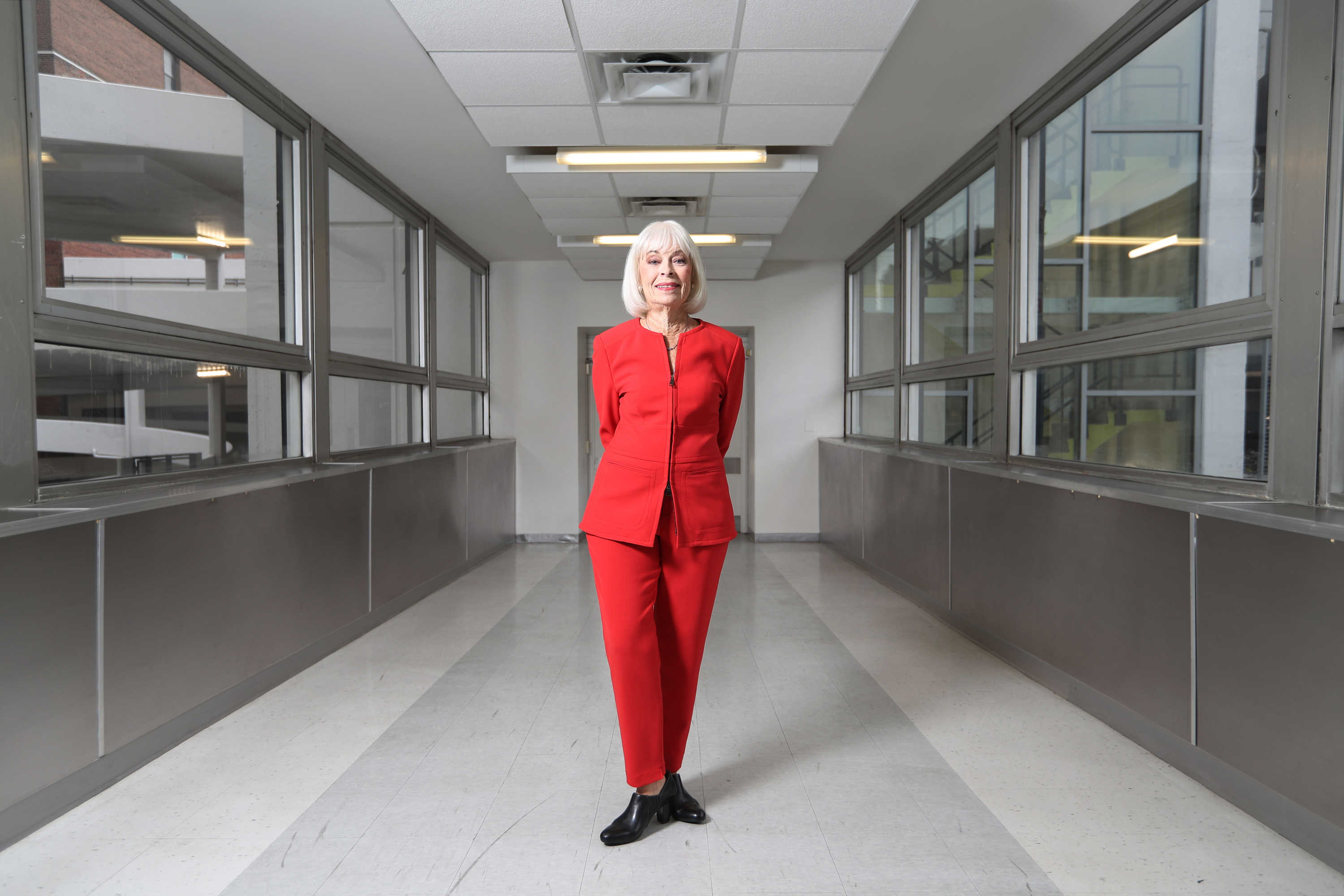 Red Strenesse hip-length blazer ($749) and ankle pant ($439) at Bloomingdale's.
WHY DIANNE LIKES IT
"I love the longer jacket style and the way the zipper fits me like a glove. I have trouble with pants because they are always so long. But these are just the right length. They are extremely comfortable. I could have sat in them for three days."
WHY IT WORKS
The bold color makes the suit. It's youthful and a great go-to look for an office meeting or holiday party.
---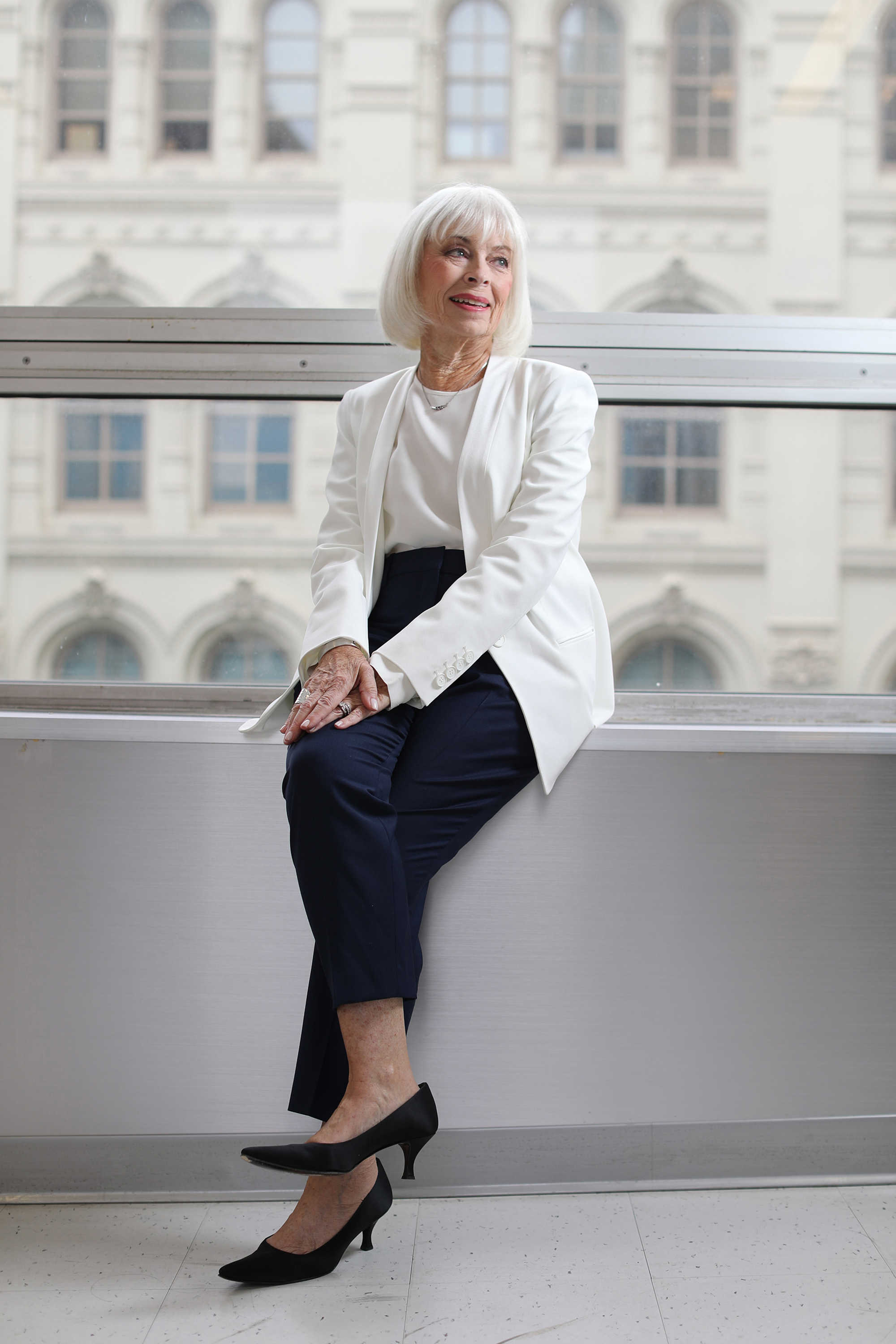 White DKNY blazer ($78) at Century 21, and royal-blue Trecca 2 Theory pants ($315).
WHY DIANNE LIKES IT
"This is a CEO-of-a-company outfit. This is a message of subtle power. The pants are silky and feel great."
WHY IT WORKS
Menswear inspiration is dominating women's fashion. The beauty of these tuxedo-style separates is a generous silhouette without being oversize. We tried a blue-on-blue look, but it looked too harsh with Dianne's light coloring. The white brightened her up.
---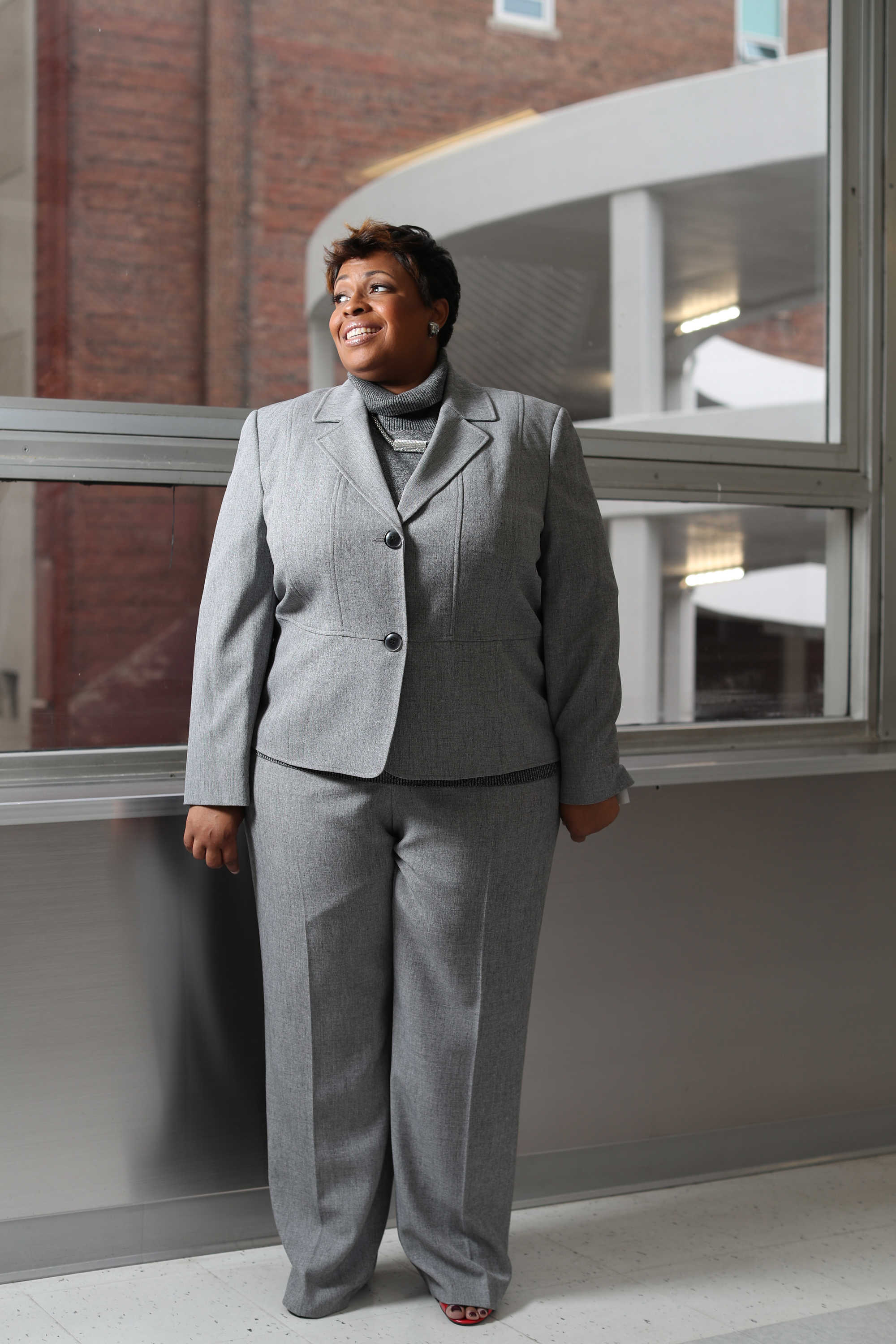 Gray Kasper blazer ($89), matching gray pant ($79), and a Kasper gray turtleneck ($49.99), all at Macy's.
WHY DARISHA LIKES IT
"The versatility of this suit speaks to me. I feel powerful in it. I love the flare of the pant. Usually I'm afraid of flare bottoms because I'm short and I don't want to look frumpy. But because this is monochromatic, it looks pretty sharp."
WHY IT WORKS
Oversize suits on plus-size people have a tendency to look boxy and frumpy. This suit is fitted at the waist, which shows off Darisha's hourglass shape. The solid gray can be dressed down with a montone turtleneck (as pictured) or dressed up with a silky blouse.
---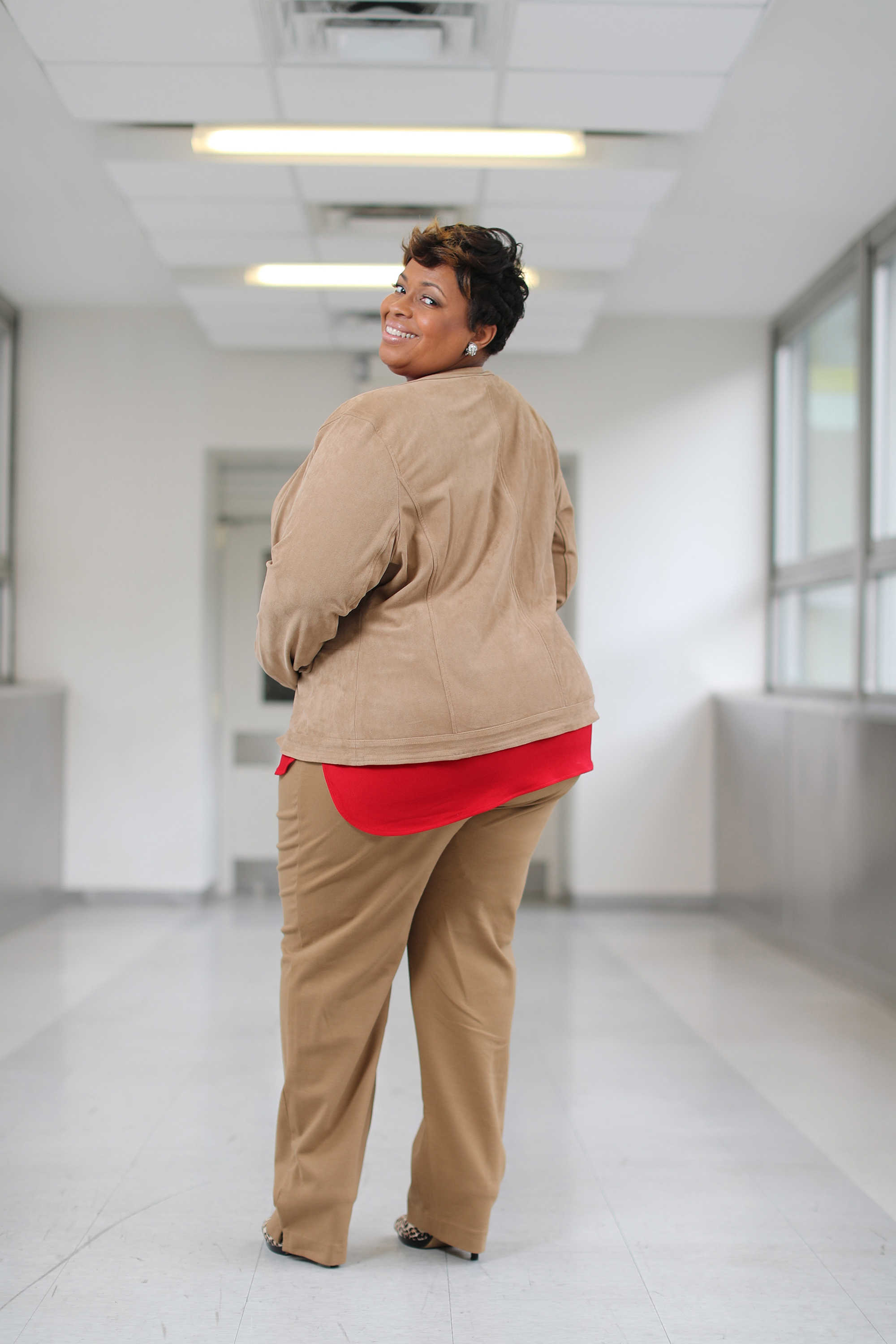 A Charter Club suede jacket in camel ($129), slim knit pants ($89.50), and Kasper blouse in red ($36.80), all at Macy's.
WHY DARISHA LIKES IT
"It just really feels good, and I love the soft color. Soft neutrals are like a statement to me, and I can wear this with a tote bag or clutch. The red pops. It's exciting."
WHY IT WORKS
In this case, the blazer is a little roomy and the pants are much more fitted, so the sporty separates skim Darisha's curvy silhouette.
---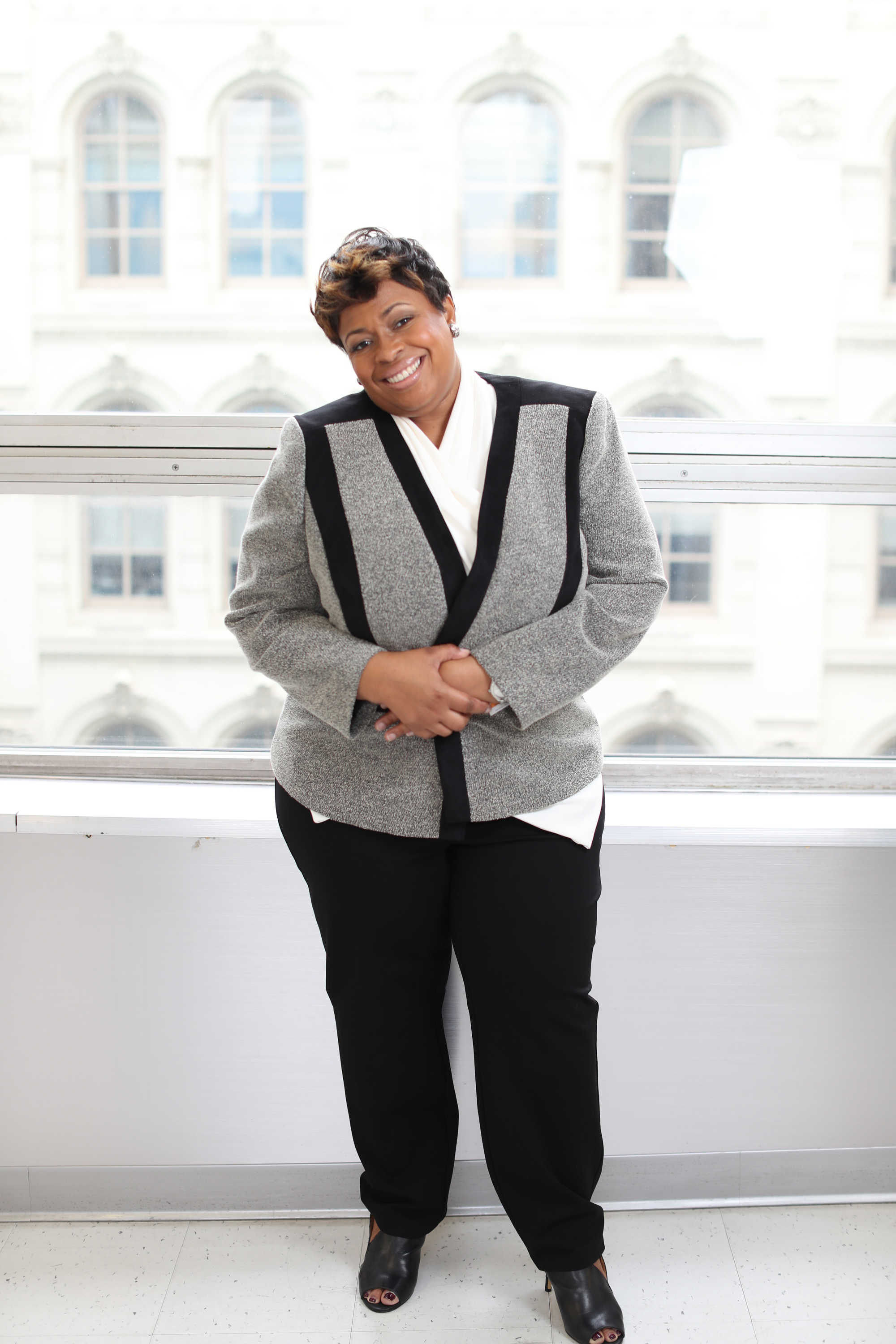 Alfani ponte pant ($79.50), black-and-white Kasper blazer ($139.50), and Ralph Lauren wrap blouse in ecru ($102), all at Macy's.
WHY DARISHA LIKES IT
"I never thought I could be sexy in a formfitting dress pant. I'm always thinking people will see my bulge. And this blouse camouflages everything. I would have never picked this out on my own. I feel like I have so many more options now when I'm shopping."
WHY IT WORKS
The suede-and-wool patchwork jacket is very of-the-moment, but when paired with the wrap blouse, it has a classic look. We also like that this suit appears very tailored but is really not constricting at all. And everyone needs a ponte pant.
---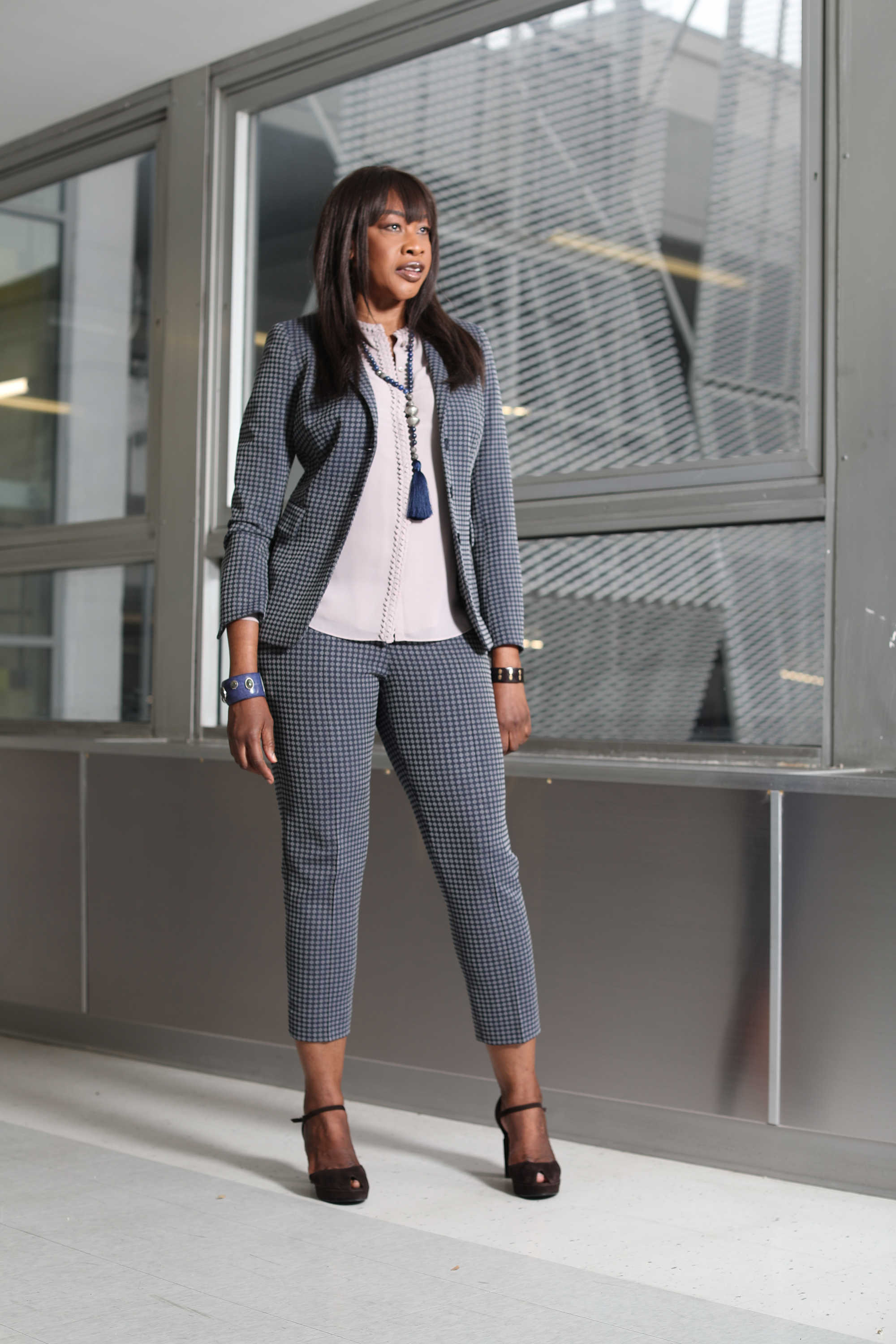 Blue Akris blazer ($1,390) and matching pant ($495) at Saks Fifth Avenue, and Strenesse blouse in blush ($250) at Bloomingdale's.
WHY MARIETOU LIKES IT
"This jacket is fabulous; it makes me look skinny. The fabric is rich and the pants are actually long enough. It hugs my body without being too tight and I can wear it all year round."
WHY IT WORKS
The proportions are perfect in this suit. At 6-foot-1, Marietou has difficulty finding cropped pants that aren't too cropped. Still, the sleeves hit at the wrist, giving an overall trendy look.
---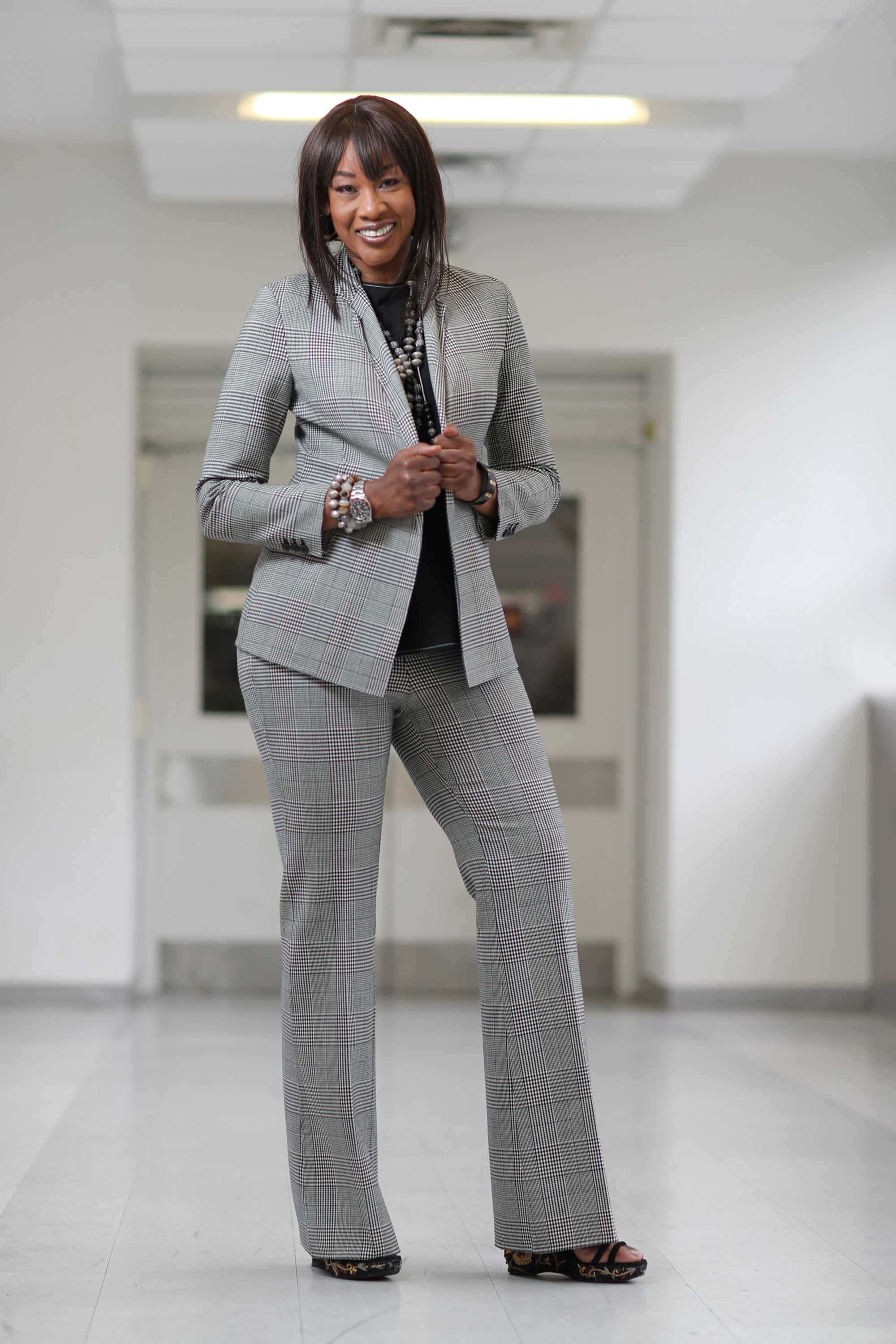 Plaid Theory blazer ($575), matching pant ($395), and Melana shell ($295), all at Theory.
WHY MARIETOU LIKES IT
"Plaid is such a classic, and the wide-legged pants remind me of Yves Saint Laurent suits. Oh, and it's not itchy. Winter fabrics make me itch. And I love the print. I usually prefer prints to solids."
WHY IT WORKS
You have to be tall to pull off plaid, and Marietou is definitely the right height. And the pants, to Marietou's surprise, almost touched the floor, so it looked like the suit was custom-made for her.
---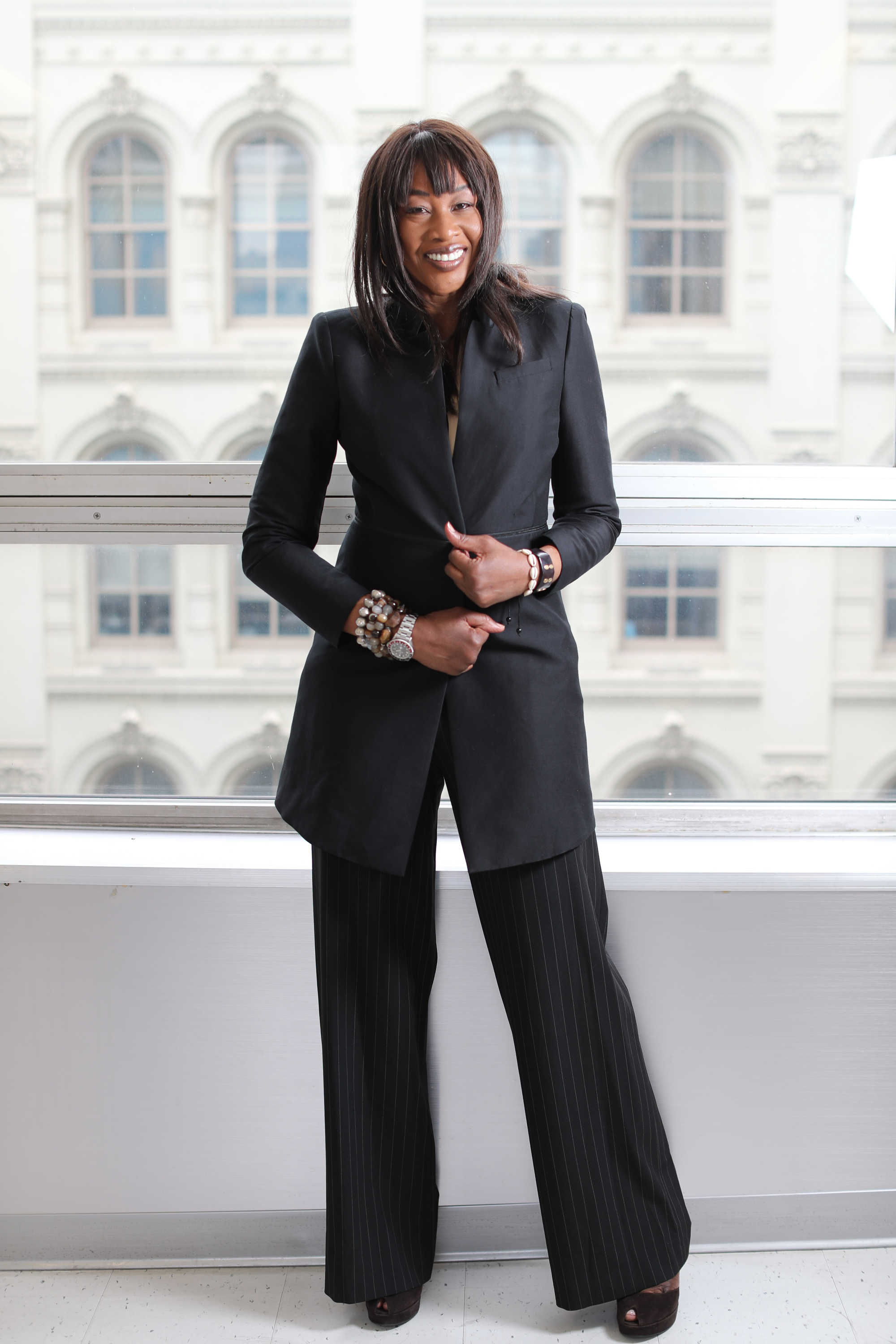 Separate BCBG blazer ($268) and matching pant ($198), both at Bloomingdale's.
WHY MARIETOU LIKES IT
"The length of the jacket makes me feel serious. And this fits well across my shoulders. I have broad, broad shoulders, and the fit is great. This is a clean look that works with everything."
WHY IT WORKS
All black can be harsh, so the pinstripe pant gives her look a little pop without taking away the seriousness. The jacket fits across her shoulders without gathering, so she appears smooth and put-together.
---
Hair and makeup courtesy of Hector Rodriguez, Sulimay's Urban Salon, 1600 Frankford Ave., 267-858-4711, www.sulimaysurbansalon.com, Instagram @hexlurod; and Joel Garcia of Louis Christian Robert John Salon & Spa, 1990 East Route 70, Cherry Hill, www.louischristianrobertjohn.com, Instagram @Joel_lcrj. D arisha Miller's hair courtesy of Bria Smalls, Vivid Salon, 6513 Germantwon Ave., 215-313-9286, www.vividhairsalon.com
Styling: Mark Anthony Barksdale
Clothing and Accessories: Bloomingdale's in King of Prussia, 610-337-6300, www.bloomingdales.com; Century 21, 821 Market St., 215-952-2121, www.c21stores.com; Macy's, 1300 Market St., 215-241-9000, www.macys.com; Saks Fifth Avenue, 2 Bala Plaza, Bala Cynwyd, 610-667-1550; Theory Philadelphia, 1616 Walnut St., 215-735-1034, www.theory.com. Beaded jewelry courtesy of Musso Jewelry, 215-888-5954, Instagram @mussojewelry