In her eight years as first lady, there wasn't a fashion rule Michelle Obama didn't crush with her kitten heel.
Remember the old one about keeping your arms covered in the workplace? FLOTUS quickly shrugged that one off, choosing instead to celebrate her muscled biceps.
Then there was the one about panty hose being a must. Not according to Mrs. O.
And what about embracing your sexy at, say, a state dinner? Only if you could pull it off as fabulously as the mother-in-chief did in October, when she wore that rose-gold chain mail Atelier Versace to host then-Italian Prime Minister Matteo Renzi and his wife, Agnese Landini.
From the gunmetal skinny jeans she wore to the 2012 Nickelodeon Kids' Choice Awards to the bangs she cut into her hair the following January, it has been a style-filled time.
What I love most about Obama's reign as arguably the most stylish first lady -- and among the best educated -- is that it was more than a seemingly endless collection of marigold, fuchsia, and navy sheaths. Her brave clothing choices have always reflected her values, a practical woman to whom America could relate. What other first lady do you know who regularly wore outfits more than once? And she mixed high fashion with bargain-price items, just like we all do.
It became clear early on that Obama never had any intention of following style rules set by the women who'd held the position before her. Why should she limit herself, especially when she was young enough to follow trends? She burst on the scene in color, and wrapped it up in dark hues and allusion lace.
When her husband first took office, for example, color-blocking was definitely in. Mixing prints was considered chic. And cardigans were starting to replace blazers, especially for working women. Obama worked these trends into her wardrobe so frequently and flawlessly they became key to her signature look.
During her first trip to Buckingham Palace to visit the Queen of England, Obama arrived in a black Azzedine Alaia cardigan and matching full skirt. That soft sweater evoked the wrath of traditionalists. (Later, we learned that Oscar de la Renta, who had been the go-to designer of American first ladies, was not happy with FLOTUS's choices.) But I saw a woman who was relaxed and confident — she even broke with protocol and hugged the queen.
When there are no limitations, there can be plenty of surprises. And surprises often make the best fashion news.
In Obama's case, most of them were good.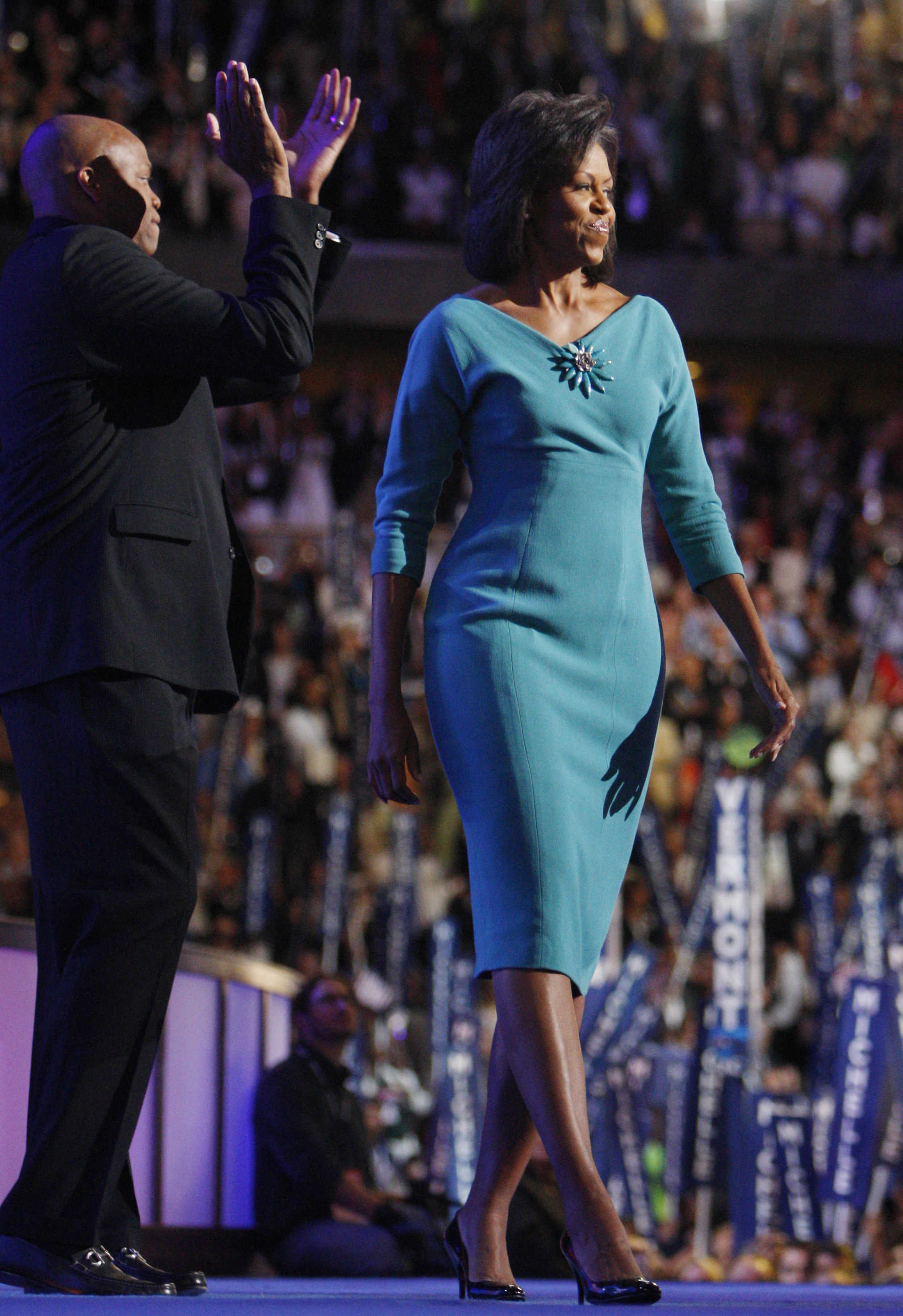 The first time she made haute headlines was when she delivered her 2008 speech at the Democratic National Convention. She didn't speak to America in a proper tweed skirt suit. Nope. She stunned in a turquoise Maria Pinto sheath with sleeves that were a funky three-quarter length. A tall woman with sleeves and hem not all the way to the wrist or ankle? Rules out the window.
Sometimes, however, we noticed ensembles that just didn't work.
In 2009, she slipped on a pair of $540 Lanvin sneakers when she went to do volunteer work at a food bank. There were times when she overaccessorized with an oddly placed belt, or wore a blouse with an enormous bow, or had on a print that was just a wee bit too big.
A few fashion faux pas notwithstanding, when Obama wore something, Americans not only took note, they bought it, too.
Just ask the executives at J.Crew who watched their pencil skirts, shells, and cardigans sell out during the early days of creative director Jenna Lyons' time there.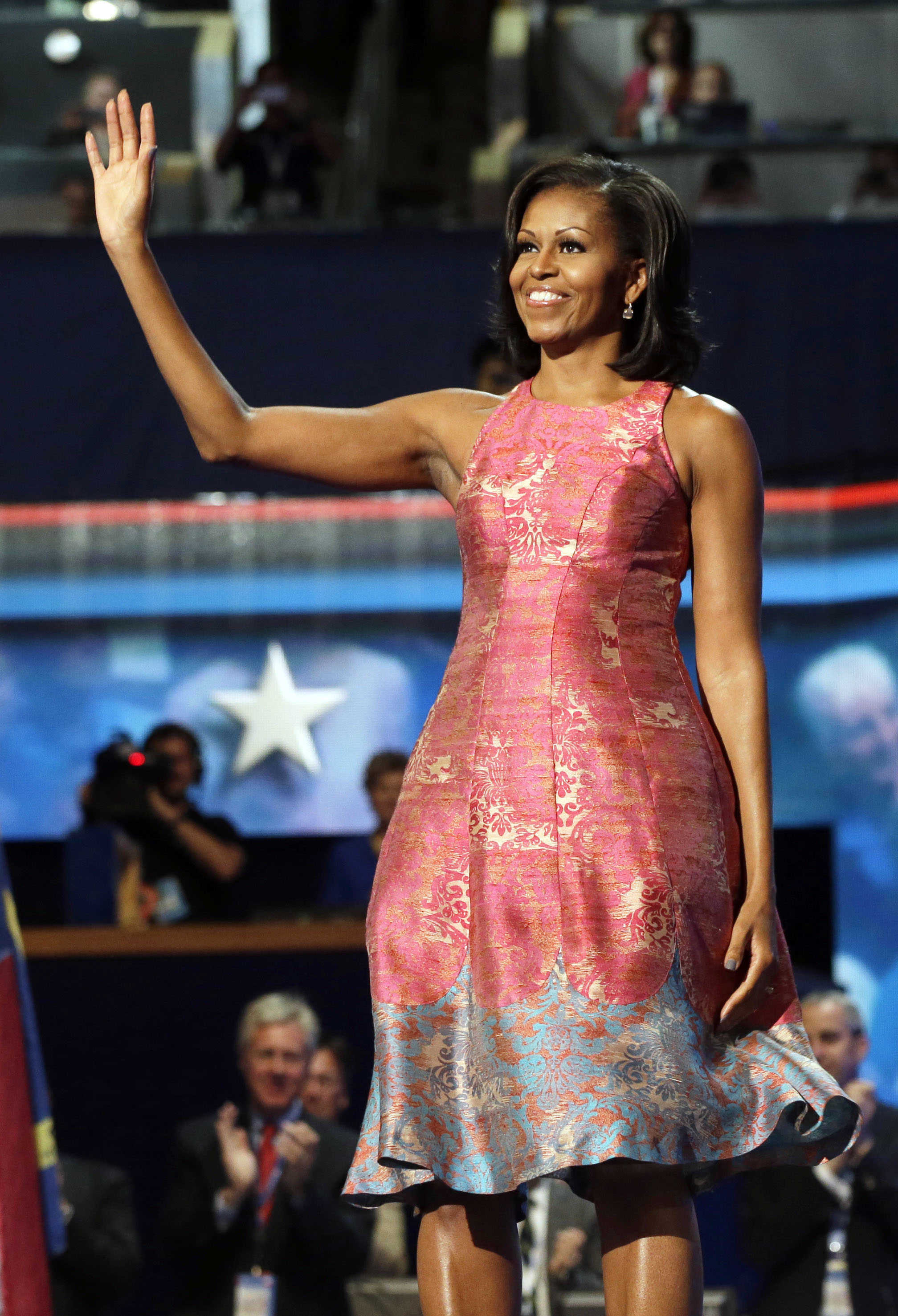 And who could forget her second DNC speech, when she wore a Tracy Reese ombre A-line fit-and-flare dress with gray nail polish coined "greige" (still popular). It was a sample, something the designer didn't know whether she would mass produce. Once Obama wore it, the deal was sealed. A few months later, Reese made the exact dress available at Nordstrom for less than $300.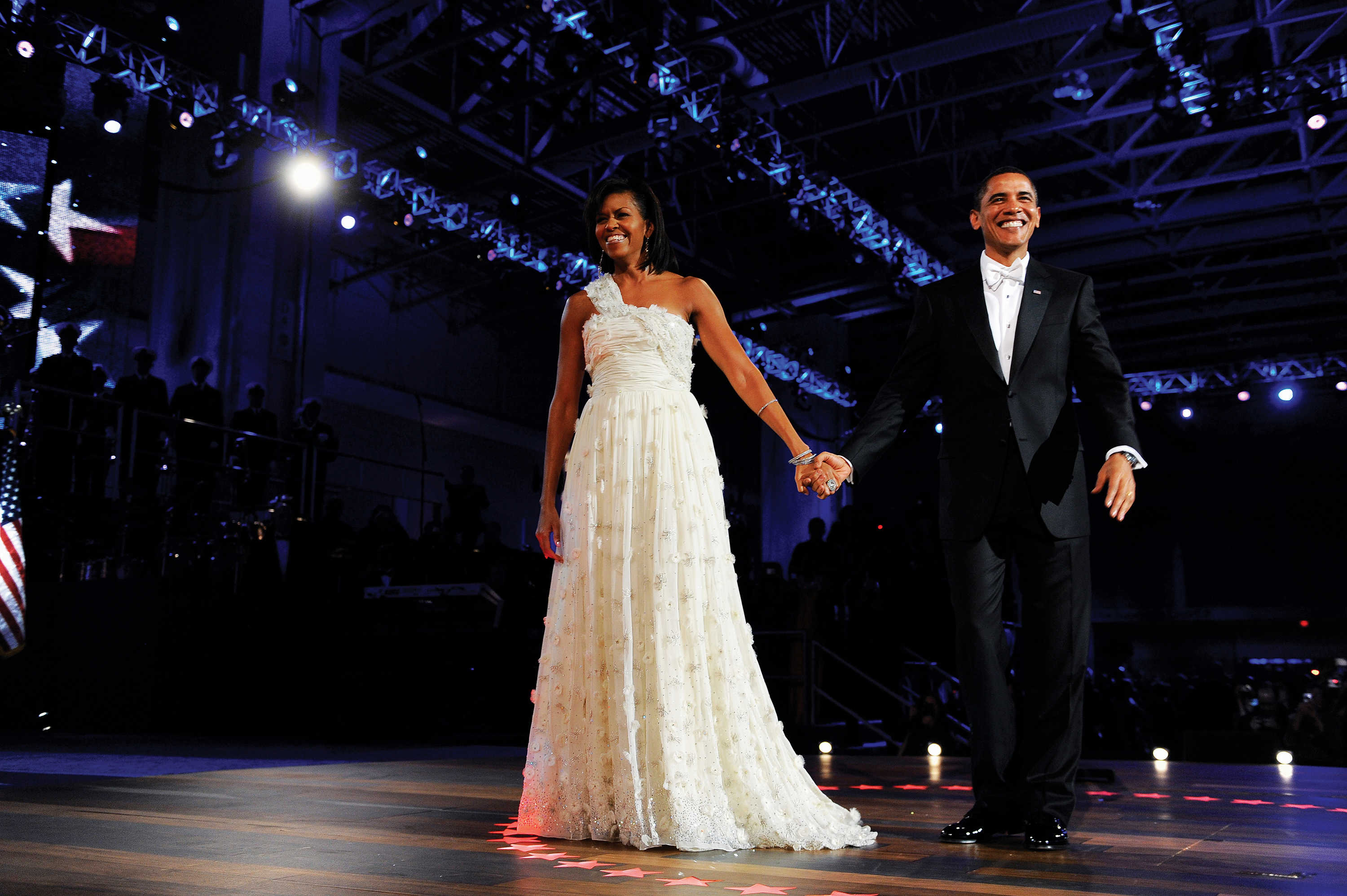 But it was Obama's relationship with American designers that became her biggest contribution to fashion. For both of her inaugural gowns – the angelic, white, one-shoulder in 2009 and the sultry red halter in 2013 – she chose Jason Wu, a designer well-known in fashion circles but unfamiliar to the mainstream. After the first inaugural gown, at the next month's New York collections, Wu's show was standing-room-only.
The same thing happened when Obama wore Zero Maria Cornejo and Barbara Tfank. She even helped build cachet for Thom Browne — the Allentown-raised designer once known solely for his contribution to men's skinny suiting — in the world of women's wear.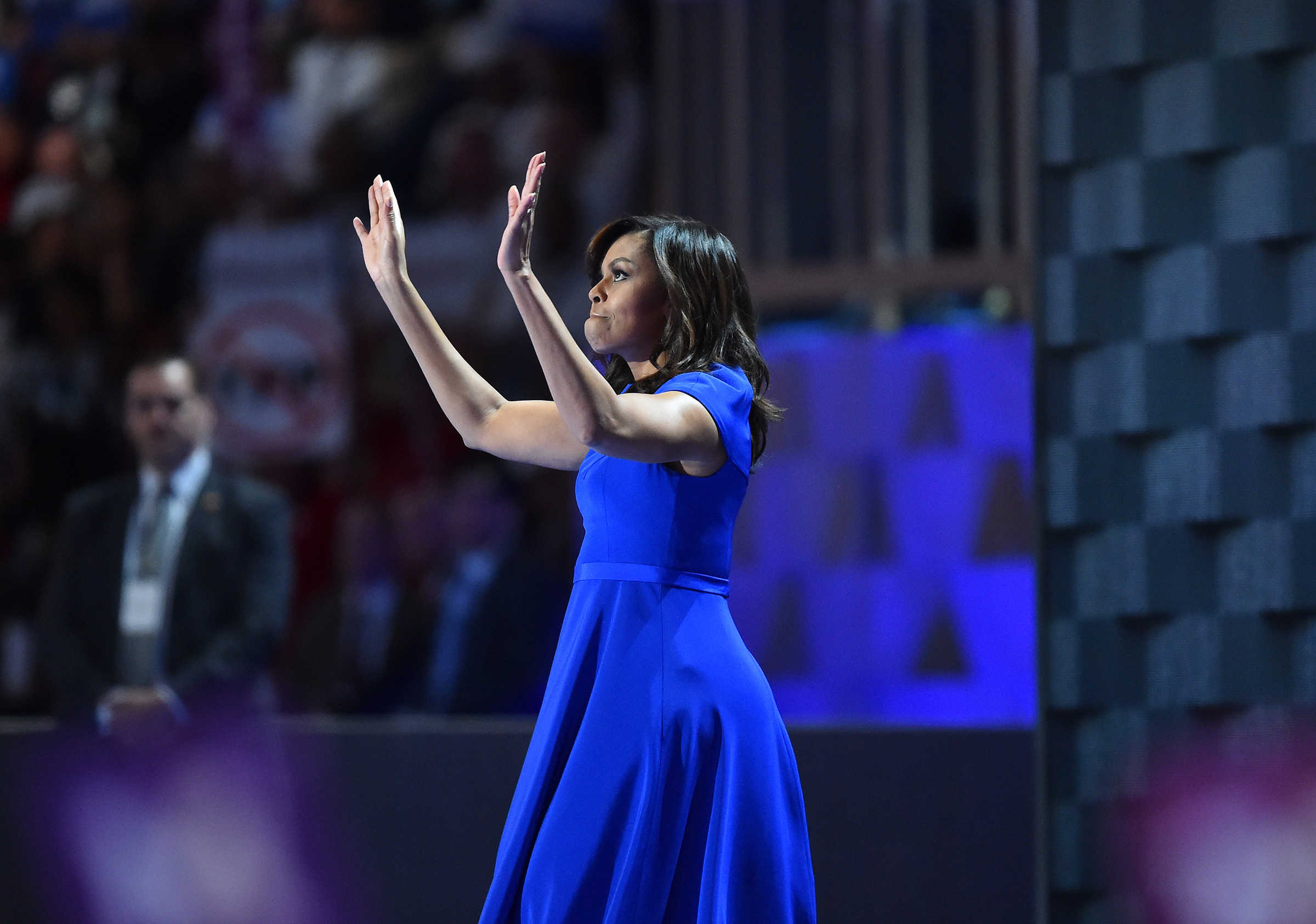 When she chose a navy blue Christian Siriano at this year's DNC, however, Obama was not only supporting American fashion designers, but providing a platform for inclusivity. Over the last year, Siriano has made a name for himself dressing women for the red carpet whom the industry has ignored, including plus-size actresses Leslie Jones and Gabourey Sidibe.
In his farewell address to Americans last week, President Obama told his wife she made the White House "a place that belongs to everybody. And the new generation sets its sights higher," because it has had her as a role model.
She was authentic, and her style reflected that.
I imagine I can speak for other American women — especially young girls — when I write with a certain amount of tightness in my chest: Thank you, Mrs. Obama.