A geometric print tie. A splashy pocket square. A trim windowpane suit. These are parts of a man's look meant to stand out.
But the beard?
The trendlet
Not only is the face-consuming, manscaped-within-an-inch-of-its-life Philly beard growing in popularity, it is doused in copper tones.
Where does it come from?
The boldly dyed beard trend is happening because of an old trend in black men's hair that crossed paths with a new movement.
For well over a decade now, African Americans who practice Islam - especially those who live along the 52nd Street corridor in West Philadelphia - dye full beards to hide their gray.
Then around 2008, Philadelphia-bred barber Tone McGill, who dyed the front of his beard platinum, started attending trade shows for barbers wanting to familiarize themselves with the latest hair fashions. By then, McGill had moved to North Carolina, but he was still known as a Philly-style barber, and barbers all over the country copied him.
When New York Giants wide receiver Odell Beckham joined the NFL in 2014, he made a fashion splash by sporting a high-top fade with copper tips reminiscent of '90s rappers Kid (of Kid 'n Play) and Kwame. The bright tendrils caught on with young men.
These days - at least in Philly, anyway - guys who crave to be noticed but who can't necessarily grow hair on their heads are going the colored beard route, too, using shades of gray, red, and orangey coppers. Hipsters are even getting in on the trend with purples and greens.
Who is wearing it?
Only the most fashionable and confident men, like celebrity fashion stylist Anthony Henderson-Strong, models, and athletes.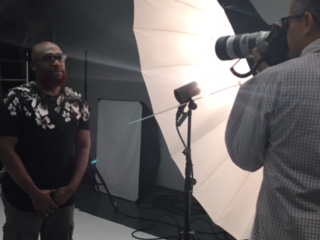 Would Elizabeth's guy wear it?
Uhhhhh, not so much.
Should you wear it?
This look works only if you have a full beard. And if you have the fashion confidence the size of Mount Olympus. Other than that, don't try it.
Model: Anthony Henderson-Strong
Beard color courtesy of Kenny Duncan of Main Attraction Unisex Salon, 135 S. 52nd St., Instagram @clipperedu